Current Affairs for IAS Exams - 04 May 2022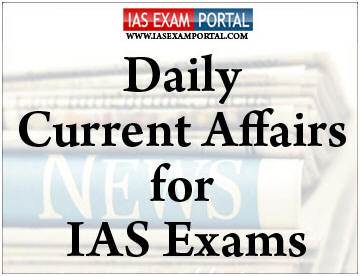 ---
Current Affairs for IAS Exams - 04 May 2022
::NATIONAL::  
Lokpal
The Lokpal of  India will finally move into a swanky office at World Trade Centre in south Delhi's Nauroji  Nagar. 
About:
The office has been purchased for ₹254.88 crore, according to the Department of Personnel and Training (DoPT), the administrative Ministry for the Lokpal.
On March 19, 2019, Justice Pinaki Chandra Ghosh was appointed as India's first Lokpal along with eight other members. 
The appointment itself was made five years after the Lokpal and Lokayukta Act was passed in 2013 to investigate cases of corruption against certain categories of public servants.
The Lokpal can inquire into allegations of corruption against anyone who is or has been Prime Minister, or a Minister in the Union government, or a Member of Parliament, as well as officials of the Union government under Groups A, B, C and D. 
CLICK HERE FOR FULL CURRENT AFFAIRS (Only for Course Members)
National Intelligence Grid
Union home minister Amit Shah inaugurated National Intelligence Grid (NATGRID) campus in Bengaluru.
About:
The NATGRID CEO informed that the services of NATGRID solution will be available to 11 central agencies and police of all States and Union Territories.
C-DAC Pune has been roped in as Technology Partner and IIT, Bhilai as Plan Management Consultant for the development of NATGRID solution.
NATGRID will be available to 11 central agencies and police of all states and union territories.
The central government will soon be developing a national database to monitor hawala transactions, terrorist funding, counterfeit currency, narcotics, bomb threats, illegal arms smuggling and other terrorist activities.
CLICK HERE FOR FULL CURRENT AFFAIRS (Only for Course Members)
::INTERNATIONAL::
World Press Freedom Index 2022
India has dropped 8 places on the World Press Freedom Index 2022.
With a global score of 41, India has gone down to the 150th position from 142 last year.
About:
The Press Freedom Index is an annual ranking of countries compiled and published by Reporters Without Borders since 2002.
Reporters Without Borders is an international non-profit and non-governmental organization with the stated aim of safeguarding the right to freedom of information.
It is based in Paris, France.
Key highlights: 
Index highlights degree of freedom that journalists, news organisations and netizens have in eachcountry, and government's efforts to respect such freedom.
Rankings are based on score ranging from 0 to 100, with 100 being the best possible score(highest possible level of press freedom) and 0 the worst.
Evaluation criteria include 5 indicators: Political context, legal framework, economic context,sociocultural context and safety.
India recently slipped 8 places to 150 in 2022 WPFI from last year's 142nd rank out of 180 countries.
CLICK HERE FOR FULL CURRENT AFFAIRS (Only for Course Members)
India-Denmark Relations 
Prime Minister Narendra Modi today held delegation-level talks with Denmark's Prime Minister Mette Frederiksen in Copenhagen of Denmark. 
About:
Both leaders reviewed the progress of the Green Strategic Partnership which was the first of its kind arrangement between India and Denmark.
During the India-Denmark Virtual Summit in October 2020, we gave our relationship the status of a Green Strategic Partnership. and during our today's discussion we reviewed the joint work-plan of our Green Strategic Partnership.  
Both Prime Ministers participated in India-Denmark Business Forum with top business leaders from the two countries at the Confederation of Danish Industry.
Earlier nine agreements were inked between the two countries in various sectors.
List of agreements signed/announced during the visit of Prime Minister to Denmark
1.    Declaration of Intent (DoI) on Migration and Mobility
2.    Letter of Intent (LoI) between Ministry of Ports, Shipping and Waterways, GOI and Ministry of Business, Industry and Financial Affairs of Denmark on Centre of Excellence in Green Shipping
3.    Cultural Exchange Programme (CEP) between the Ministry of Culture, GoI and Ministry of Culture of Denmark for the years 2022-2026
4.    Letter of Intent (LoI) of between Ministry of Jal Shakti and Ministry of Environment of Denmark
5.    MoU on Cooperation in the field of Skill Development, Vocational Education and Entrepreneurship
6.    Joint Declaration of Intent (JDI) on Cooperation in the fields of Animal Husbandry and Dairying
7.    Launch of Energy Policy Dialogue at Ministerial level
8.    India to join as mission partner to ICARS (International Centre for Anti-Microbial Resistance Solution)
CLICK HERE FOR FULL CURRENT AFFAIRS (Only for Course Members)
::ECONOMY::
Sin Goods cess
The Centre is likely to propose the cess, after giving some relief to the automobiles sector, be subsumed into GST after it expires in 2026.
About: 
Sin goods are the goods on which the government imposes sin tax- a special tax placed on goods and services that are seen to be socially detrimental.
The cess levied on aerated drinks, cigarettes and cars is set to become a bargaining chip in Centre-state talks on GST compensation, with the Centre offering to subsume a part of the levy into the GST rate after March 2026 to placate states, discussions within the government indicate.
Subsuming the cess into GST will mean that the states will get half of the proceeds as state GST (SGST) in addition to getting 41% of the Centre's GST collections, a person familiar with the development said on condition of anonymity.
Earlier, the government set up a nine-member panel for a comprehensive tax policy proposal onall tobacco products from a public health perspective as:
CLICK HERE FOR FULL CURRENT AFFAIRS (Only for Course Members)
::SCIENCE AND TECHNOLOGY::
Stratospheric Observatoryfor Infrared Astronomy mission
NASA is planning to shut down Stratospheric Observatory for Infrared Astronomy (SOFIA) telescope that found water on Moon.
About:
SOFIA is a 2.7-meter infrared telescope inside Boeing airplane, flying at an altitude around 40kfeet above the surface.
SOFIA is joint collaboration between NASA and German Space Agency (DLR).
It has been collecting data to understand star birth and death and formation of new solar systems.
It is designed to observe cosmic objects in far-infrared wavelengths.
CLICK HERE FOR FULL CURRENT AFFAIRS (Only for Course Members)