Current Affairs for IAS Exams - 05 January 2021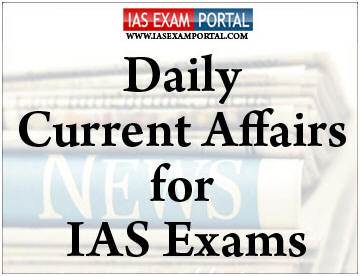 ---
Current Affairs for IAS Exams - 05 January 2021
::NATIONAL::
FSSAI slashes limit for trans-fat levels in foods
The Food Safety and Standards Authority of India (FSSAI) has capped the amount of trans fatty acids (TFA) in oils and fats to 3% for 2021 and 2% by 2022 from the current permissible limit of 5% through an amendment to the Food Safety and Standards (Prohibition and Restriction on Sales) Regulations.
The country's food regulatory body notified the amendment on December 29, more than a year after it issued a draft on the subject for consultation with stakeholders. 
The revised regulation applies to edible refined oils, vanaspati (partially hydrogenated oils), margarine, bakery shortenings, and other mediums of cooking such as vegetable fat spreads and mixed fat spreads.
Trans fats are associated with increased risk of heart attacks and death from coronary heart disease. 
As per the World Health Organisation (WHO), approximately 5.4 lakh deaths take place each year globally because of intake of industrially produced trans fatty acids. 
The WHO has also called for global elimination of trans fats by 2023.
It was in 2011 that India first passed a regulation that set a TFA limit of 10% in oils and fats, which was further reduced to 5% in 2015.
School Bag Policy 2020
The Directorate of Education has issued a circular asking schools to follow the new 'School Bag Policy, 2020' released by the National Council of Educational Research and Training (NCERT).
Key highlights:
According to the circular, schoolteachers should inform the students in advance about the books and notebooks to be brought to school on a particular day and frequently check their bags to ensure that they are not carrying unnecessary material. 
The weight of the school bags, as per the policy, should be 1.6 to 2.2 kg for students of Classes I and II, 1.7 to 2.5 kg for Classes III, IV and V, 2 to 3 kg for Classes VI and VII, 2.5 to 4 kg for Class VIII, 2.5 to 4.5 kg for Classes IX and X and 3.5 to 5 kg for Classes XI and XII.
It adds that the teachers should take the responsibility of checking the weight of school bags of the students every three months on a day selected for the whole class and any information about heavy bags should be communicated to the parents.
To reduce the weight of the school bag, the circular says that it is the duty and the responsibility of the school management to provide quality potable water in sufficient quantity to all the students in the school so that they do not need to carry water bottles from their homes.
CLICK HERE FOR FULL CURRENT AFFAIRS (Only for Course Members)
::INTERNATIONAL::
India looks at lithium reserves in Argentina, Chile and Bolivia
India recently inked a pact with an Argentina to jointly prospect lithium as Argentina has the third largestreserves of lithium.
India is also exploring options in Chile and Bolivia, two other top lithium-producing countries.
Lithium, a silver-white alkali metal, is crucial building block of lithium-ion rechargeable batteries that powerelectric vehicles, laptops and mobile phones.
Currently, India isheavily dependent on import of lithium cells and China,Hong Kong and Vietnam are the topthree nations exporting batteries to India.
Saudi Arabia to lift Qatar embargo, easing the Gulf crisis
Saudi Arabia will open its airspace and land border to Qatar in the first step toward ending a years-long diplomatic crisis that deeply divided U.S. defence partners, frayed societal ties and tore apart a traditionally clubby alliance of Gulf states.
Qatar's only land border has been mostly closed since mid-2017, when Saudi Arabia, Egypt, the United Arab Emirates and Bahrain launched a blockade against the tiny Gulf state, accusing it of supporting Islamist extremist groups and of having warm ties with Iran. 
The Saudi border, which Qatar relied on for the import of dairy products, construction materials and other goods, opened briefly during the past three years to allow Qataris into Saudi Arabia to perform the Islamic hajj pilgrimage.
Economy
Central Economic Intelligence Bureau proposed to impose 18% GST on bitcoin trade
The government is weighing a proposal to impose 18% goods and services tax (GST) on bitcoin transactions, estimated to be around Rs 40,000 crore annually.
The Central Economic Intelligence Bureau (CEIB), an arm of the finance ministry, has put forward the proposal to the Central Board of Indirect Taxes & Customs (CBIC), suggesting that the government could potentially receive Rs 7,200 crore annually on bitcoins trading in the country. 
The CEIB acts as a think tank of the ministry and has conducted a study on levying of GST on cryptocurrencies.
CEIB has suggested that bitcoins can be categorised under 'intangible assets' class and a GST levy could be imposed on all transactions. 
The board has suggested that the cryptocurrency can be treated as current assets and GST charged on the margins made in its trading.
The unregulated cryptocurrency exchanges and its trading has posed a bigger challenge before the government, particularly after the Supreme Court lifted a two-year ban imposed by the RBI on banks and financial institutions to deal with digital currencies. 
Currently, there is no regulator for cryptocurrency and hence there is also fear of it being used for big-time money laundering and undermining of legitimate currencies.
Science and Technology
Indian nuclear R&D units to transfer 25-30 technologies to industry in 2021
The research and development (R&D) units of India's Department of Atomic Energy (DAE) are likely to transfer about 25-30 technologies developed by them to industry.
Research and development units of DAE are likely to transfer about 25-30 technologies to industry.
Currently, more than 150 technologies are available to industry for commercial adaptation. Varioustechnologies transferred includes:
Agriculture & Bioscience:
Ambient prolonged storable meal for natural calamities and other targets technology.
Safe and Prolonged Storable 'Legume Sprouts' and 'Sweet Corn Kernels technology.
Cost Effective Production of Xanthan gum (Food and Pharmaceutical Grade) technology.
A Rapid Composting Technology for decomposition of dry leaves, kitchen waste and temple waste technology.
Environment:
NISARGRUNA-Biogas plant Based on Biodegradable waste resource technology 
Advanced Instrumentation:
Fast Current Transformer technology 
Medical Equipments:
DEAP - Device to Ease Apnea Problem technology.
Engineering:
Bhabha Kavach (EG08MMD) technology - bullet proof jacket
Compact Pulsed Plasma based high pressure shock wave generators for constrained liquid immersed spaces.
Water Technologies:
On-line domestic water purifier based on ultrafiltration polysulfone membrane technology.
Multi effect distillation with thermo vapour compression.
Desalination technology-based desalination of sea water.
Cellulose based water purifier for arsenic removal.
Hybrid granular SBR for wastewater treatment.
Chemical:
Sodium Hypochlorite Electrolyser Plant (SHEP) Technology.
Production of Abrasive Grade Boron Carbide Powder (3tonns/annum) technology.
Synthesis of cathode (LiFePO4)/carbon and anode (Li4Ti5O12) material for lithium-ion battery technology.
Visual Detection Kit for alcohol content in hand sanitizers technology.
Production of the intumescent rigid polyurethane foam.
CLICK HERE FOR FULL CURRENT AFFAIRS (Only for Course Members)