Current Affairs for IAS Exams - 05 February 2020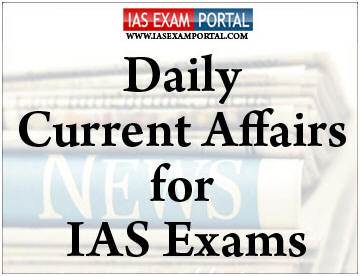 ---
Current Affairs for IAS Exams - 05 February 2020
---
::NATIONAL::
PM assures one nation, one tax, one ration card initiative soon
Prime Minister NarendraModi has said that One country, One tax and One ration card will be a reality soon. Addressing an election rally in Delhi today, Mr.Modi said, the Government is committed towards introducing one ration card system in the national capital as well which will benefit lakhs of migrants who have relocated to Delhi in search of better jobs and opportunities.

Speaking in the rally, Prime Minister Modi said that a government in Delhi should be such that it can support the Central Government's strong decisions in matters of national security. He said that criticism of landmark and crucial decisions on matters of national security only strengthens the divisive forces and undermines national image.

He also said that since the enactment of CAA, people in the country have been witnessing the falsehood which is being propagated by a few people. He also accused the current Delhi government of indulging in the use of abusive language against the police personnel.

Mr.Modi said that where on one hand the nation is witnessing such behaviour of disrespect, on the other the BJP Government has dedicated National Police Memorial and National War Memorial in Delhi marking respect for the heroes safeguarding the country.

Raising a concern about non-implementation of core central government schemes in Delhi like Ayushman Bharat, PM-Awas and PM-KisanSamman, Prime Minister Modi said that the people in other states are already utilizing benefits of such social schemes.
Study finds lack of anganwadis in cities
For every 100 anganwadi beneficiaries in the country, only seven are in urban areas, according to the government's response to a Right to Information (RTI) query from The Hindu.

This is primarily because of a severe lack of anganwadis in cities, leading to poor coverage of the government's flagship programme in early childhood development.

Anganwadis or day-care centres are set up under the Integrated Child Development Services (ICDS) by the Women and Child Development Ministry to provide a package of six services.

The services include supplementary nutrition; pre-school non-formal education; immunisation, nutrition and health education; as well as referral services. The aim of the scheme is to reduce infant mortality and child malnutrition. Beneficiaries include children in the age group of six months to six years, and pregnant women and lactating mothers.

This is primarily because of an acute paucity of anganwadi centres in urban areas. There are as many as 13.79 lakh anganwadis operational across the country, out of which 9.31 lakh centres are linked to the government's web-enabled data entry system called Rapid Reporting System.

As per Census 2011, 32% of India's 1.2 billion population live in cities, though experts have said that if the definition of an urban settlement was broadened, the share of urban population will be much higher.

With these facts before it, the NITI Aayog has prepared a draft working paper to strengthen the ICDS programme in urban areas, keeping in mind challenges such as migration and population density.
::ECONOMY::
Insurance cover on bank deposits raised to 5 lakh rupees
Insurance cover on bank deposits has been increased to five lakh rupees from one lakh rupees. The decision came into effect from yesterday.

The Reserve Bank of India (RBI) said in a statement that the cover is provided by the Deposit Insurance and Credit Guarantee Corporation (DICGC), a wholly-owned subsidiary of the RBI. This, the RBI said, has been done with a view to providing a greater measure of protection to depositors.

Finance Minister NirmalaSitharaman on Saturday had made the announcement regarding increasing insurance cover to five lakh rupees in her Budget Speech.

The move will help boost confidence of people in the banking system.As the insurance cover stands increased, the banks will pay a premium of 12 paise against 10 paise per 100 rupees deposited.

The deposit insurance scheme covers all banks operating in India, including private sector, cooperative and even branches of foreign banks. There are some exemptions such as deposits of foreign governments, deposits of Central and State Governments, and inter-bank deposits. Deposit insurance was static at one lakh rupees since 1993.

The demand for raising the deposit insurance limit gained momentum after a run on a large-sized multi-state cooperative bank, the Punjab and Maharashtra Cooperative Bank (PMCB) after it came under an RBI Administrator for financial irregularities pertaining to loans to real estate firm HDIL.
IRDAI sets up panel to develop concept paper on stand alone micro insurance companies
Insurance regulator IRDAI has constituted a committee to develop a concept paper on standalone micro-insurance companies.Micro-insurance products offer coverage to low-income groups who have little savings and is tailored specifically for lower valued assets.

In doing so, the 10-member panel is required to assess the desirability and feasibility of formation of standalone micro-insurance companies; review the legal and regulatory framework to enable such an entity; and recommend the maximum sum insured per person that may be accepted by the proposed firm.

Considering the aspect of ease of doing business, the panel has also been tasked to suggest the applicability and/or relaxation of existing provisions for micro-insurance companies.

Stating this, an order constituting the committee of the Insurance Regulatory and Development Authority of India said capital and solvency; underwriting, product and claims; finance and accounting; investments; operations; and corporate governance are the indicative regulatory aspects to be studied.

On reasons behind its decision to form the panel, the regulator said India is seen as a pioneer in the micro-insurance sector globally and has set an example with its micro-insurance regulations.

"IRDAI has received suggestions on allowing standalone insurers for transaction of exclusive micro-insurance business, as it may boost the micro-insurance penetration in India with geographical spread," the order said.
::INTERNATIONAL::
EU rejects trump's proposal for securing peace in middle east
The European Union yesterday rejected United States President Donald Trump's proposal for securing peace in the Middle East. EU also expressed concern about Israel's plans to annex more Palestinian land.

Mr Trump's plan, which was unveiled last week, would foresee the eventual creation of a Palestinian state, but it falls far short of minimal Palestinian demands and would leave sizable chunks of the occupied West Bank in Israeli hands.

In a statement, EU Foreign Policy Chief JosepBorrell underlined the bloc's commitment to a two-state solution, based along the 1967 lines. He said, to build a just and lasting peace, the unresolved final status issues must be decided through direct negotiations between both parties.

Gulf Arab states also rejected the White House plan calling it as biased.
While Israeli officials were present for its unveiling, no Palestinian representatives attended. Prime Minister Benjamin Netanyahu has said that he wants to move forward with plans to annex West Bank territory.
India assumes co-chair or Dubai expo-2020 committee
Navdeep Singh Suri, who was until very recently India's Ambassador to the UAE, has assumed the responsibility of India's Co-Chair of the Expo-2020 Dubai Committee. Mr Suri was also a recipient of the UAE's Order of Zayed II honour.

FICCI is the industry partner of the Indian Government for its participation in Expo-2020 Dubai.

India is one of the few countries which have been awarded to create a permanent structure at the Expo-2020 and proposes to showcase the country's strengths in innovation and start-ups in the hi-tech sector.

After retiring from the Indian Foreign Service in September last year, Mr Suri became a Distinguished Fellow and Director of the Centre for New Economic Diplomacy at the Observer Research Foundation in New Delhi.

Expo-2020 is a World Expo to be hosted by Dubai. It is scheduled to open on 20th October this year.The Bureau International des Expositions General Assembly in Paris awarded Dubai as the host on 27th November, 2013.

Through its theme, "Connecting Minds, Creating the Future" and its three sub-themes - Opportunity, Mobility and Sustainability - Expo-2020 aims to unlock the potential of each visitor while encouraging collaboration and presenting opportunities for all to make a difference towards the future development of humanity.
::SCIENCE & TECHNOLOGY::
Greenbone report confirms medical data leak
Medical details of over 120 million Indian patients have been leaked and made freely available on the Internet, according to a recent report published by Greenbone Sustainable Resilience, a German cybersecurity firm.

What is even more worrying is that the number of data troves containing this sensitive data went up by a significant number in the Indian context a month after Greenbone's initial report was published. The updated report also places Maharashtra at the top of the States affected by the leak.

The report says that in 60 days after the first report was put out, the number of data troves bearing the patients' information went up from 6,27,000 to 1.01 million, and that the images of patients' details rose from 105 million to 121 million.

Medico-legal expert LalitKapoor said any communication between a doctor and a patient was privileged one. "A doctor or a hospital is thus ethically, legally and morally bound to maintain confidentiality," he said.

Greenbone's original report says the leak was facilitated by the fact that the Picture Archiving and Communications Systems (PACS) servers, where these details are stored, are not secure and linked to the public Internet without any protection, making them easily accessible to malicious elements.
::SPORTS::
India bags six gold medals at Swedish golden girl championship
In Boxing, India's junior youth dominated the ring at the Golden Girl Championship in Boras, Sweden, claiming 14 medals, including six golds, the overall championship trophy and the 'Best Boxer' award.

While the junior women's team clinched five golds, three silvers and one bronze medal, the youth team secured a single gold and four bronze medals. The Boxing Federation of India in a press release said, the event concluded yesterday.

Haryana's PrachiDhankar (50 kilogram), playing in the junior category, won the 'Best Boxer' award.