Current Affairs for IAS Exams - 05 March 2020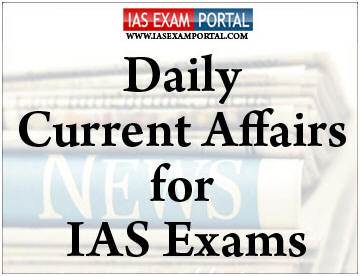 ---
Current Affairs for IAS Exams - 05 March 2020
---
::NATIONAL::
Central government launches second phase of SBM (Grameen)
The Centre has launched the second phase of the Swachh Bharat Mission (Grameen)- SBM(G) Phase-II. It will be implemented from 2020-2021 to 2024-2025 in a mission mode with an outlay of one lakh 40 thousand 881 crore rupees.
Union Minister of Jal Shakti Gajendra Singh Shekhawat today launched the second phase of the mission at a National Dissemination and Consultation workshop in New Delhi today.
The second phase will .................................................
 CLICK HERE FOR FULL CURRENT AFFAIRS (Only for Course Members)
Supreme court frees trade in cryptocurrencies
The Supreme Court on Wednesday set aside an April 6, 2018, circular ......................................
 CLICK HERE FOR FULL CURRENT AFFAIRS (Only for Course Members)
::ECONOMY::
Centre amends companies act, eases CSR requirements amongst other features
The Centre proposes to amend the Companies Act again, in a bid to decriminalise a number of offences and ease corporate social responsibility (CSR) requirements, especially for smaller companies.
The amendment bill will also enable the listing of Indian companies on stock exchanges in foreign jurisdictions. This is expected to give Indian firms greater access to capital, a broader investor base and better valuations.
The Centre proposes to recategorise 23 offences so that they can be dealt with through an in-house adjudication framework, while five types of offences will be dealt with under different alternative frameworks.
The proposed amendments will also ensure that companies which have an obligation to spend ₹50 lakh per annum or less on Corporate Social Responsibility (CSR) are no longer required to have a CSR committee.
Companies that spend more than the mandatory 2% on CSR in a particular year can carry it forward as credit for fulfilment of CSR obligations for the next few years as well, she said.
The changes are "expected to significantly enhance the confidence of Indian corporates in the government's resolve to provide greater ease [of doing business] and accord highest respect to honest wealth creators in the country and reduce the burden on the justice system," said an official statement.
Bonds yields decline post U.S fed rate cuts
After the U.S. Federal Reserve reduced interest rates on Tuesday ................................
 CLICK HERE FOR FULL CURRENT AFFAIRS (Only for Course Members)
::INTERNATIONAL::
India affirms on two-state solution in Israel-Palestine conflict
India has remained "steadfast" in its support for Palestinian rights and has consistently voted in favour of Palestine at the UN on "15 key resolutions", said members of a key UN body, calling for New Delhi to play an "enhanced" role in the search for a solution to the Israel-Palestine conflict.
"We would like countries like India that have good relations with both Israel and Palestine, and are also attached to multilateral principles, to play a bigger role in the resolution of the issue," Cheikh Niang, Chairman of the committee, who visited Delhi this week told presspersons.
Mr. Niang explained that part of the reason for the first such country visit by the panel was that India was expected to become a non-permanent member of the UN Security Council for 2021-22.
Asked about India's recent votes that appeared to support Israel, including one at the UN's ECOSOC in June 2019 which ended the consultative status for a Palestinian NGO that Israel claimed had terror links,the committee members said those actions were not reflective of India's stand on the resolution of the Israel-Palestine conflict.
They pointed to several other votes by India, including the UN General Assembly vote,that had sharply criticised the United States for recognising Jerusalem as the Israeli capital in December 2017.
India had also voted in favour of another UNGA resolution "deploring the use of excessive, disproportionate and indiscriminate force by Israeli forces against Palestinian civilians" in June 2018.
Srilanka to lead BIMSTEC science, technology & innovation sector
Sri Lanka will lead the science, technology and innovation sector in the ..........................................
 CLICK HERE FOR FULL CURRENT AFFAIRS (Only for Course Members)
::SCIENCE & TECHNOLOGY::
European commission launches global coalition for biodiversity
On March 3, 2020, on the sidelines of the World Wildlife Day celebrations, Global Coalition for Biodiversity was launched. The initiative was launched by the European commission. The coalition was named "United for Biodiversity".
The Global Coalition is constituted of national parks, aquariums, zoos, botanical gardens and science museums that are spread all over the world. The Coalition has called the institutions all over .....................
 CLICK HERE FOR FULL CURRENT AFFAIRS (Only for Course Members)
::SPORTS::
India's Shafali verma is at top spot in ICC women's T20 rankings
Shafali Verma, the teenage Indian batting sensation, has gained the top spot in the ICC women's T20 International rankings, riding on her stellar run at the ongoing World Cup.
She has become only the second India batter after ..............................
 CLICK HERE FOR FULL CURRENT AFFAIRS (Only for Course Members)