Current Affairs for IAS Exams - 05 August 2019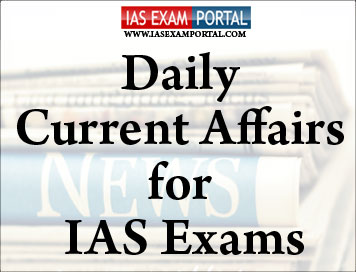 ---
Current Affairs for IAS Exams - 05 August 2019
---
::NATIONAL::
Government imposes sec144 in Jammu & Kashmir
In Jammu and Kashmir, government has imposed restrictions under Section 144 of the CrPC in Srinagar and some other districts with effect from midnight last night. According to an order, there shall be no movement of public and all educational institutions in Srinagar district shall remain closed.
The order said, identity cards of essential services officials will be treated as movement passes wherever required. It stated that there is a complete bar on holding any kind of public meeting or rally. Officials said, schools and colleges in Jammu, Kishtwar, Reasi, Doda and Udhampur districts were also ordered to remain close today.
The authorities have imposed night curfew in Kishtwar and Rajouri districts and Banihal area of Ramban district. Restrictions have also been imposed in Jammu, Reasi and Doda districts, besides Srinagar.
The authorities have also imposed restrictions in Rajouri district from midnight last night and ordered closure of all educational institutes. University of Jammu will remain closed today and all scheduled examinations have been postponed.
Various educational institutions in the Kashmir Valley also directed their students to vacate hostels. Mobile Internet services have been suspended in the Kashmir Valley and satellite phones are being provided to police officials and district magistrates.
Governor Satya Pal Malik held a meeting with State Chief Secretary BVR Subrahmanyam and DGP Dilbagh Singh late last night. In Delhi, Union Home Minister Amit Shah held a meeting with top security officials yesterday and is believed to have discussed the prevailing situation in Jammu and Kashmir. The hour-long meeting was attended by National Security Advisor AjitDoval, Union Home Secretary Rajiv Gauba and other senior officials.
Centre plans to update National Population Register every year
The next round of recording biometric and family-tree details of Indian citizens under the National Population Register (NPR) will be conducted in September 2020, a government notification said. The exercise is different from the decennial Census and is not linked to the National Register of Citizens (NRC).
The objective of the NPR is to create a comprehensive identity database of every usual resident in the country. The database would contain demographic as well as biometric particulars.
For the purpose of NPR, a usual resident is defined as a person who has resided in a local area for six months or more or a person who intends to reside in that area for the next six months or more.
Earlier, the roll out of NPR had slowed down due to overlapping with that of Aadhaar. "In pursuance of sub-rule(4) of rule 3 of the Citizenship (Registration of Citizens and Issue of National Identity Cards) Rules, 2003, the Central government hereby decides to prepare and update the Population Register and the field work for house-to-house enumeration throughout the country except Assam for collection of information relating to all persons who are usually residing within the jurisdiction of local registrar shall be undertaken between the 1st day of April 2020 to 30th September 2020," said a notification issued by Vivek Joshi, Registrar General of Citizen Registration and Census Commissioner.
::ECONOMY::
RBI imposes penalty on public sector banks
Reserve Bank of India has imposed a penalty ranging between one to two crore rupees on seven public sector banks for violating norms on fraud classification, bill discounting and monitoring of end use of funds.
The central bank said in a press release that Bank of Baroda, Bank of India, Indian Overseas Bank and Union Bank of India were fined 1.5 crore rupees each, while Allahabad Bank and Bank of Maharashtra were penalised 2 crore rupees each. Oriental Bank of Commerce was penalised with 1 crore rupees.
RBI said in a release yesterday that a scrutiny was carried out in the accounts of the companies of a group and it was observed that the banks had failed to comply with provisions of one or more of the directions issued by RBI.
In a separate release, the regulator said a fine of 1 crore rupees was levied on Corporation Bank for non-compliance of norms on cyber security framework as well as fraud classification and reporting.
India needs to grow at 9 % to achieve target of 5 trillion economy
The country will need to grow by 9% every year for five years continuously and raise aggregate investment rate to 38% of GDP to achieve Prime Minister NarendraModi's target of turning India into a $5 trillion economy, ' an international audit and accounting company EY has said' .
In its latest edition of Economy Watch, EY said assuming India grows by projected 7% in the current fiscal year ending March 31, 2020, the size of the economy will grow to $3 trillion from $2.7 trillion in the previous year.
It will have to grow by 9% in each of the five subsequent years to take the size of the economy to $3.3 trillion in FY21, $3.6 trillion in FY22, $4.1 trillion in FY23, $4.5 trillion in FY24 and $5 trillion in FY25.
While the Central government plays a fourfold role in determining the overall investment rate through its budgetary capital expenditure, spending through PSUs, policy initiatives inducing private investments and coordination with State governments, the Centre's share in country's aggregate investment was quite small at 1.6% of GDP in FY19.
As per actuals from the Controller General of Accounts (CGA), this constituted only 5.1% of the aggregate investment. After adding Central PSU's capital expenditure of 2.4% of GDP in FY19, the Centre's contribution to the investment increases to 4% of GDP, which is 12.6% of the total investment.
"This can be substantially improved. The Centre may therefore provide a policy framework to induce the State governments and the private sector to uplift their investment rates," EY said.
::INTERNATIONAL::
U.S – South Korea to prepare for military drills
South Korea and the United States are preparing to hold their annual joint military exercises despite warnings from North Korea that the drills could derail fragile nuclear diplomacy, Seoul's military said on Monday.
Choi Hyun-soo, spokeswoman of Seoul's Defense Ministry, said the exercises will be focused on verifying Seoul's capabilities for its planned retaking of wartime operational control of its troops from Washington. She did not confirm or deny reports that the drills, which are expected to be computer simulated and not involve actual combat troops and equipment, began on Monday.
North Korea recently has been ramping up its weapons tests, including two test firings of what it described as a new rocket artillery system last week, while expressing frustration over the continuance of U.S.-South Korea drills it sees as an invasion rehearsal and also the slow pace of nuclear negotiations with the United States.
North Korea had said it will wait to see if the August exercises actually take place to decide on the fate of its diplomacy with the United States and also whether to continue its unilateral suspension of nuclear and long-range missile tests, which leader Kim Jong Un announced last year amid a diplomatic outreach to Washington.
The allies have scaled down their major military exercises and also stopped regional dispatches of U.S. strategic assets such as long-range bombers and aircraft carriers since the first summit between Mr. Kim and President Donald Trump in Singapore in June last year to create space for diplomacy.
Nuclear negotiations have been on a standstill since the collapse of the second Trump-Kim summit in Vietnam in February over disagreements in exchanging sanctions relief and disarmament.
Australia confirms it will not host U.S missile tests
Australian officials confirmed Monday that their country will not be used as a base for any planned U.S. mid-range missiles following talks with American officials in Sydney.
U.S. Defense Secretary Mark Esper said at last weekend's meetings that he wanted to deploy intermediate range conventional missiles at various Asia-Pacific sites within months.
The move follows the Trump administration's withdrawal from a Cold War-era arms control treaty with Russia. It also comes in the wake of Chinese military expansion in the Asia-Pacific, and is likely to anger Beijing.
Australian Defense Minister Linda Reynolds said Monday that while the locations for the missile bases were not yet known, Australia would not be one of them. She said Mr.Esper made no such request, and no such request was expected from the U.S.
U.S. missile ambitions in the region raise the possibility of an arms race with China, which would leave Australia in a difficult position between its most important security ally and its largest trading partner.
"It's important that we make the Straits of Hormuz safer than they currently are," he told reporters. "The purpose here is to de-escalate tensions, not to escalate them, and that has very much been the focus of the conversations we've had with our American partners.
::SCIENCE & TECHNOLOGY::
ISRO releases pictures captured by Chandrayaan 2
Space agency ISRO today released the first set of pictures of the earth, captured by Chandrayaan 2, the country's second Moon mission launched a fortnight ago.
The pictures were captured by L 14 camera on board Chandrayaan II. The pictures show the earth in different hues. ISRO tweeted alongwith the pictures the earth as viewed by #Chandrayaan2 L I4 Camera yesterday.
AIR correspondent reports that the first set of pictures by the lander of the Chandrayaan-2 are only indicative of the high resolution camera it has. The LI-4 camera onboard the lander Vikram of the spacecraft show the crystal clear and panoramic view of the earth, around which it is still revolving.
It will move away from the earth's sphere of influence on the 14th of this month and reach the moon's orbit on the 20th. Its pictures of the moon from then on would be still more fascinating, given its proximity to the earth's only natural satellite.
After its softlanding on the south pole of the moon, its pictures would arouse the curiosity of the global scientific community, as the region is yet unexplored.
::SPORTS::
Indian badminton doubles pair win super 500 title
SatwiksairajRankireddy and Chirag Shetty today became the first Indian pair to win a BWF Super 500 badminton tournament.
They beat World champions Li Jun Hui and Liu Yu Chen of China in the summit clash of Thailand Open 21-19, 18-21, 21-18 in Bangkok to win the men's doubles category.
The third-seeded Chinese pair settled for the second position after battling hard for an hour and two minutes as the Commonwealth Games silver medallists Rankireddy-Shetty claimed their maiden title.
Sports fraternity celebrated 'great win for the Indian doubles'. Twitter exploded with wishes for Satwik and Chirag for putting India on the doubles map.