Current Affairs for IAS Exams - 05 May 2021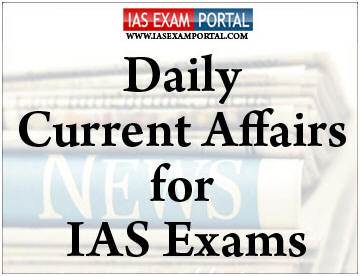 ---
Current Affairs for IAS Exams - 05 May 2021
::NATIONAL::
Zinc
Several studies have stated that zinc has a broad-spectrum antiviral activity against a variety of viruses includingCOVID-19 and plays a key role in the immune system.
Zinc is vital for more than 300 enzymes in the body, and also plays a role in protein synthesis, wound healing,DNA synthesis, cell division and is required for proper sense of taste and smell.
Food high in Zinc: Eggs, Garlic, Legumes, Spinach, Potatoes,Yoghurt, Dark Chocolate, Meat, Shellfish, Seeds, Nuts.
Agricultural and Processed Food Products Export Development Authority
It was established under the Agricultural and Processed Food Products Export Development Authority Act passed by the Parliament in December, 1985.
APEDA is mandated with the responsibility of export promotion and development of scheduled products such as Fruits, Vegetable, Meat, Poultry Products. Dairy Products, Confectionery, Biscuits, Bakery Products, Honey, Jaggery and Sugar Products, Cocoa products, chocolates, floriculture Products. Pickles, Papads and Chutneys etc.
It also provides financial assistance, information, guidelines towards the development of scheduled products.
CLICK HERE FOR FULL CURRENT AFFAIRS (Only for Course Members)
::INTERNATIONAL::
India-UK virtual summit
Prime Minister Shri Narendra Modi and The Rt Hon'ble Boris Johnson, Prime Minister of the United Kingdom held a Virtual Summit.
India and the UK enjoy long standing friendly ties and share a Strategic Partnership underpinned by mutual commitment to democracy, fundamental freedoms and the rule of law, strong complementarities and growing convergences. 
An ambitious 'Roadmap 2030' was adopted at the Summit to elevate bilateral ties to a 'Comprehensive Strategic Partnership'.
The Roadmap will pave the way for a deeper and stronger engagement over the next ten years in the key areas of people to people contacts, trade and economy, defence and security, climate action and health.
The two Prime Ministers launched an 'Enhanced Trade Partnership' (ETP) to unleash the trade potential between the 5th and 6th largest economies of the world and by setting an ambitious target of more than doubling bilateral trade by 2030.
As part of the ETP, India and the UK agreed on a roadmap to negotiate a comprehensive and balanced FTA, including consideration of an Interim Trade Agreement for delivering early gains.
The enhanced trade partnership between India and UK will generate several thousands of direct and indirect jobs in both the countries. 
The UK is India's second largest partner in research and innovation collaborations. A new India-UK 'Global Innovation Partnership' was announced at the Virtual Summit that aims to support the transfer of inclusive Indian innovations to select developing countries, starting with Africa.
Both sides agreed to enhance cooperation on new and emerging technologies, including Digital and ICT products, and work on supply chain resilience. They also agreed to strengthen defence and security ties, including in the maritime, counter-terrorism and cyberspace domains. 
Both Prime Ministers also exchanged views on regional and global issues of mutual interest, including cooperation in the Indo-Pacific, and G7.
They reiterated commitment to climate action to achieve the goals of the Paris Agreement and agreed to closely engage in the run up to CoP26 hosted by the UK later this year. 
India and the UK launched a comprehensive partnership on migration and mobility that will facilitate greater opportunities for the mobility of students and professionals between the two countries. 
WTO mulling intellectual property waivers for vaccines
Ambassadors from World Trade Organisation countries plan to discuss trade rules protecting the technological know-how behind COVID-19 vaccines amid growing pressure on rich nations to relax them as a way to help developing countries fight the pandemic.
About:
The WTO's General Council was taking up a temporary waiver for intellectual property protections that South Africa and India first proposed in October.
The idea has gained support in the developing world and among some progressive lawmakers in the West.
No consensus -- which is required under WTO rules -- was expected to emerge from the ambassadors' two-day meeting on Wednesday and Thursday.
Co-sponsors of the waiver idea were shuttling between different diplomatic missions to make their case, according to a Geneva trade official who was not authorized to speak publicly about the discussions. A deadlock persists, and the opposing sides remain far apart.
The issue has become more pressing with a surge in cases in India, the world's second-most populous country and a key producer of vaccines, including one based on Western technology.
Proponents, including the World Health Organization chief, note that such waivers are part of the WTO toolbox and insist there's no better time to use them than during a once-in-a-century pandemic that has taken 3.2 million lives, infected more than 437 million people and devastated economies across the globe.
::ECONOMY::
E-way bill
The recent e-way bill Data suggests that GST receipts could see a decline in May.
E-way bill or Electronic-way bill is a document introduced under the GST regime that needs to be generated before transporting or shipping goods worth more than Rs 50,000 within state or inter-state.
It is usually a unique bill number generated for the specific consignment involving the movement of goods.
::SCIENCE AND TECHNOLOGY::
5G spectrum trials
The Department of Telecommunications (DoT), gave permissions to Telecom Service Providers (TSPs) to conduct trials for use and applications of 5G technology in India.
The applicant TSPs include Bharti Airtel Reliance Jio Infocomm, Vodafone Idea and MTNL.
About:
The experimental spectrum is being given in various bands which include the mid-band (3.2 GHz to 3.67 GHz), millimeter-wave band (24.25 GHz to 28.5 GHz) and in the Sub-Gigahertz band (700 GHz).
The TSPs will also be allowed to use their existing spectrum owned by them (800 MHz, 900 MHz, 1800 MHz and 2500 MHz) for conduct of 5G trials.
The objectives of conducting 5G trials include testing 5G spectrum propagation characteristics especially in the Indian context, model tuning and evaluation of chosen equipment and vendors, testing of indigenous technology, testing of applications including telemedicine, tele-education, augmented or virtual reality, drone-based agricultural monitoring, and to test 5G phones and devices.
5G technology is expected to deliver improved user experience in terms of data download rates (expected to be 10 times that of 4G), up to three times greater spectrum efficiency, and ultra-low latency to enable Industry 4.0.
The applications of 5G are across a wide range of sectors such as agriculture, education, health, transport, traffic management, smart cities, smart homes, and multiple applications of IoT (Internet of Things).
 CLICK HERE FOR FULL CURRENT AFFAIRS (Only for Course Members)