Current Affairs for IAS Exams - 06 January 2020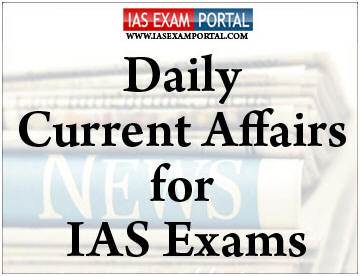 ---
Current Affairs for IAS Exams - 06 January 2020
---
::NATIONAL::
Centre plans for new legislation for social impact companies
The government is considering a new law for setting up social impact companies, where profits can be distributed among the shareholders.An official said having such companies would help in attracting private capital towards developmental activities in the country.

The corporate affairs ministry is working on a new concept for having social impact companies and the plan is to have a separate legislation in this regard, the official told.

Social impact or community interest companies are there in many Western jurisdictions, including the UK.The larger idea is to attract private capital into companies that do social good and work towards achieving sustainable development goals, the official said.

The work on the concept of social impact companies is at a very early stage, the official said, adding that it is likely to take a few years to have the required legislative framework.

Unlike Section 8 companies, these new class of companies would be allowed to pay dividends to the shareholders, which means they can share their profits within permissible limits. They would also have more freedom in carrying out their business activities, the official added.

Currently, there are more than 11 lakh registered companies that are active in the country. Active companies are those which are compliant with various requirements, including timely filing of financial statements, under the Companies Act.
Government's flagship programme of illuminating nation completes five years
UJALA and Street Lighting National Programme (SLNP) of the central government completed five successful years of illuminating the country today. Over 36.13 crore LED bulbs have been distributed across the country through the UJALA initiative. This has resulted in estimated energy savings of 46.92 billion kilowatt-hour per year.

UnnatJyoti by Affordable LEDs for All (UJALA) project brought the market transformation in the energy efficiency sector. Prices of LED bulbs being distributed under UJALA programme have fallen to one-tenth of their rates, from 310 rupees in 2015 to 38 rupees in 2018.

The switch from inefficient incandescent bulbs to LEDs is helping families reduce their electricity bills while also enabling them to access better brightness in homes.

More than 1.03 crore smart LED streetlights have been installed till date under the Street Lighting National Programme. This has enabled an estimated energy savings of 6.97 billion kilowatt-hour per year.

LED streetlights have been installed in various states across the country, helping in generating approximately 13,000 jobs to support Make in India initiative.
::ECONOMY::
DBS report finds Indian economy benefitted from favourable external environment
The Indian economy benefited from "favourable external environment" in 2019, following which portfolio inflows into equity and debt touched a multi-year high, and if this momentum is sustained it will bode well for the country's external balance, a report said.

According to Singapore's DBS Banking Group, notwithstanding a challenging trade outlook, conducive global drivers, such as flush of liquidity owing to low interest rates and stable oil prices, provided a favourable external environment for the Indian economy in 2019.

However, crude oil prices are currently hovering around USD 68 per barrel after US President Donald Trump ordered the killing of Iran Revolutionary Guards commander QasemSoleimani.

The US had called the strikes in response to a rocket attack days earlier that had killed an American contractor working in Iraq.

As per the DBS report, India attracted USD 19 billion worth net portfolio inflows in CY2019, strongest since 2017. Moreover, foreign flows into equities was the highest in nearly six years.

The report further noted that near-term progress on the US-China trade war rests on the success of the phase one agreement (likely to be signed in mid-January).

US elections and Eurozone politics and Brexit developments are other watch factors, the report titled "India: Banking on conducive global catalysts" said.
HRD ministry to transform education sector soon
Human Resource Development Ministry took a leap forward in transforming the education sector with the motto of Education for All and Quality Education. In the year 2019, Dr K Kasturirangan Committee submitted the Draft National Education Policy to the ministry.

The Government had initiated the process of formulating a New Education Policy to meet the changing dynamics of the requirements of the population with regard to quality education, innovation and research.

The Ministry has launched the PradhanMantri Innovative Learning Program (DHRUV) to identify and encourage talented children to enrich their skills and knowledge.

AIR Correspondent reports that a National Mission to improve learning outcomes at the elementary level through an Integrated Teacher Training Programme, National Initiative for School Heads and Teachers Holistic Advancement -NISHTHA was launched in August last year. This program is aimed at building the capacities of around 42 lakh teachers and Heads of Schools.

Under SamagraShiksha, a total of 5930 Kasturba Gandhi BalikaVidyalayas have been sanctioned in the country out of which 4881 such schools are operational.

In the year 2019-20. An outlay of over Rs 800 crore has been approved under sports grant for over 10 lakh government schools of different categories. The fresh guidelines for sports and physical education are being prepared.
::INTERNATIONAL::
India asks Pakistan to condemn violence against minorities
India has strongly condemned the targeted killing of a minority Sikh community member at Peshawar in Pakistan. This incident follows the recent vandalism and desecration of the holy GurdwaraNankana Sahib and the unresolved case of abduction, forced conversion and marriage of a Sikh girl.

India has called upon the Pakistan government to stop prevaricating and to take immediate action to apprehend and give exemplary punishment to the perpetrators of these heinous acts.

The External Affairs Ministry said, the Pakistan Government should act in defense of their own minorities instead of preaching sermons about this to other countries.
Iran declares that it will no longer abide by 2015 nuclear deal
Iran has declared that it will no longer abide by any of the restrictions imposed by the 2015 nuclear deal. Tehran said, it will no longer observe limitations on its capacity for enrichment, the level of enrichment, the stock of enriched material, or research and development.

Under the 2015 accord, Iran agreed to limit its sensitive nuclear activities and allow in international inspectors in return for the lifting of crippling economic sanctions.

The announcement followed a meeting of the Iranian cabinet in Tehran. Tensions have been high over the killing of Iranian General QasemSoleimani by the US in Baghdad. Hundreds of thousands turned out in Iran yesterday to give Soleimani a hero's welcome ahead of his funeral tomorrow.

EU foreign policy chief JosepBorrell has invited Iran's Foreign Minister, Mohammad JavadZarif, to visit Brussels to discuss both the nuclear deal and how to defuse the crisis over the Soleimani assassination.

Earlier, Iraqi Parliament passed a non-binding resolution calling for foreign troops to leave the country after the general's killing in a drone strike at Baghdad airport on Friday.
::SCIENCE & TECHNOLOGY::
ISRO to setup optical telescope under project NETRA
The Indian Space Research Organization signed a pact with Indian Institute of Astrophysics to establish an optical telescope under "Project NETRA".

The organisation also tied up with NIT-Karnataka to set up a regional academic centre for space to promote research and development.

Project NETRA was launched by ISRO in September 2019. Under the Project, ISRO plans to set up observational facilities that will help in making earlywarnings to satellites about debris and hazards in their orbit.

It includes radars, telescopes, control centres and data processing units. The aim isto make the facilities powerful enough to track even the smallest particle of 10 cm diameter up to a range of 3,400 km.

The project will help India detect threats to Indian satellites from debris. Currently, India operates 15 communication satellites, 13 remote sensingsatellites and eight navigation satellites.

Space debris is the biggest problem of the satellites sector. There are more than 7,500 tonnes of space debris that are circling the earth at present.These junks include screws of old rocket bodies to defunct space crafts that pose collision hazard to satellites.

Apart from ISRO, DRDO (Defence Research Development Organisation) operates NETRA (Network Traffic Analysis). It is a software network used to analyseinternet traffic. It is used by Research and Analysis Wing (RAW), Intelligence Bureau (IB) and other intelligence agencies of Government of India.
::SPORTS::
Sonam Malik seals place in Indian team for Asian championship
In Wrestling, two-time World Cadet champion Sonam Malik stunned Rio Olympic bronze medalistSakshi Malik in 62kg while another promising junior Anshu Malik knocked out World Championship medalistPoojaDhanda in 57 kg to seal their places in the Indian team for the Asian Championship in Lucknow today.

Pitted against heavyweights in their respective first round, both Sonam and Anshu cared little for reputations, fighting fearlessly.

VineshPhogat (53kg) and DivyaKakran (68kg) easily won their bouts. Nirmala Devi (50kg) and KiranGodara (76kg) were other wrestlers to win the trials.