Current Affairs for IAS Exams - 06 January 2021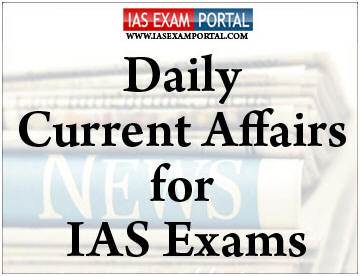 ---
Current Affairs for IAS Exams - 06 January 2021
::NATIONAL::
Prevention of Cruelty to Animals (Regulation of Livestock Markets) Rules, 2017
The Supreme Court said that a provision in the 2017 rule notified by the Centre, allowing the confiscation of the animals of traders and transporters during the pendency of trials in cases under The Prevention of Cruelty to Animals Act, 1960, is contrary to the latter's provisions which allow such confiscation only in case of conviction. 
It asked the government to either change the rule or face a stay from the court.
The 2017 rules allow a magistrate to forfeit the cattle of an owner facing trial under the Act and send them to infirmaries, gaushalas etc.
The benchhas pointed out that Section 29 of the Act says that a person tried for an offence under the Act can be deprived of the ownership of the animal only upon conviction.
Section 29, which deals with the "power of court to deprive person convicted of ownership of animal", in clause (1) says that "if the owner of any animal is found guilty of any offence under this Act, the court, upon his conviction thereof, may, if it thinks fit, in addition to any other punishment, make an order that the animal with respect to which the offence was committed shall be forfeited to Government and may, further, make such order as to the disposal of the animal as it thinks fit under the circumstances".
Avian influenza
Around 1,800 migratory birds, most of them Bar-Headed Geese, have been found dead in the Pong Dam Lake in Himachal Pradesh have tested positive for avian influenza or bird flu.
RT-PCR testing of samples of five dead Bar-Headed geese conducted at the National Institute of High Security Animal Diseases (NIHSAD) in Bhopal found all birds positive for the H5N1 avian influenza virus.
Bird flu is a highly infectious and severe respiratory disease in birds caused by the H5N1 influenza virus, which can occasionally infect humans as well, although human-to-human transmission is unusual, according to the World Health Organisation.
Birds in large numbers have been dying mysteriously across the country in recent days. 
Samples of some ducks in Kerala have also reportedly tested positive for the bird flu.
CLICK HERE FOR FULL CURRENT AFFAIRS (Only for Course Members)
::INTERNATIONAL::
Iran steps up uranium enrichment
Iran confirmed to enriching uranium to 20 per cent purity. 
It is well beyond the threshold set by its 2015 nuclear deal with major powers, sparking international concern.
The move at its underground Fordow facility was confirmed by UN watchdog the International Atomic Energy Agency (IAEA).
The law "for the lifting of sanctions and protection of the Iranian people's interests" mandates Rouhani's government to "produce and store 120 kilogrammes (265 pounds) per year of uranium enriched to 20 per cent."
The Iranian government has signalled a readiness to engage with President-elect Joe Biden, who has expressed willingness to return to diplomacy with Tehran and takes office on January 20.
Iran's return to enrichment of uranium to 20 per cent purity has triggered international concern because it is seen as a significant step towards the 90 per cent level required for a nuclear weapon.
The IAEA confirmed that "Iran today began feeding uranium already enriched up to 4.1 per cent U-235 into six centrifuge cascades at the Fordow Fuel Enrichment Plant for further enrichment up to 20 per cent".
Vietnam buys Indian rice for first time in decades
Vietnam, the world's third biggest exporter of rice, has started buying the grain from India for the first time in decades.
The purchases underscore tightening supplies in Asia, which could lift rice prices in 2021 and even force traditional buyers of rice from Thailand and Vietnam to switch to India — the world's biggest exporter of the grain. 
Indian traders have contracted to export 70,000 tonnes of 100% broken rice for January and February shipments at about $310 per tonne on a free-on-board basis.
According to a provisional data from the trade Ministry showed that, in 2020 India exported a record 14 million tonnes of rice.
Economy
Faceless tax assessment scheme
The government's faceless tax assessment scheme, an attempt to remove individual tax officials' discretion and potential harassment for income tax payers.
It has managed to deliver about 24,000 final orders since its introduction in August 2020.
About:
The faceless appeals systems are now in place and after hearing parties, more than 800 cases have seen orders being passed through the faceless manner.
An entirely faceless process for tax assessments and appeals may make it difficult at times to explain nuances of the concerned transactions, the Finance Secretary said that the scheme allows for hearings in certain situations.
The scheme allows for appropriate cases where a certain hearing is necessary, so then after following protocols, a hearing is given. 
More than 24,000 final orders have been passed through the faceless system demonstrates that the system has stabilised.
Science and Technology
40th Indian Scientificexpedition to Antarcticalaunched
The 40th Indian Scientific Expedition to Antarctica (ISEA) departed for the South Pole from Mormugao Port, Goa with 43 members on board, January 5, 2021.
It will support the ongoing scientific projects on climate change, geology, ocean observations, resupply offood, fuel etc. and accomplishing the return of the winter crew.
Indian Antarctic expeditions began in 1981.
Indian Antarctic programme built three permanent research base stations in Antarctica— named DakshinGangotri, Maitri, and Bharati. Two research stations Maitri and Bharati are operational.
National Centre for Polar and Ocean Research, Goa, manages the entire Indian Antarctic program.
CLICK HERE FOR FULL CURRENT AFFAIRS (Only for Course Members)
Sports
New Zealand attains top spot in Test cricket 
New Zealand grabbed the number one position in the ICC Test rankings for the first time in history after decimating Pakistan by an innings and 176 runs in the second Test in Christchurch, on Wednesday.
The comfortable series-clinching victory, shaped by captain Kane Williamson's double century, pushed the Kiwis to top of the heap as they became the sixth country in the past 10 years to be ranked number one in Test cricket.