Current Affairs for IAS Exams - 06 February 2020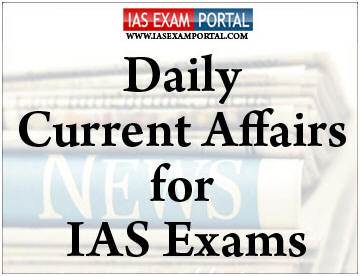 ---
Current Affairs for IAS Exams - 06 February 2020
---
::NATIONAL::
SC affirms opening up of command posts to women
Women should not just strive to equal men but go far ahead of them, Solicitor General Tushar Mehta told the Supreme Court on Wednesday.
This comes just a day after a written note of the government, represented by Mr. Mehta, in the Supreme Court, cast doubts about women officers matching up to men in physical prowess and their ability to take command posts in the Army.
The Bench said a will and a change of mindset on the part of the government would definitely see women officers rise to command posts in the Army. There were many services in addition to combat posts.
Besides, the note stated, the "composition of rank and file being male predominantly drawn from the rural background with prevailing societal norms, troops are not yet mentally schooled to accept women officers in command of units".
Army units were a "unique all-male environment". Presence of women officers would require "moderated behaviour", the note said. Thus, the posting of women officers in all-male units had its own "peculiar dynamics", it noted.
CPCB pulls up thermal power plants for non-compliance
The Central Pollution Control Board (CPCB) has pulled up 14 thermal power plants for not complying with a December 31, 2019 deadline to limit sulphur dioxide emissions.
These are 5 plants in Haryana, 3 in Punjab, 2 in Uttar Pradesh, 2 in Andhra Pradesh, 2 in Telangana and 1 in Tamil Nadu with a total capacity of approx 15 GW that have missed the deadline.
To limit particulate matter (PM), sulphur dioxide and nitrous oxide emission from thermal plants, India put in place a phased-approach that directs 440 coal-fired units — responsible for about 166,000 MW of power — to put in place measures to limit pollution by December 2022.
However, 11 plants in a 300 km radius of Delhi were to comply by December 31, 2019 because of the poor air quality in the city as well as the surrounding Gangetic plain.
Non-compliance by the thermal power plants is an on going dispute being contested at the National Green Tribunal through a petition filed in April 2017.
The CPCB has the power to impose steep fines or shut a unit under the provisions of the Environment Protection Act. As per Centre for Science and Environment (CSE) estimates, these norms can help reduce PM emissions by about 35%, nitrogen oxide emissions by about 70%, and sulphur dioxide emissions by more than 85% by 2026-27 against a business-as-usual scenario with no pollution control technologies.
::ECONOMY::
RBI to put cooperative banks under its purview
In the wake of the recent Punjab & Maharashtra Cooperative (PMC) Bank crisis, the Union Cabinet on Wednesday approved amendments to the Banking Regulation Act to bring 1,540 cooperative banks under the Reserve Bank of India (RBI) regulation.
Cooperative banks have 8.6 lakh account holders, with a total deposit of about ₹5 lakh crore.
Qualifications would be laid down for appointments, including that of Chief Executive Officers. Prior permission from the RBI would be required for the appointment of key positions. The regulator would deal with issues such as loan waivers.
The RBI would also have powers to supersede the board of any cooperative bank in financial distress.
The proposed amendments, along with the government's decision to increase the insurance cover on bank deposits from ₹1 lakh to ₹5 lakh, have been brought to strengthen the financial stability of cooperative banks and boost public confidence in the banking system.
In the PMC Bank case, the RBI had to step in last year after massive irregularities in its loan accounts were detected. The regulator had to place a withdrawal limit for account holders, which led to a major public strife and protests by them.
Agriculture ministry claims distribution of 22 crore soil health cards
More than 22 crore Soil Health Cards have been distributed to farmers till date. The Soil Health Card scheme was launched by the government in 2015 with a view to address the decline of soil nutrients.
Agriculture Ministry has said that in the first phase between 2015 to 2017 over 10 crore cards were distributed, while in the second phase over 11 crore 50 lakhs cards have been given away from 2017 to 2019.
The Ministry said, this card has enabled the farmers to understand the soil health parameters and improve its productivity by judicious application of soil nutrients.
The scheme also provides for the analysis of soil composition by the State Governments once in every two years so that remedial steps can be taken to improve soil nutrients.Farmers can track their soil samples and also obtain their Soil Health Card report.
::INTERNATIONAL::
US president acquitted of all impeachment charges
The United States President Donald Trump has been acquitted of all impeachment charges. The US Senate has acquitted President Trump on two articles of impeachment that are- abuse of power and obstruction to Congress.
The Republican-majority Senate voted 52-48 to acquit him of abuse of power and 53-47 to acquit him of obstruction of Congress. Democrats required two-thirds of votes in the 100-member House to impeach the president. The ruling Republican party has 53 seats while the Democrats have 47.
Republican Senator Mitt Romney, who was the party's presidential nominee in 2012, voted against the president on the first charge, but followed the party line on the second article of impeachment.
Rest of the members voted on party lines. Trump announced on Twitter that he will make a public statement on the matter today.
Syrian troops capture key rebel town
Syrian government troops have captured a key opposition town despite threats by Turkey's president to use force if they don't pull back by the end of the month.
The town, Saraqeb, sits at the intersection of two major highways, one linking the Syrian capital of Damascus to the north region and another connecting the country' west and east areas.
Syrian forces have been fighting to open the Damascus-Aleppo highway, which rebels have kept shut down since 2012. Saraqeb is the last major rebel-held town in their way.
The Britain-based Syrian Observatory for Human Rights and an opposition news network said that Syrian government troops entered Saraqeb after an intense day of fighting, during which several Turkish observation posts were also surrounded.
::SCIENCE & TECHNOLOGY::
PM sets defence export target of $5billion in 5 years
Prime Minister NarendraModi has said that his government has set a defence export target of 5 billion dollars in the next five years.
Mr Modi said, our mantra is Make in India, for India, for world. The eleventh edition of the mega defence event is being held in Lucknow with the theme "India: The Emerging Defence Manufacturing Hub". The five-day DefExpo - India's biennial exhibition of military platforms and weapons - is being attended by 38 defence ministers and top executives of 172 foreign defence majors and 856 Indian companies.
Prime Minister invited global defence majors to set up their manufacturing units in India. Mr Modi said, there is an infinite opportunity in defence manufacturing in India. He said, there is demand, democracy and decisiveness in India. Prime Minister said, India also offers talent, infrastructure, favourable policy initiative and security of investment.
Mr Modi said, lack of proper policy initiatives in the last several decades has made India the biggest importer of defence platforms. Prime Minister said, his government has taken a series of policy initiatives to cut the country's dependence on arms imports and promote domestic production. Mr Modi said, India is significantly boosting its military might and even increasing presence in outer space responsibly.
Speaking on the occasion, Defence Minister Rajanath Singh said that the creation of two defence corridors in India is a result of prime minister's vision of leading India to become a technological powerhouse. He said that the nation will benefit from the defence industrial ecosystem being setup and developed using cluster development.
::SPORTS::
Indian women beat New Zealand in hockey
In Women's Hockey, India drew curtains on the New Zealand tour on a bright note with striker NavneetKaur scoring a brace to guide the Indian team to a convincing 3-0 win over New Zealand.
In the last game of its five-match tour in Auckland today, Navneet scored in the 45th and 58th minutes, while Sharmila scored a field goal in the 54th minute.
India began the tour by thrashing New Zealand Development squad 4-0 before suffering close 1-2 and 0-1 defeats to the home senior team.