Current Affairs for IAS Exams - 06 March 2020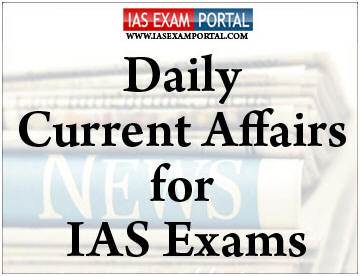 ---
Current Affairs for IAS Exams - 06 March 2020
---
::NATIONAL::
EC to consider linking of Aadhaar with voter ID
The Law Ministry has informed the Lok Sabha that it has a proposal from the Election Commission (EC) to link Aadhaar with the Election Photo Identity Card (EPIC) to prepare an error-free electoral roll.
In response to an unstarred question on Wednesday, the Law Ministry said "the matter is under consideration".
"In order to ensure preparation of an error-free electoral roll, and to prevent duplication of entries, a proposal to amend the Representation of the People Act, 1951 to enable linking of the electoral data with the Aadhaar system has been received from the Election Commission," the Law Ministry said in its reply.
One of the arguments being made in favour of the move is that it may allow migrant labour and workers to vote even if they are away from their homes at the time of elections.
Former Chief Election Commissioner H.S. Brahma told The Hindu that the process of seeding Aadhaar with the voter ID card had started in 2012 during his tenure but was subsequently stalled because of a pending litigation on Aadhaar.
Study finds India amongst least-free democracies
India has become one of the world's least free democracies, according to a global survey, which warned that "the Indian government's alarming departures from democratic norms under Prime Minister ..............................................
 CLICK HERE FOR FULL CURRENT AFFAIRS (Only for Course Members)
::ECONOMY::
G7 to use all policy tools to prevent corana risk
Top finance officials from the Group of Seven nations today said, they would use all appropriate policy tools to prevent the new coronavirus outbreak from damaging economic growth, following the rout on global stock markets last week.
After a conference call of finance ministers and central bankers, the group said that G-7 finance ministers are ready to take actions, including fiscal measures where appropriate, to aid in the response to the virus and support the economy during this phase.
It said G7 central banks will continue to fulfill their mandates, thus supporting price stability and economic growth while maintaining the resilience of the financial system.
The officials from the world's most advanced economies Britain, Canada, France, Germany, Italy, Japan and the United States, however, did not announce any specific relief measures.
Government approves projects worth 300cr for food processing sector
Union Government has sanctioned ten projects worth over 301 crore rupees in food processing .................................
 CLICK HERE FOR FULL CURRENT AFFAIRS (Only for Course Members)
.
::INTERNATIONAL::
ICC to continue with Afghan war crimes probe
Prosecutors at the International Criminal Court will investigate whether war crimes were committed in Afghanistan by the Taliban, Afghan military and U.S. forces after an appeals panel said on Thursday the "truth-seeking" inquiry should go ahead.
The ICC decision, which came days after the U.S. agreed to pull its troops from the long-running conflict, opens the way for prosecutors to launch a full investigation, despite U.S. government opposition.
U.S. Secretary of State Mike Pompeo quickly condemned the decision as "a truly breathtaking action by an unaccountable political institution, masquerading as a legal body.
"It is all the more reckless for this ruling to come just days after the U.S. signed a historic peace deal on Afghanistan the best chance for peace in a generation."
Prosecutor Fatou Bensouda wants to investigate possible crimes committed between 2003 and 2014, including alleged mass killings of civilians by the Taliban, as well as the alleged torture of prisoners by Afghan authorities and to a lesser extent by U.S. forces and the CIA.
BIMSTEC charter adoption probably in next summit claims officials
BIMSTEC charter will be ready for adoption at its next biennial summit meeting scheduled to be held in Colombo later this year.
This was informed by BIMSTEC Secretary General Mohammad Shahidu Islam during his meeting with Sri Lankan Prime Minister Mahinda Rajapaksa last evening.
During the ...............................................
 CLICK HERE FOR FULL CURRENT AFFAIRS (Only for Course Members)
::SCIENCE & TECHNOLOGY::
Study finds global ocean covering entire earth 3.2billion years ago
Early Earth, home to some of our planet's first lifeforms, may have been a real-life "waterworld" without a continent in sight- a discovery that can scientists to better understand how and where single-cell organisms first emerged on Earth.
The researchers took advantage of a quirk of hydrothermal chemistry to suggest that the surface of Earth was likely covered by a global ocean 3.2 billion years ago.
The team looked, in particular, for two different isotopes of oxygen trapped in stone: a slightly heavier atom called Oxygen-18 and a lighter one called Oxygen-16.
The duo discovered that the ratio of those two isotopes of oxygen may have been a bit off in seawater 3.2 billion years ago -- with just a smidge more Oxygen-18 atoms than you'd see today.
He explained that today's land masses are covered by clay-rich soils that disproportionately take up heavier oxygen isotopes from the water -- like mineral vacuums for Oxygen-18.
The team theorized that the most likely explanation for that excess Oxygen-18 in the ancient oceans was that there simply weren't any soil-rich continents around to suck the isotopes up.
"There are no samples of really ancient ocean water lying around, but we do have rocks that interacted with that seawater and remembered that interaction," Johnson said. The study appeared in the journal Nature Geoscience.
The study also feeds into an ongoing debate over what ancient Earth may have looked like: Was the planet much hotter than it is today? "There was seemingly no way forward on that debate. We thought that trying something different might be a good idea," said Johnson.
::SPORTS::
Countries to have both male and female flag bearers at Tokyo Olympics
The International Olympic Committee (IOC) yesterday announced that this year's Tokyo Olympics will have the option of a male and female competitor jointly bearing their country's flag at the opening ceremony. IOC has encouraged all National Olympic Committees to make use of this option.
The IOC's Executive Board added that there should be, for the first time, at least one female and one male athlete in every one of the 206 teams as well as the Refugee Olympic Team.
The IOC statement also said that the 2020 Tokyo Olympics, to be held in July-August, will be the first gender-balanced Olympic Games in the history with 48.8 per cent women's participation.