Current Affairs for IAS Exams - 06 April 2021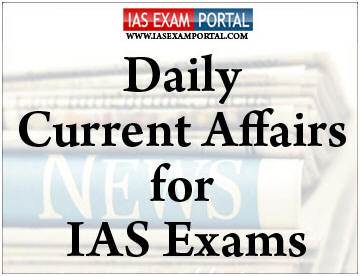 ---
Current Affairs for IAS Exams - 06 April 2021
::NATIONAL::
Sankalp se Siddhi
It has been launched byTRIFED under Ministry of Tribal Affairs.
It is a 100-day drive in tribal villages covering 1500 villages in the country, with the main aim of to activate theVan Dhan Vikas Kendras in these villages.
Van Dhan Vikas Kendras are established under PM Van Dhan Yojana to provide skill upgradation and capacity building training and setting up of primary processing and value addition facility.
Tribal Cooperative Marketing Development Federation of India (TRIFED) is a national-level organizationfunctioning for is socio-economic development of tribal people by marketing development of the tribal products including minor forest produce.
India's biggest floating solar power plant
Recently set up at Ramagundam in Telangana with a capacity of 100 MW is set to open in May this year.
It is being commissioned by the National Thermal Power Corporation (NTPC).
Under the floating plants, the photovoltaic panels are deployed on the surface of water bodies. They areconsidered as a viable alternative to land-based solar arrays.
Also, world's largest solar power plant with 600 MW capacity is being set up on Omkareshwar Dam onNarmada river in Madhya Pradesh.
CLICK HERE FOR FULL CURRENT AFFAIRS (Only for Course Members)
::INTERNATIONAL::
Global Gender Gap Report 2021
India has fallen 28 places in the World Economic Forum's Global Gender Gap Report 2021, and is now one of the worst performers in South Asia, trailing behind neighbours Bangladesh, Nepal, Bhutan, Sri Lanka and Myanmar -— it is now ranked 140 among 156 countries.
About:
The report points out that many countries have fared worse in this year's rankings compared to last year's, on account of economic performance.
The gender gap in political empowerment remains the largest: women represent only 26.1 per cent of some 35,500 parliament seats and just 22.6 per cent of over 3,400 ministers worldwide, according to the report. In 81 countries, there has never been a woman head of state, as of January 15, 2021.
India has declined on the political empowerment index as well by 13.5 percentage points, and a decline in the number of women ministers, from 23.1 per cent in 2019 to 9.1 per cent in 2021, it has still performed relatively well compared to other countries, ranking at 51 in women's participation in politics. 
La Pérouse
Indian Navy Ships INS Satpura (with an integral helicopter embarked) and INS Kiltan Alongwith P8I Long Range Maritime Patrol Aircraft are participating, for the first time; in multilateral maritime exercise La Pérouse, being conducted in the Eastern Indian Ocean Region from 05 to 07 April.
The exercise La Pérouse, led by French Navy, has participation by FN Ships Tonnerre, an amphibious assault ship and frigate Surcouf. 
United States Navy is represented in the exercise by amphibious transport dock ship Somerset. Her Majesty's Australian Ships (HMAS) Anzac, a frigate and tanker Sirius have been deployed by RAN for participation in the exercise while Japan Maritime Self Defence Ship (JMSDF) is represented by the destroyer Akebono. In addition to the ships, integral helicopters embarked onboard ships will also participate in the exercise.
The exercise will witness advanced naval operations including surface warfare, anti-air warfare and air defence exercises, weapon firing exercises, cross deck flying operations, tactical manoeuvres and seamanship evolutions such as replenishment at sea.
::ECONOMY::
Chenab Arch Bridge
Chenab Bridge is 1,315m-long bridge is being built at a height of 359m. Once completed, it will be the tallest rail bridge in the world.
It forms the crucial link in the 111-km stretch between Katra and Banihal which is part of the UdhampurSrinagar-Baramulla section of the Kashmir Railway project.
It'll be able to withstand earthquakes with a magnitude of up to eight and high-intensity blasts.
It'll provide the much-needed all-weather connectivity between Kashmir and the rest of the county.
::SCIENCE AND TECHNOLOGY::
Internal Combustion engines
Indian Institute of Technology Mandi researchers, along with Robert Bosch Engineering and Business Solutions, have developed algorithms to predict the functioning of vehicular Internal Combustion (IC) engines so that their operation can be optimised for maximum fuel efficiency and minimum emissions.
The IC engine that is fuelled by petrol and diesel powers about 99.8 per cent of global transport, and in doing so, generates about 10 per cent of the world's greenhouse gas (GHG) emissions. 
While alternatives including battery electric vehicles (BEVs) and other fuels like biofuels and hydrogen are slowly gaining ground, as of now, they are often used in conjunction with conventional IC engines. 
It is therefore, imperative that IC engines' designs are optimised in order to ensure the best fuel economy and minimal emissions over the entire lifespan of the engine.
 CLICK HERE FOR FULL CURRENT AFFAIRS (Only for Course Members)