Current Affairs for IAS Exams - 06 June 2022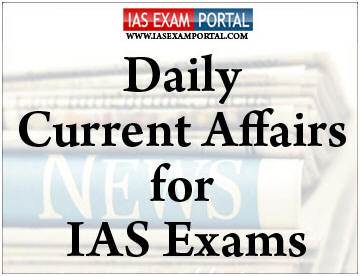 ---
Current Affairs for IAS Exams - 06 June 2022
::NATIONAL::
State of Environment Report 2022
Three out of every four river monitoring stations in India posted alarming levels of heavy toxic metals such as lead, iron, nickel, cadmium, arsenic, chromium and copper, according to the State of Environment Report 2022 from the environmental NGO, the Centre for Science and Environment (CSE). 
About:
The report is an annual compendium of environment-development data and is derived from public sources.
Of the 588 water quality stations monitored for pollution, total coliform and biochemical oxygen demand were high in 239 and 88 stations across 21 States - an indicator of poor wastewater treatment from industry, agriculture and domestic households. 
India dumps 72% of its sewage waste without treatment. Ten States do not treat their sewage at all, as per the Central Pollution Control Board.
Over a third of India's coastline that is spread across 6,907 km saw some degree of erosion between 1990 and 2018. 
West Bengal is the worst hit with over 60% of its shoreline under erosion. The reasons for coastal erosion include increase in frequency of cyclones and sea level rise and anthropogenic activities such as construction of harbours, beach mining and building of dams.
CLICK HERE FOR FULL CURRENT AFFAIRS (Only for Course Members)
Gujarat villagers turn farm into artificial wetland to save Saras crane eggs
A Saras crane couple in the family way has found surprise custodians in the people of Ganasar village, eight kilometres away from Motown Sanand.
About:
The sarus crane (Antigone antigone) is a large non-migratory crane.
It is found in open wetlands in South Asia, seasonally flooded Dipterocarpus forests in Southeast Asia, and Eucalyptus-dominated woodlands and grasslands in Australia.
The Sarus crane is the tallest flying bird in the world standing 152-156 cm tall with a wingspan of 240cm. The sarus crane is easily distinguished from other cranes in the region by its overall grey colour and the contrasting red head and upper neck.
The main threat to the Sarus crane in India is habitat loss and degradation due to draining the wetland and conversion of land for agriculture.
Status: Listed in Schedule IV of the Wildlife (Protection) Act 1972 of India and as Vulnerable on IUCN Red List.
CLICK HERE FOR FULL CURRENT AFFAIRS (Only for Course Members)
::INTERNATIONAL::
Tracking SDG 7: TheEnergy Progress Report
It is a joint report by the World Bank, WHO, UNSD, IEA (International Energy Agency) and IRENA(International Renewable Energy Agency) on global progress under the Sustainable DevelopmentGoal 7 (Ensure access to affordable, reliable, sustainable and modern energy for all).
Key findings:
91% world's population had access to electricity in 2020.
With the Current rates of progress, the world will reach only 92% electrification by 2030.
Renewable shares need to be over 30% of energy consumption by 2030 for reaching net-zeroenergy emissions by 2050.
Way forward:
As policy makers chart the path ahead, it is worth bearing in mind that an energy transition ambitious enough to fulfill SDG 7 can also help meet other social and economic objectives. 
CLICK HERE FOR FULL CURRENT AFFAIRS (Only for Course Members)
Quad To Launch Maritime Initiative To Track Dark Shipping
Quad leaders at the Tokyo summit are set to launch a range of initiatives, including a maritime security partnership, that will allow the member countries to monitor illegal fishing, track "dark shipping" and other tactical-level activities.
About:
Dark ships" are vessels with their Automatic Identification System (AIS) - a transponder system - switched off so as not to be detectable. 
This crucial maritime pact between the Quad member countries will enhance the security apparatus of the Indo-Pacific region.
The maritime initiative Indo-Pacific Partnership for Maritime Domain Awareness (IPMDA) will offer a near-real-time, integrated, and cost-effective maritime domain awareness picture.
This initiative will transform the ability of partners in the Pacific Islands, Southeast Asia, and the Indian Ocean region to fully monitor the waters on their shores and, in turn, to uphold a free and open Indo-Pacific.
Quad countries are committed to contributing to the region's maritime domain awareness -- a fundamental requirement for peace, stability, and prosperity -- through investment in IPMDA over five years.
CLICK HERE FOR FULL CURRENT AFFAIRS (Only for Course Members)
::ECONOMY::
Overseas DirectInvestment
Savvy investors are using Overseas Direct Investment (ODI) route to bet on cryptocurrencies abroad with liberalised remittancefacility (LRS).
About:
ODI is an investment made outside India in a Joint Venture (JV) or Wholly Owned Subsidiary (WOS) either under Automatic Route or Approval Route.
Engaged in Real Estate business activity.
Which offers financial products linked to Indian Rupee.
Indian Parties are not permitted to invest in foreign entity.
Eligibility:
Company; body created under Act of Parliament; Partnership Firm registered under Indian Partnership Act, 1932; Limited Liability Partnership (LLP), registered under LLP Act, 2008,Resident Individuals under LRS.
CLICK HERE FOR FULL CURRENT AFFAIRS (Only for Course Members)
::SCIENCE AND TECHNOLOGY::
Three Chinese astronauts dock at space station
Three Chinese astronauts have docked with the country's space station, marking another milestone in Beijing's drive to become a major space power.
About:
The trio lifted off with a Long March2F rocket at 08:14 a.m. IMT from Jiuquan Launch Center in the Gobi Desert in northwest China, broadcaster CCTV said.
The team is responsible for "complete orbital assembly and construction of the space station" as well as "commissioning equipment" and conducting scientific experiments.
The spacecraft docked at Tiangong Station after about "seven hours of flight". Tiangong, which means "heavenly palace", is expected to become fully operational by the end of the year. 
The completed station will be similar to the Soviet Mir station that orbited Earth from the 1980s until 2001. 
CLICK HERE FOR FULL CURRENT AFFAIRS (Only for Course Members)
::Miscellaneous::
Pradhan Mantri Jeevan Jyoti Bima Yojana 
Insurance Regulatory and Development Authority of India (IRDAI) reduced the capital required by insurance companies offering Pradhan Mantri Jeevan Jyoti Bima Yojana (PMJJBY) by 50%.
About:
PMJJBY was launched under Ministry of Finance in 2015 to provide affordable insurance and security to people in age group of 18 to 50 years.
The scheme is being offered by Life Insurance Corporation and all other life insurers who are willing to offer the product on similar terms with necessary approvals and tie up with banks for this purpose.
It will encourages more participation of insurers in scheme and provide financial security.
CLICK HERE FOR FULL CURRENT AFFAIRS (Only for Course Members)