Current Affairs for IAS Exams - 06 May 2022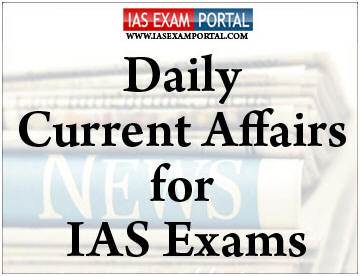 ---
Current Affairs for IAS Exams - 06 May 2022
::NATIONAL::  
Delimitation process in Jammu & Kashmir
The Delimitation Commission headed by Justice Ranjana Prakash Desai, (a retired Judge of the Supreme Court of India) to finalise the Delimitation Order for the Union Territory of Jammu & Kashmir.
Key highlights: 
Out of the 90 Assembly Constituencies in the region, 43 will be part of Jammu region and 47 for Kashmir region keeping in view the provisions of Section 9(1)(a) of the Delimitation Act, 2002 and Section 60(2)(b) of Jammu & Kashmir Reorganization Act, 2019.
After consultation with Associate Members, representatives of political parties, citizens, civil society groups, 9ACs have been reserved for STs, out of which,6 are in Jammu region and 3 ACs in the Valley.
There are five Parliamentary Constituencies in the region. The Delimitation Commission has seen the Jammu & Kashmir region as one single Union Territory. Therefore, one of theParliamentary Constituency has been carved out combining Anantnag region in the Valley and Rajouri & Poonch of Jammu region.  By this reorganisation each Parliamentary Constituency will have equal number of 18 Assembly Constituencies each.
Names of some ACs have also been changed keeping in view the demand of local representatives.
Background: 
The Delimitation Commission was entrusted with the work of delimiting the Assembly and Parliamentary Constituencies in the UT of Jammu and Kashmir on the basis of 2011 Census and in accordance with the provisions of Part-V of the Jammu and Kashmir Reorganisation Act, 2019 (34 of 2019) and the provisions of Delimitation Act, 2002(33 of 2002).   
CLICK HERE FOR FULL CURRENT AFFAIRS (Only for Course Members)
Delhi Startup Policy
The Delhi state cabinet approved the "Delhi Startup Policy".
About:
Aimed at creating an enabling ecosystem for people to launch startups and avail of a host of handholding measures such as 
1.    fiscal and non-fiscal incentives, 
2.    collateral-free loans, and 
3.    free consultancy from experts, lawyers, and chartered accountants, among others.
This also aims to encourage, facilitate, and support 15,000 startups by 2030 and generate new avenues of employment.
The government also decided to introduce entrepreneurship classes and the "business blasters" programme in colleges after the successful roll-out of these programmes in schools.
A 20-member task force, comprising government officials and experts from business and trade, that will help startups with registration and other activities.
CLICK HERE FOR FULL CURRENT AFFAIRS (Only for Course Members)
::INTERNATIONAL::
United Nations' World Food Programme
The United Nations' World Food Programme (WFP) has said that it is in discussions with India on procurement of wheat as several countries face food security challenges amid the Ukraine war.
India's wheat production stood at 109.59 million tonnes in the 2020-21 crop year (July-June).
The World Food Programme launched the 2022 Global Report on Food Crises on Wednesday in which UN Secretary General Antonio Guterres said that the war in Ukraine is "supercharging" a three-dimensional crisis — food, energy and finance — with devastating impacts on the world's most vulnerable people, countries and economies.
The report warned that the outlook for global acute food insecurity in 2022 is expected to deteriorate further relative to 2021.
Background:
The World Food Programme (WFP) is the food-assistance branch of the United Nations and the world's largest humanitarian organization addressing hunger and promoting food security.
The WFP was formally established in 1963 by the FAO and the United Nations General Assembly. 
John Lee
China is installing John Lee as the new leader of Hong Kong in the culmination of a sweeping political transformation that has gutted any opposition in the Asian financial centre and placed it ever more firmly under Beijing's control.
About:
Over half of the 1,500-member Election Committee that selects the chief executive has already endorsed him and he needs only a simple majority to win.
Lee will replace Carrie Lam on July 1. Her 5-year term was marked by Hong Kong's most tumultuous period since the former British colony was returned to China in 1997.
The election follows major changes to Hong Kong's electoral laws last year to ensure that only "patriots" loyal to Beijing can hold office. That also saw the legislature reorganised to all but eliminate opposition voices.
Hong Kong:
Hong Kong is a city and special administrative region of China on the eastern Pearl River Delta in South China.
CLICK HERE FOR FULL CURRENT AFFAIRS (Only for Course Members)
::ECONOMY::
Direct Seeding of Rice
The Punjab government recently announced Rs 1,500 incentive per acre for farmers opting for Direct Seeding of Rice (DSR), which is known for saving water.
About:
With DSR, paddy seeds are sown directly with machine.
With DSR technique, which is called 'tar-wattar DSR' (good soil moisture), farmers must sow paddy only after pre-sowing (rauni) irrigation and not in dry fields. Further, the field should be laser levelled. 
Benefits: 
DSR technique can help save 15% to 20% water.
DSR offers avenues for ground water recharge as it prevent the development of hard crust just beneath the plough layer due to puddled transplanting and it matures 7-10 days earlier than puddle transplanted crop, therefore giving more time for management of paddy straw.
DSR can solve labour shortage problem because as like the traditional method it does not require a paddy nursery and transplantion of 30 days old paddy nursery into the main puddled field.
Key concern: 
Suitability of soil is the most important factor as farmers must not sow it in the light textured soil as this technique is suitable for medium to heavy textured soils including sandy loam, loam, clay loam, and silt loam which accounts for around 80% area of the state. 
It should not be cultivated in sandy and loamy sand as these soils suffer from severe iron deficiency, and there is higher weed problem in it. 
CLICK HERE FOR FULL CURRENT AFFAIRS (Only for Course Members)
::SCIENCE AND TECHNOLOGY::
Oral treatment for diabetes
Researchers at IIT Mandi have identified a drug molecule that can be used to treat diabetes. 
Key findings: 
The molecule, called PK2, is able to trigger the release of insulin by the pancreas, and can potentially be used as an orally administered medicine for diabetes, IIT Mandi said in a press release.
The findings of the research have been published in the Journal of Biological Chemistry.
The researchers found that PK2 was rapidly absorbed by the gastrointestinal tract, which means that it can be used as an oral medication rather than an injection. 
After two hours of administration, PK2 was found distributed in the liver, kidney, and pancreas of the mice, but there were no traces of it in the heart, lungs, and spleen. 
There was a small amount present in the brain, which shows that the molecule may be able to cross the blood-brain barrier. It was cleared from circulation in about 10 hours.
CLICK HERE FOR FULL CURRENT AFFAIRS (Only for Course Members)