Current Affairs for IAS Exams - 06 September 2021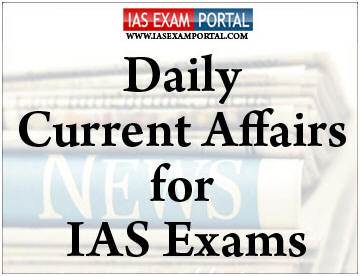 ---
Current Affairs for IAS Exams - 06 September 2021
::NATIONAL::
Journalist Welfare Scheme
Ministry of Information and Broadcasting constituted a committee to review the existing guidelines of Journalist Welfare Scheme (JWS).
About:
JWS provide one-time ex-gratia relief on urgent basis to journalists and their families.
Assistance upto Rs.5 lakh provided to the family under extreme hardship on account of death ofthe journalist.
The committee will examine the need for revision of the quantum of ex-gratia payment in deathas well as other cases under the JWS.
It will also look into the aspect of differentiation or parity between accredited and non-accredited journalists for availing benefits.
Deputy Speaker for LokSabha
Post of Deputy-speaker in Lok Sabha (LS) has been vacant for 830 days which is a violation of Article 93 of the Indian constitution.
About Deputy Speaker:
Article 93 of the Constitution provides for their election.
Usually, they are elected in the first meeting of Lok Sabha after General elections from amongst members of Lok Sabha.
By convention the position is offered to opposition party in India.
They act as the presiding officer in case of leave or absence caused by death or illness of the Speaker of the Lok Sabha.
CLICK HERE FOR FULL CURRENT AFFAIRS (Only for Course Members)
::INTERNATIONAL::
Climate Finance Leadership Initiative
The Indian and UK governments established Climate Finance Leadership Initiative.
About:
It is a new tie-up to finance inclusive, resilient and sustainable infrastructure in India by harnessing public and private capital to meet the country's low-carbon goals.
It is an industry-led initiative to unlock private capital to help finance India's low-carbon transition.
CFLIchair is held by UN Special Envoy on Climate Ambition and Solutions.
It was launched during the 11th UK-India Economic and Financial Dialogue.
The aim of the CFLI India project is to drive capital into India through public, private, and multilateral initiatives to help the country meet its 2015 Paris Agreement commitments, which include a pledge to reduce emissions intensity of GDP by 33-35 per cent by 2030.
The Climate Finance Leadership Initiative is working to eliminate barriers to investment and create market conditions to drive more capital to green projects – and this collaboration between India and the UK, two of the world's largest and most dynamic economies, can create a model for countries around the world to learn from.
Ramon Magsaysay Award 2021
A Bangladeshi vaccine scientist (Dr. Firdausi Qadri) and a microfinance pioneer from Pakistan (Muhammad Amjad Saqib) were among the five recipients of Ramon Magsaysay Award, 2021.
It was established in 1957, the Ramon Magsaysay Award is regarded as the Asian version of the NobelPrize.
It is named after Ramon Magsaysay, the third president (1953-57) of Philippines.
Ramon Magsaysay Award Foundation (RMAF) honours individuals or organizations in Asia whohave engaged in social contribution activities every year.
::ECONOMY::
Glue Grant Scheme
As part of National Education Policy (2020) implementation, 40 central universities will start usingCredit Bank as well as the recently announced Glue Grant Scheme.
Credit Bank, or academic bank of credit, is a digital bank that holds the credit earned by a studentin any course, helping students to select best courses or courses as per his/her needs or aptitude.
Glue Grant Scheme will be implemented in 9 cities to develop education hubs; through sharing ofresources and equipment among same city institutions (including mobility for students) through anumbrella structure.
::SCIENCE AND TECHNOLOGY::
Blue straggler
Indian researchers have carried out the first-ever comprehensive analysis of blue stragglers.
About:
Blue stragglers are bigger and bluer star formed when one star eats up another.
These stars are primarily present in the older and massive star clusters.
More than 54% of blue stragglers are formed through mass transfer from a close binary companion star, 30% are likely formed through collisions of 2 stars, and 10-16% are formedthrough interactions of more than 2 stars.
The study will help improve understanding of these stellar systems to uncover exciting results in studies of large stellar populations, including galaxies.
Following these findings, the researchers are conducting detailed analyses of individual blue stragglers in the catalogue to obtain their stellar properties. 
 CLICK HERE FOR FULL CURRENT AFFAIRS (Only for Course Members)