Current Affairs for IAS Exams - 07 January 2020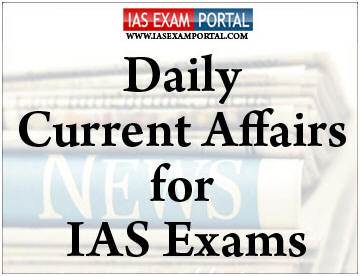 ---
Current Affairs for IAS Exams - 07 January 2020
---
::NATIONAL::
PM assures industry players on providing transparent atmosphere to grow
Prime Minister NarendraModi today said that action against a few corrupt entities should not be seen as the government crackdown on the corporate sector.

Speaking at Centenary Celebrations of Kirloskar Brothers in New Delhi, the Prime Minister said, the endeavour of this government has always been to provide a transparent atmosphere in which the Indian industries can move ahead without fear and obstacles. He also said, it has always been the effort of the government to ease the laws to help the industries.

Mr.Modi said, a new system is being created to bring transparency in the tax system, enhance efficiency, accountability and eliminate human interface between taxpayer and tax departments.

He noted that currently, the corporate tax rates in the country are as low as ever before. He said, the target to nearly double the size of the economy to five trillion dollar is just a phase and the targets are bigger and higher.

The Prime Minister asked the industries to shun pessimism, saying that the government will stand shoulder to shoulder with Indian industries in its attempt to expand business in any nook and corner of the country.

He said, the true strength of the citizens of the country can come to fore when the government stands not as a hindrance, but stands as their partner. He said, the country has followed the same path in a few years in this direction.

He also said, during the last five years, there has been an environment in the country to work with integrity, honesty and transparency which has encouraged the country to set big goals and achieve them on time.
Kerala government makes reading of preamble to constitution mandatory in schools
Kerala Chief Minister PinarayiVijayan on Monday said the state government will take steps to make reading of the preamble to the Constitution as part of school and college morning assembly.

The decision has come as a response to the demand by college union leaders to ensure that constitution studies be made an inevitable part of the curriculum at a time when the constitution and its values are under attack, he said.

"To create social awareness regarding the importance of protecting the constitution, the state government will take necessary steps to ensure that preamble of the constitution is read out during school college assembly," Vijayan said at the 'Chief Minister's student leaders' conclave here.

He also said 50 per cent reservation for women representatives in college union elections was also under consideration.

Sex education will be made part of the education curriculum, Vijayansaid.The state is also planning to keep open University libraries 24/7 for students without any restriction for girls," he added.
::ECONOMY::
ICAR moots shift from nutrition security to doubling farmers income by 2022
At the ongoing Science Congress in Bengaluru, ICAR, Director General Dr.TrilochanMohapatra told audience at the Farmers Science Congress that there is a paradigm shift from production and nutrition security to doubling of farmers' income by 2022. Speaking after inaugurating Farmers Science Congress, he said that this shift in thinking was result of a call given by Prime Minister.

Mr Mohapatra said ICAR has developed 56 models of integrated farming in this direction, which will be promoted with NABARD by linking them to the Rural Development programmes. He added that these models are right now being tested on the fields.

Dr.Mohapatra informed that Farmers Innovation Fund and Innovation Centres will be set up to encourage innovations made by progressive farmers. To encourage organic farming, 45 types of Organic Farming systems are developed in niche areas.

In another such decision on Prime Minister's direction, country has now witnessed a revolution in pulses production. He informed that in the last three years pulses production has increased from five million tonnes to about nine million tonnes substituting imports worth 10,000 crore rupees.

In response to another call of Prime Minister, ICAR is making efforts to reduce the use of fertilizers by introducing Microbial Consortium that promotes microbes in soil, thereby reducing use of fertilisers. In this direction Nano fertilisers and nano pesticides are also being developed.
CBIC uses data analytics to identify fraudulent IGST refunds
The Central Board of Indirect Taxes and Customs (CBIC) in its drive to check fraudulent availment of IGST refunds, has extensively used data analytics and matched data with income tax, GST and customs to identify risky exporters.

Ongoing investigations have thrown up at least 9-star export houses as 'non-traceable' at their premises declared on record. All these star export houses have availed IGST refunds, which is now being questioned by the tax officers.

Sources in the Finance Ministry said the CBIC has referred the matter to Directorate General of Foreign Trade seeking a more robust accreditation process and taking further necessary actions as per law.

There are instances where an exporter with over 50 crore rupees of exports of readymade garments has taken a refund of 3.90 crores while the entity's total GST payment in cash was a mere 1,650 rupees.

The present ongoing exercise by CGST field formations has revealed serious issues in compliance behaviour in some cases. In two cases, the premises were also found sealed and seized by the banks as the exporters had been declared as Non Performing Assets.
::INTERNATIONAL::
U.S threatens sanctions against Iraq after its parliament votes to expel U.S troops
United States President Donald Trump has threatened severe sanctions against Iraq after its Parliament called on US troops to leave the country. Yesterday, the Iraqi Parliament voted to expel the US troops from its territory.

Iraq's move comes in response to the killing of Maj Gen Soleimani, the head of Iran's elite al-Quds force in a US drone attack on Friday. The strike also killed the Deputy Chief of Iraq's powerful Hashed al-Shaabi paramilitary force.

Soleimani's killing was the most dramatic escalation yet in spiralling tensions between Iran and the US, already hit by serious differences over Tehran's ambitious nuclear programme.

Meanwhile,North Atlantic Treaty Organization Ambassadors will meet in Brussels today amid ongoing Middle East tensions, three days after the US killing of Iranian Major General QassemSoleimani. A NATO official said, the North Atlantic Council will address the situation in the region.
Switzerland opposes move to end free movement of EU citizens
Most Swiss oppose a referendum campaign launched by the far right to end the free movement of citizens from the European Union, a poll published on Sunday found.

The referendum drive reflects unease with the influx of foreigners, who now account for a quarter of the Swiss population. But imposing limits on EU citizens would violate bilateral accords that enhance Swiss access to the EU single market, the lifeblood of the export-led Swiss economy.

A binding referendum is expected in May on whether Switzerland should take back unilateral control of immigration, if necessary at the cost of abrogating the free-movement pact that took full effect in 2007.

The vote was put on the agenda by the far right People's Party, which is the largest in parliament. The referendum under the Swiss system of direct democracy is being billed as Switzerland's "Brexit moment".

A Tamedia online survey of around 11,000 people across Switzerland found 58% were against the idea, 35% approved it and 7% had no opinion. It had a 2-point margin of error.
::SCIENCE & TECHNOLOGY::
NASA team led by Indian origin scientist discovers new group of galaxies
An international team of astronomers linked to Nasa, led by an Indian-origin Goa-born scientist, VithalTilvi, have discovered a never-before-seen group of galaxies, now labelled EGS77, which is the farthest group of galaxies to have ever been sighted.

In 2013, Tilvi was also part of a team that discovered the farthest single galaxy ever sighted by astronomers. The new group of galaxies, EGS77, is estimated to be over 13 billion light years away from the Earth. It took Tilvi and team over four years to make the findings.

This group of galaxies can now help astronomers see the universe directly in its infancy, and see what were the chemicals present when the universe was just born.

"As we look farther and farther, we are looking back in time. This is because, the starlight which carries information about the galaxy group, is reaching the Earth now, after travelling for 13 billion years," Tilvi told.

The distance of EGS77 from the Earth means it is at the very edge of what can be observed using the current best technology on a platform like the Hubble Space Telescope.

Tilvi is currently a visiting researcher at the School of Earth & Space Exploration, at the Arizona State University, US, and is contributing to State Higher Education Council of the government of Goa as a professor of research, development, and innovation.
::SPORTS::
MageshChandran wins Hastings international chess title
India's P MageshChandran lifted the title in the 95th edition of the prestigious Hastings International Chess Congress at Hastings in England.

He remained unbeaten in all the nine rounds. The 36-year old Grand Master with a FIDE rating of 2479, finished in clear first place with 7.5 points from nine games after securing a 33-move draw in the final round yesterday against compatriot G A Stany, also a Grand Master. He beat fellow Indian GM Deep Sengupta in the eighth round.

Stany took the sixth place with 6.5 points while India's woman GM R Vaishali obtained six points to finish 10th. Two other Indians Deep Sengupta finished 13th and Swayam Mishra 14th with identical six points.