Current Affairs for IAS Exams - 07 February 2020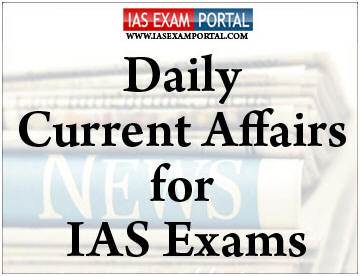 ---
Current Affairs for IAS Exams - 07 February 2020
---
::NATIONAL::
Parliamentary panel recommends code of conduct for ISP's
A parliamentary panel has recommended a code of conduct for Internet service providers (ISPs) and strengthening the National Commission for Protection of Child Rights to curb child pornography.

The report, prepared by an ad hoc committee set up by the RajyaSabha and led by Congress MP Jairam Ramesh, was submitted to the Chairman of the House on January 25.

The report was tabled by Women and Child Development Minister SmritiIrani on Thursday. It recommends a multi-pronged strategy detailing technological, institutional, social and educational as well as State-level measures.

Among its key recommendations is a code of conduct or a set of guidelines for ensuring child safety online. It puts a greater onus on ISPs to identify and remove child sexual abuse material (CSAM) as well as report such content and those trying to access them to the authorities under the national cybercrime portal.

The committee has delved into great detail in using technology to curb circulation of child porn such as breaking end-to-end encryption to trace its distributors.
Government claims more than 33 thousand cybercrime incidents reported till last month
30th of last month on the National Cybercrime Reporting Portal and 790 FIRs have been registered by the concerned Law Enforcement Agencies.

The government today said that 33,152 cybercrime incidents have been reported till 30th of last month on the National Cybercrime Reporting Portal and 790 FIRs have been registered by the concerned Law Enforcement Agencies.

In a written reply in RajyaSabha, Minister of State for Home G. Kishan Reddy said that Ministry of Home Affairs operationalised National Cybercrime Reporting Portal on 30th August last year and the complaints reported are dealt by the Law Enforcement Agencies of the concerned State and Union Territory as per provisions of the law.

Mr Reddy informed that Home Ministry has rolled out a scheme 'Indian Cyber Crime Coordination Centre (I4C) to combat cybercrime in the country, in a coordinated and effective manner.

The scheme has seven components, National Cybercrime Threat Analytics Unit, National Cybercrime Reporting Portal, Platform for Joint Cybercrime Investigation Team, National Cybercrime Forensic Laboratory Ecosystem, National Cybercrime Training Centre, National Cybercrime Ecosystem Management Unit and National Cybercrime Research and Innovation Centre.

The Minister added that 17 States and 4 Union Territories have agreed to set up the Regional Cyber Crime Coordination Centres.
::ECONOMY::
MPC decides to keep rates unchanged
The Monetary Policy Committee (MPC) of the Reserve Bank of India (RBI) decided at a meeting on Thursday to keep the interest rates unchanged in the wake of a rise in inflation, but emphasised that there would be space for rate reduction.

This is the second straight policy review meeting where the rates have been kept unchanged. The RBI reduced the rates by 135 bps between February and October 2019 before pressing the pause button in the December policy review.

The central bank took two measures that could ease lending rates further. One, it opened a window to extend ₹1 lakh crore to the commercial banks at the repo rate, which is 5.15%.

Second, banks have been exempted from maintaining the cash reserve ratio — which is 4% of the net demand and time liabilities now — for home, auto and MSME loans that are extended from January 31 to July 31.

Markets reacted positively to the tone, with the yield on the 10-year benchmark government paper dropping 6 bps to close the day at 6.45%. Economists said that with RBI worried about growth recovery, the next rate cut could be as early as in April - the next policy review meeting.
Government plans to deploy affordable and secure 5G services
Government is creating an enabling framework for the deployment of affordable and secure 5G services in the country.

In a written reply in the RajyaSabha, Minister of State for Electronics and Information Technology Sanjay Dhotre said, the Department of Telecommunications has received 16 applications from licensed telecom service providers for 5G technology trials.

He said, the 5G services are expected to be introduced gradually and advance to a full range of services as ecosystem and demand for services grows. The present users will have to buy 5G enabled smart phones in order to experience the benefits of 5G Technology.

In another question, Mr Dhotre said, the spectrum acquired through auction, as being held from time to time is permitted to be used in a technologically agnostic manner. He said, the successful bidders of the spectrum auction can deploy mobile services using any technology including 5G.

The minister said, the government has recently decided to give relief to financially stressed Telecom Service Providers by permitting deferment of spectrum auction payment instalments in respect of early auctions, for the next one or two years.
::INTERNATIONAL::
India plans to study air corridors with central asia
Apart from developing trade via the Chabahar port in Iran, India would like to explore setting up "air corridors" with five Central Asian nations, External Affairs Minister S. Jaishankar said on Thursday.

The air corridors similar to what India established with Afghanistan in 2018 would include regular cargo flights with special clearing and customs facilities to expedite the movement of goods, especially fresh fruit and other agricultural produce, and are currently being discussed by the External Affairs Ministry.

At present, most of the trade between Central Asia goes via Bandar Abbas in Iran, northern Europe or China. In recent years, the government has been seeking to develop more direct routes from Chabahar, a trilateral arrangement with Iran and Afghanistan, the International North South Transport Corridor (INSTC) and becoming a part the Ashgabat Agreement.

However, the rail-link between Chabahar and the crossover into Afghanistan is yet to be developed. At present, $1.5 billion of the $2 billion trade with Central Asia is with Kazakhstan, and more than $1 billion of that comes from crude oil exports to India.
Dhaka-Siliguri train route to be ready by June
Bangladesh Railway Minister Nurul Islam Sujan has said that the train route between Dhaka and Siliguri is expected to be open by June this year.

Speaking to the media persons in Dhaka yesterday, the Minister said, the construction of the seven-kilometer long train route at Chilahati-Haldibari border will be completed by June this year to connect Dhaka to Siliguri.

After the completion of the train route, Bangladesh and India would take up feasibility and passenger demand studies on the route to decide about running of passenger train services.

The minister also said that Bangladesh railway will soon start discussion with India to open two more train routes between the two countries.

He said, one route would be Rajshahi-Kolkata via Rohonpur -Singabad border and another Dhaka-Siliguri through Chilahati -Haldibari border. He said, there is a public demand to start railway passenger services between Rajshahi and Kolkata.

On Tuesday, the High Commission of India in Bangladesh had announced that the frequency of the Maitree Express and Bandhan Express is being increased from 11th of this month.
::SCIENCE & TECHNOLOGY::
Centre demands Pharma companies to abode by Uniform Code of Pharmaceutical Marketing Practices (UCPMP)
Despite several instances of breach of the voluntary Uniform Code of Pharmaceutical Marketing Practices (UCPMP) by pharma companies, and the demand from the Indian Medical Association (IMA) and doctors to make it mandatory, the Department of Pharmaceuticals (DoP), which comes under the Ministry of Chemicals and Fertilizers, has yet again "requested companies to abide by UCPMP" in a written communication on February 4 after the announcement of two more planned events.

In its letter, the Department has noted that it has "received a grievance alleging that pharma companies arrange hotels, accommodation in five star hotels, local sight-seeing, etc. in conferences conducted by doctors. Similar annual national conference of Indian Psychiatric Society 2020 will be conducted in Kolkata and in 2021 at Vishakhapatnam".

"Pharma associations are requested to make sure that the pharma accompanies adhere to the provisions of UCPMP and no unethical promotion of pharma products be done during the conference," concludes the letter.

Speaking about the move, health research and member of the All India Drug Action Network MaliniAisola noted that rather than taking steps towards instituting statutory regulation of unethical marketing and promotion, the DoP is still requesting companies to abide by a toothless, unenforceable UCPMP.

"We cannot understand why the DoP is refusing to make compliance under the UCPMP compulsory," she added.
::SPORTS::
SAI and Hockey India launches high performance centres
Sports Authority of India (SAI) and Hockey India today announced the establishment of the High Performance Centres in seven places across the country to provide state-of-the-art facilities to Junior and Sub-Junior players. The move is aimed at grooming young talent in view of 2024 and 2028 Olympic Games.

While the National Hockey Academy at Dhyan Chand National Stadium, New Delhi along with SAI at Sundergarh, Bhopal and Bengaluru will be active within the next three months, the remaining three centres will be developed over the next one year.

These centres will be closely monitored by Hockey India and its High Performance Director and the programme will also ensure that the athletes are provided with international exposure. These seven centres will be set up under the Khelo India scheme and will have expert professional training, utilization of sports science and education of the youngsters.