Current Affairs for IAS Exams - 07 July 2022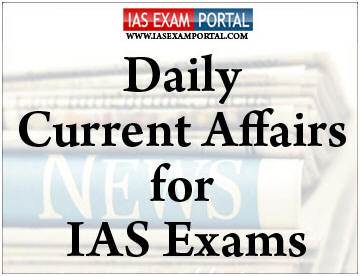 ---
Current Affairs for IAS Exams - 07 July 2022
::NATIONAL::
Election of the Vice President of India
The Election Commission of India on July 5 issued the notification for the election of the Vice President of India. The term of office of Vice President M Venkaiah Naidu comes to an end on August 10.
About:
Article 63 of the Constitution states that "there shall be a Vice-President of India".
Under Article 64, the Vice-President "shall be ex officio Chairman of the Council of the States" (Rajya Sabha).
Article 65 says that "in the event of the occurrence of any vacancy in the office of the President by reason of his death, resignation or removal, or otherwise, the Vice-President shall act as President until the date on which a new President…enters upon his office".
Election of the Vice-President
Article 66 lays down the process of the election of the Vice-President.
It says the Vice-President "shall be elected by the members of an electoral college consisting of the members of both Houses of Parliament in accordance with the system of proportional representation by means of the single transferable vote and the voting at such election shall be by secret ballot".
CLICK HERE FOR FULL CURRENT AFFAIRS (Only for Course Members)
Toy industry in India
Since the PM's clarion call on "Rebranding the Indian Toy Story", the imports of toys to India has reduced from USD 371 mn (FY2018-19) to USD 110 mn (FY 2021-22).
Toy imports are down by 70% and exports up 61% over the last three years as Make in India yields positive results for the sector.
About:
It is primarily an unorganized industry in India.
It is estimated to be $1.5 bn making up 0.5% of the global market share.
Though India's toy market is worth $1.7 billion, almost 85-90% of toys sold inIndia are made in China.
A Parliamentary standing committee on commerce (2018) noted that theinflux of Chinese toys into India has hampered local toy businesses.
Key initiatives:
Toycathon 2021 organised by Ministry of Education to conceptualisetoys/games based on Indian Civilisation.
National Action Plan for Indian Toy Story to boost local manufacturing.
Under National Education Policy 2020 toy-making will be introduced tostudents from the sixth standard onwards.
CLICK HERE FOR FULL CURRENT AFFAIRS (Only for Course Members)
::INTERNATIONAL::
Need for space sustainability
Recently, UK Space Agency and Secure World Foundation (a private organisation promoting cooperative and peaceful use of outer space) held a summit for space sustainability.
Space Sustainability is ability of all humanity to continue to use outer space for peaceful purposes and socio-economic benefit.
Significance: 
To reduce orbital crowding and collision risk as number of satellite launches set to increase in next decade.
Increased space missions due to emergence of private space players (SpaceX, Blue Origin etc.).
Demonstrations of Anti-satellite weapons (ASAT) tests.
Initiatives for sustainable outer space use:
In 2019, UN Committee on the Peaceful Uses of Outer Space (COPUOS) adopted voluntary, non-binding guidelines to ensure long-term sustainability of outer space activities.
UK plans for an Astro Carta based on Artemis Accords (NASA's led global agreement for lunar exploration and beyond) for sustainable space exploration.
ISRO's 'Project NETRA' to monitor space debris to protect its space assets. ISRO is also developing SPADEX to provide in-orbit servicing.
International Day of Cooperatives
The Union Minister for Home and Cooperation, inaugurated 100th International Day of Cooperatives, jointly organized by the Ministry of Cooperation, Government of India and National Cooperative Union of India (NCUI) on July 4 at Vigyan Bhawan, in New Delhi.
About:
The NCUI is an apex organization of the cooperative movement in India with a focus on cooperative education and training.
The theme of 100th International Cooperative Day is "Cooperatives Build a Better World".  
Scenarios of cooperatives in India
India is home to world's largest cooperative movementwith 8.55 lakh cooperatives (Amul, IFFCO, etc) out of 30lakh global cooperative societies.
Cooperatives are present in 91% villages with nearly 13crore people directly associated with them.
Can be formed under provisions of Co-operative Societies Act, 1912.
CLICK HERE FOR FULL CURRENT AFFAIRS (Only for Course Members)
::ECONOMY::
Wheat consumption trends in India
Gujarat and Uttar Pradesh have demanded more wheat in place of rice and asked the Centre to restore their original allocations under the National Food Security Act (NFSA), 2013, or change the wheat-rice allocation ratio that was revised by the Union Food Ministry in May.
What was this revision?
On May 14, Food Secretary announced that "after consulting with the states", the Centre has reallocated some quantities by changing ratios of wheat and rice under the NFSA.
For example, states getting wheat and rice at a 60:40 ratio will now get it at 40:60, while those getting allocations at 75:25 would now get these at 60:40. States where rice allocation has been zero will continue to get wheat.
For small states, NE states and special category states, allocation has not been changed. According to the Food Ministry, the move would save about 61 lakh tonnes of wheat over the remaining 10 months (June-March) of the current financial year.
Which states are affected by the revision?
Wheat allocation under NFSA was revised downward for 10 states: Bihar, Jharkhand, Odisha, West Bengal, Delhi, Uttar Pradesh, Gujarat, Maharashtra, Madhya Pradesh and Tamil Nadu.
These states account for about 55.14 crore (67%) of the 81.35 crore beneficiaries under the NFSA.
CLICK HERE FOR FULL CURRENT AFFAIRS (Only for Course Members)
::SCIENCE AND TECHNOLOGY::
TiHAN
TiHAN (TechnologyInnovation Hub on Autonomous Navigation), India's first Autonomous Navigation facility (for both ground and aerial vehicle testing), was inaugurated at IIT Hyderabad.
About:
TiHAN will provide industries, research and development labs, and academia a platform for research in autonomous navigation.
TiHAN is one of the 25 technology innovation hubs under National Mission on Interdisciplinary Cyber-Physical Systems (NM-ICPS).
TiHAN (by Ministry of Science & Technology) is a multidisciplinary initiative to make India a global player in futuristic and next generation 'smart mobility' technology.
CLICK HERE FOR FULL CURRENT AFFAIRS (Only for Course Members)