Current Affairs for IAS Exams - 07 May 2022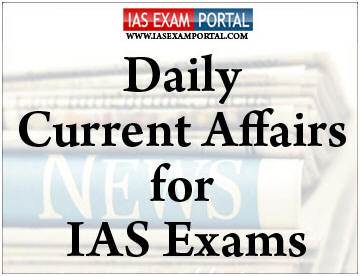 ---
Current Affairs for IAS Exams - 07 May 2022
::NATIONAL::  
World's largest film restoration project 
Union Minister of Information & Broadcasting Shri. Anurag Singh Thakur has announced today that the World's largest film restoration project under National Film Heritage Mission (NFHM) with a budget of Rs. 363 crores is awarded on 4th May 2022 by the Ministry.
About:
The restoration project now awarded is set to commence in full swing at National Film Archive of India (NFAI). The Minister was in Pune to attend the review meeting of the organization.
Under National Film Heritage Mission, approximately 2,200 films will undergo restoration. 
The titles have been shortlisted by language wise committees consisting of filmmakers, documentary filmmakers, film historians, producers etc. 
Eminent film personalities such as Aparna Sen, Shriram Raghavan, Anjali Menon and Vetrimaaran were part of the committees.  
Process of restoration: 
The process involves frame-to-frame digital and semi-automated manual picture and sound restoration from the best surviving source material. 
The source negative/print will be scanned at 4K to .dpx files, which will be then digitally restored. 
CLICK HERE FOR FULL CURRENT AFFAIRS (Only for Course Members)
5th round of National Family Health Survey
Union Minister for Health and Family Welfare, released the National Report of the fifth round of National Family Health Survey (NFHS-5).
About:
The Total Fertility Rates (TFR), an average number of children per women, has further declined from 2.2 to 2.0 at the national level between NFHS-4 & 5.
There are only five States in India, which are above replacement level of fertility of 2.1. They are Bihar (2.98), Meghalaya (2.91), Uttar Pradesh (2.35), Jharkhand (2.26) Manipur (2.17).
Overall Contraceptive Prevalence Rate (CPR) has increased substantially from 54% to 67% in the country. 
Institutional Births have increased substantially from 79 percent to 89 percent in India. 
In NFHS-5, more than three-fourths (77%) children age 12-23 months were fully immunized, compared with 62 percent in NFHS-4. 
CLICK HERE FOR FULL CURRENT AFFAIRS (Only for Course Members)
::INTERNATIONAL::
Global banking body lauds India's digital public infra
The Agreement on Government Procurement (GPA 2012) consists of 21 parties(covering 48 WTO members, counting the European Union and its 27 member statesas one party).
About:
GPA is a plurilateral agreement, which means it includes some but not all WTOmembers.
The GPA allows WTO members to mutually open up their markets for selling goodsand services to governments, often including regional and local governments.
Government agencies often need to purchase goods and services with publicresources and for public purposes. Such purchases are generally referred to as GP.
Government procurement accounts for 10-15% of the GDP of an economy on average and constitutes a significant market andan important aspect of international trade.
Background:
Earlier, India never took up GPA for bilateral or multilateral trade agreements in order to protect domestic firms. However, recentlyIndia has stated that it is open to negotiating Government procurement as part of bilateral deals and recently includedGovernment procurement in a free-trade pact, with UAE, for the first time.
World Tuna Day
World Tuna Day is being observed on 2nd May. 
About:
The day is aimed at promoting the importance of sustainable fishing practices and educating people on how tuna have become endangered species due to the high demand.
In 2016, the United Nations General Assembly declared this day World Tuna Day to create awareness among the people to preserve the species.
More than seven million metric tonnes of tuna and tuna-like species are harvested yearly. 
These migratory tuna species account for 20 percent of the value of all marine capture fisheries and over eight percent of all globally traded seafood.
CLICK HERE FOR FULL CURRENT AFFAIRS (Only for Course Members)
::ECONOMY::
National Capital Region Transport Corporation
The National Capital Region Transport Corporation (NCRTC) will be receiving India's first semi-high-speed train set for Regional Rapid Transit System (RRTS) at Alstom's Savli plan in Gujarat.
About:
The RRTS train sets are being manufactured under Make In India initiative and are capable of running at a top speed of 180 kilometre per hour. 
The train set will be brought to Duhai Depot in Uttar Pradesh and will be maintained and operated from there.
The fully air-conditioned train boasts of several modern commuter-centric features including cushioned seating, laptop-mobile charging, luggage racks and dynamic route-map.
NCRTC is the implementing agency of India's first RRTS corridor between Delhi-Ghaziabad-Meerut. 
The construction work on the 82-kilometre-long corridor is in full swing.
CLICK HERE FOR FULL CURRENT AFFAIRS (Only for Course Members)
::SCIENCE AND TECHNOLOGY::
Shukrayaan-1
The mission to Venus is likely to cost between ₹500 crore and ₹1,000 crore depending on the level of instrumentation.
About:
Shukrayaan-1 is a planned orbiter to Venus by the Indian Space Research Organisation (ISRO) to study the surface and atmosphere of Venus.
Although 2024 has been doing the rounds as the likely year for the ISRO's Venus mission, the space agency can announce a schedule only after the Government of India gives the go-ahead for the mission.
The Venus mission is back in the news with the ISRO organising a one-day online meeting on Venus science, with the theme 'Outstanding Scientific Problems on Venus: Need for Space-based Studies,' on May 4.
CLICK HERE FOR FULL CURRENT AFFAIRS (Only for Course Members)