Current Affairs for IAS Exams - 08 January 2020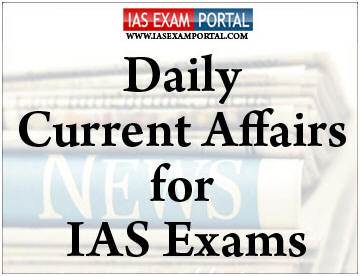 ---
Current Affairs for IAS Exams - 08 January 2020
---
::NATIONAL::
CIC directs govt.to divulge names of those seeking confidentiality in electoral bond scheme
In a landmark decision on the electoral bond scheme, the Central Information Commission (CIC) has directed the government to divulge the names of individuals and entities who requested maintenance of confidentiality of donors' identities and provide copies of representations given.

Taking a serious note of how an application under Right to Information (RTI) Act was handled, CIC has issued showcause notices to department of economic affairs, department of financial services, department of revenue and Election Commission and sought explanation on why maximum penalty should not be imposed for giving incomplete, misleading and vague replies to the applicant.

Information Commissioner Suresh Chandra gave the decision in a two-year-old RTI application filed by activist VenkateshNayak who had sought information from department of economic affairs (DEA) in July 2017 about total number of representations or petitions from donors requesting their identity remain confidential, copies of representations and the draft electoral bond scheme.

In its final decision, CIC took a serious note of how no department had addressed the application properly. Information Commissioner Suresh Chandra noted, "Reply given by RBI is incomplete. The public information officer of RBI is directed to be more cautious while giving information to RTIs. He is directed to revisit the RTI application and give a self-explanatory reply to the applicant."
Supreme court to examine conflict between laws and gender justice
Beginning January 13, a nine-judge bench of the Supreme Court will examine a host of petitions challenging the validity of several practices across religions which are in conflict with gender justice in modern India.

The bench, led by CJI SA Bobde, is expected to junk the traditional essentiality doctrine which has in recent years tied the court in knots in cases with a religious connotation.

The constitutional courts have traditionally examined if a practice was essential to a religion and whether it could be protected as a practice of a separate sect. This has landed the courts in trouble as it warrants an enquiry into theological aspects of religions.

The top court has been wanting to junk this essentiality test for years now and instead switch to a more practical method which would involve assuming that every practice was essential to a religion but test it against the values mandated by the Constitution and see if they were still valid.

The bench's verdict will not only impact a review filed in the Sabarimala case against a top court ruling permitting women of all ages to enter the Lord Ayappa temple in Kerala, but also others such as the entry of women into mosques, female genital mutilation among DawoodiVohras and allowing women into fire temples among the Parsis.

Former CJI RanjanGogoi had referred all these broad issues to a larger bench while dealing with multiple reviews filed in the Sabarimala case. The reference will be crucial as it would impact the manner in which the state is required to ensure gender justice across religions.
::ECONOMY::
Centre and states agree to streamline GST system
Centre and States have come together to take necessary action to streamline the Goods and Services Tax (GST) system and plug revenue leakage. Several measures were discussed in this regard during the Second National GST Conference of the Commissioners of State Tax and Chief Commissioners of Central Tax in New Delhi yesterday.

They include curbing fraudulent refund claims, linking foreign exchange remittances with IGST refund, investigation of fraudulent Input Tax Credit (ITC) cases by the IT Department and a single bank account for foreign remittance receipt.

The meeting was chaired by Revenue Secretary Dr Ajay BhushanPandey. It decided to constitute a Committee of Centre and State officers to examine and implement quick measures to curb fraudulent refund claims.

The committee will come out with detailed Standard Operating Procedure within a week, which may be implemented across the country by January end.

AIR correspondent reports that A Memorandum of Understanding will be signed among the Central Board of Direct Taxes (CBDT), the Central Board of Indirect Taxes and Customs (CBIC) and the GST Network to exchange data through application program interface, from CBDT to GSTN and CBIC and vice-versa.
Centre asks states to lift imported onions
The Government has asked states to lift the imported onion which they had demanded from the Centre. Briefing reporters in New Delhi today, Food and Consumer Affairs Minister Ram Vilas Paswan said, states had demanded over 33 thousand tonnes of imported onion. He said, more than 12 thousand tonnes of Onion have already arrived in different ports.

Mr Paswan said, some states have withdrawn their demand and the Ministry has written a letter to these states to lift the demanded onion. He said, government will provide the imported onion at the rate of 49 to 58 rupees per Kilogram.

Mr Paswan said, One Nation One Ration Card initiative has been implemented in 12 states.

The system will largely benefit numerous migratory beneficiaries such as labourers, daily wagers and other workers who frequently change their place of dwelling in search of employment or for other reasons, across the country.

Mr Paswan said, government is serious on the rise of edible oil prices in a few months and necessary action will be taken if hoarders are creating artificial scarcity. He said, oil seeds and quantity of imported edible oil in the current year is more than the previous year.
::INTERNATIONAL::
Iran designates U.S armed forces as terrorist entities
The Iranian parliament today approved a triple-urgency bill which designates the US army and the Pentagon as a terrorist entity. The Bill further requires the government to allocate 200 million euro to the Islamic Revolution Guards Corps (IRGC) Quds Force to take revenge for the US killing of Lieutenant General QassemSoleimani.

Iran's IRGC's Quds Force Commander General Soleimani and Iraq's Popular Forces Commander Abu Mahdi al-Modandis, as well as eight other military men, were killed by the US Army.

233 MPs repeated the words of the speaker, Ali Larijani, warning US President Donald Trump to await the consequences of his actions. Majlis also discussed the bill about taking an action against US attack.

The Supreme Leader has called for proportionate military action against the US interests in response to the killing of Iranian Commander in Baghdad.\
India is the top sourcing market for Srilankan tourism
India continued to be the top sourcing market for Sri Lankan tourism with Indian tourists constituting maximum 19 per cent of total tourist arrivals to the island nation in 2019.

The latest data released by Sri Lankan Tourism revealed that 3,55,002 Indian tourists visited Sri Lanka last year against total arrival of around 1.91 million. Over 48 thousand Indians visited Sri Lanka during last month of December alone including over thousand by sea route.

The tourism sector in Sri Lanka suffered a setback following Easter Sunday attacks last April and the annual tourist arrival dropped by 18 per cent since 2018 figures.

India, United Kingdom, China, Germany and Australia were Sri Lanka's top five international tourist generating markets last year. Sea beaches and religious places connected to Ramayana circuit remain the top attractions for Indian tourists.
::SCIENCE & TECHNOLOGY::
ISRO unveils IDRS system to track satellites in low earth orbits
The Indian Data Relay Satellite System (IDRSS) will track Indian satellites in low-earth orbits. It is a new satellite series that plans to set up a communication system between the space assets of India.

The system is aimed to play vital role in India's space station and space docking. It will also assist distant expeditions of India to Mars, moon and Venus.

The system will help in monitoring launches. The IRDSS is to play a major role in India's Human Space Flight Programme, Gaganyaan. It will help India to cover the entire mission right from its launch.

The IDRSS satellites are to be launched on GSLV launcher. They will approximately weigh 2,000 kg. These satellites are to be placed at an orbit of 36,000 km away from earth's orbit.

The mission consists of more than 2 satellites. The first two IRDSS satellites are to be sent in the end of 2020. These satellites will precede the experimental mission of Gaganyaan that will carry humanoid dummies. The first of this kind is to be launched in 2020 and the second satellite is to be launched in 2021.

This technology was launched by the space majors such as Russia and US in 1970-80s. They were used to monitor their respective space station.
::SPORTS::
India beat Srilanka at the Indore T20 match
In Cricket, India secured a massive seven-wicket victory over Sri Lanka in the second T20 International match at the Holkar Stadium in Indore last night. With this victory, the host team has taken a 1-0 lead over Sri Lanka in the three-match T20 International series. The first match was abandoned without a ball being bowled due to rain.

Chasing a target of 143 runs, India got off to a flying start as ShikharDhawan and K L Rahul consolidated the Indian innings with remarkable performances.

K L Rahul put up 45 runs and ShikharDhawan scored 32. Skipper ViratKohli played an unbeaten knock of 30 runs from 17 balls in the match.