Current Affairs for IAS Exams - 08 January 2021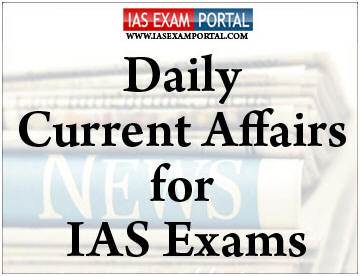 ---
Current Affairs for IAS Exams - 08 January 2021
::NATIONAL::
India report on LASI Wave-1
Union Health Minister released India report on Longitudinal Ageing Study of India (LASI) Wave-1 on the virtual platform. 
About:
LASI is a full-scale national survey of scientific investigation of the health, economic, and social determinants and consequences of population ageing in India. 
In the 2011 census, the 60 plus population accounted for 8.6 per cent of India's population, accounting for 103 million elderly people. Growing at around three per cent annually, the number of elderly people will rise to 319 million in 2050. 
75 per cent of the elderly people suffer from some chronic diseases. 
About 40 per cent of the elderly people have one or the other disability and 20 per cent have issues related to mental health.
The National Programme for Health Care of Elderly, Ministry of Health and Family Welfare has undertaken the LASI, through International Institute for Population Sciences, Mumbai in collaboration with Harvard School of Public Health, University of Southern California, USA, United Nations Population Fund and National Institute on Ageing. 
The LASI, Wave - 1 covered a baseline sample of over 72,000 individuals aged 45 and above and their spouses including over 31,000 elderly persons aged 60 and above and over 6,700 oldest-old persons aged 75 and above from all States and Union Territories of the country excluding Sikkim.
Govt. approves advisory for management of Human-Wildlife Conflict across the country.
The Standing Committee of National Board of Wildlife(SC-NBWL) has approved the advisory for management of Human-Wildlife Conflict(HWC) in the country. 
The advisory makes important prescriptions for the States/ Union Territories for dealing with Human-Wildlife conflict situations and seeks expedited inter-departmental coordinated and effective actions.
The advisory envisages empowering gram panchayats in dealing with the problematic wild animals as per the section 11 (1) (b) of Wild Life (Protection) Act, 1972.
Utilising add-on coverage under the Pradhan MantriFasalBimaYojna for crop compensation against crop damage due to HWC and augmenting fodder and water sources within the forest areas are some key steps envisaged to reduce HWC. Payment of a portion of ex-gratia as interim relief within 24 hours of the incident to the victim/family.
The advisory also envisages prescribing inter-departmental committees at local/state level, adoption of early warning systems, creation of barriers, dedicated circle wise Control Rooms with toll free hotline numbers which could be operated on 24X7 basis, Identification of hotspots and formulation and implementation of special plans for improved stall-fed farm animal etc.
The National Board for Wildlife (NBWL) is constituted by the Central Government under Section 5 A of the Wildlife (Protection) Act, 1972 (WLPA).
The Standing Committee of NBWL considers proposals after a series of levels of scrutiny and have recommendations of the State Chief Wildlife Warden, State Government and the State Board for Wildlife. 
CLICK HERE FOR FULL CURRENT AFFAIRS (Only for Course Members)
::INTERNATIONAL::
Memorandum of Cooperation (MOC) between India and Japan on specified skilled worker
The Cabinet approved an MOC between India and Japan on a mechanism for cooperation between the two countries to facilitate the employment of skilled Indian workers in 14 specialised sectors in Japan.
It would provide mechanism for partnership and cooperation on sending and accepting skilled Indianworkers, who have qualified the required skill and Japanese language test, to work in fourteen specifiedsectors in Japan.
These Indian workers would be granted a new status of residence of "Specified Skilled Worker" by Japan.
MOC would enhance people-to-people contacts, foster mobility of workers and skilled professionals fromIndia to Japan.
Beneficiaries will be skilled workers from sectors like Nursing care, Construction, Aviation; Lodging;Agriculture; Fisheries etc.
India, Sri Lanka discuss setting up of special zones for pharmaceuticals, tourism
India and Sri Lanka held talks to resume cooperation in reviving economic activity in a post-pandemic world.
Indian business is interested in investing in Sri Lanka and opportunities in areas such as pharmaceuticalsmanufacturing, tourism have been discussed.
Both sides discussed opportunities including special zones for pharmaceutical manufacturing as alsotourism.
Strategic location of Sri Lanka and China's investment in Hambantota port makes Sri Lanka as an importantdynamic of India's neighbourhood first policy.
Economy
Telecom spectrum auctions begins from March 1
Department of Telecommunications (DoT) issued Notice Inviting Applications (NIA) for auction of Spectrum in700 MHz, 800 MHz, 900 MHz, 1800 MHz, 2100 MHz, 2300 MHz and 2500 MHz bands.
Spectrum refers to a range of radio-waves that are used for communication purposes.
According to GSM Alliance, most suitable spectrum for telecommunication is in the 400MHz to 4GHz range,and these bands are used globally for various telecommunications purposes.
Lower frequencies will use less power, travel further, get less affected by disturbances, and providebetter coverage inside buildings.
Science and Technology
Alphabet Workers Union 
More than 225 Google engineers and other workers have formed a union, capping years of growing activism at one of the world's largest companies and presenting a rare beachhead for labour organisers in staunchly anti-union Silicon Valley.
The new union, called the Alphabet Workers Union after Google's parent company, Alphabet, was organized in secret for the better part of a year and elected its leadership last month. 
The group is affiliated with the Communications Workers of America, a union that represents workers in telecommunications and media in the United States and Canada.
But unlike a traditional union, which demands that an employer come to the bargaining table to agree on a contract, the Alphabet Workers Union is a so-called minority union that represents a fraction of the company's more than 260,000 full-time employees and contractors. 
Workers said it was primarily an effort to give structure and longevity to activism at Google, rather than to negotiate for a contract.
CLICK HERE FOR FULL CURRENT AFFAIRS (Only for Course Members)
Sports
Restoration of passenger fare concession for sportspersons
After sportspersons and sports associations raised concerns over the withdrawal of railway concessions in passenger fares, Sports Minister Kiren Rijiju requested Railway Minister Piyush Goyal to restore the privileges.
The Railways had suspended ticket fare concessions for all categories of passengers except for students, patients and the specially-abled to discourage people from undertaking non-essential travel.
In a letter to Union Railway Minister, he refers to a circular of the Railway Ministry dated March 19, 2020 regarding withdrawal of concessions in passenger fares for the category of sportspersons in view of the health advisory issued regarding COVID-19.
He said the Department of Sports, in consultation with the Ministry of Health and Family Welfare and the Ministry of Home Affairs, recently issued a Standard Operating Procedure (SOP) and Guidelines for organising sports competitions in the country amid the pandemic situation.