Current Affairs for IAS Exams - 08 April 2021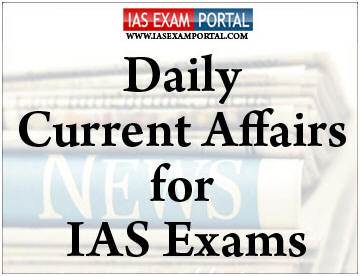 ---
Current Affairs for IAS Exams - 08 April 2021
::NATIONAL::
N V Ramana
President of India in exercise of the powers conferred by clause (2) of Article 124 appointed Shri Justice NVRamana.
He will serve as 48th Chief Justice of India. 
Article 124(2) states that every judge of the Supreme Court shall be appointed by the President of India by warrant under his hand and seal after consultation with such of the judges of the Supreme Court and ofthe High Courts in the states.
•    N V Ramana was born in an agricultural family at the Ponnavaram village in Andhra Pradesh's Krishna district. Justice Ramana's focus is also to make law affordable for everyone especially for people coming from poor background.
Pre-pack resolution scheme
Government has promulgated an Insolvency and Bankruptcy Code Ordinance 2021 allowing use of pre-packs asan insolvency resolution mechanism for MSMEs for defaults up to Rs 1 crore.
A pre-pack is an agreement for the resolution of the debt of a distressed company through an agreement between secured creditors and investors instead of a public bidding process.
Under the provisions, creditors will be permitted to take a pre-packaged resolution plan for an MSME for approval before National Company Law Tribunal (NCLT) as opposed to an open bidding system as underCorporate Insolvency Resolution Process.
CLICK HERE FOR FULL CURRENT AFFAIRS (Only for Course Members)
::INTERNATIONAL::
World Economic Outlook report 2021
The IMF projected an impressive 12.5 per cent growth rate for India in 2021, stronger than that of China, the only major economy to have a positive growth rate last year during the COVID-19 pandemic.
The Washington-based global financial institution, in its annual World Economic Outlook ahead of the annual Spring meeting with the World Bank, said the Indian economy is expected to grow by 6.9 per cent in 2022.
In 2020, India's economy contracted by a record eight per cent, the International Monetary Fund (IMF) said as it projected an impressive 12.5 per cent growth rate for the country in 2021.
China, on the other hand, which was the only major economy to have a positive growth rate of 2.3 per cent in 2020, is expected to grow by 8.6 per cent in 2021 and 5.6 per cent in 2022.
In 2020, the global economy contracted by 3.3 per cent.
East Timor
Tropical Cyclone Seroja hits EastTimor.
East Timor, island country in theeastern Lesser Sunda Islands, at the southern extreme of the MalayArchipelago.
It is bounded by the Timor Sea to the southeast, the Wetar Strait to the north, the Ombai Strait to the northwest.
Dili is the capital and largest cityEast Timor.It is extremely mountainous.
::ECONOMY::
Receivables Exchange ofIndia Ltd
Receivables Exchange of India Ltd(RXIL) operates Trade Receivables Discounting System (TReDS) Platform as pertheTReDS guideline issued byRBI.
RXIL is the first entity to receive the approval from RBI on to launch India's First TReDS Exchange.
TReDS is an electronic platform for facilitating the financing / discounting of trade receivables of Micro,Small and Medium Enterprises (MSMEs) through multiple financiers.
RXIL was established in 2016 as a joint venture between Small Industries Development Bank of India (SIDBI)and National Stock Exchange of India Limited (NSE).
::SCIENCE AND TECHNOLOGY::
Robot Sophia
Sophia is a social humanoid robot, developed by the Hong Kong-based Hanson Robotics and activated inFebruary 2016.
In 2017, social robot Sophia was given citizenship of Saudi Arabia - the first robot to be given legal personhood anywhere in the world.
She the first robot Innovation Ambassador for the United Nations Development Programme.
Sophia is a framework for cutting edge robotics and AI research, particularly for understanding human-robot interactions.
 CLICK HERE FOR FULL CURRENT AFFAIRS (Only for Course Members)