Current Affairs for IAS Exams - 08 January 2022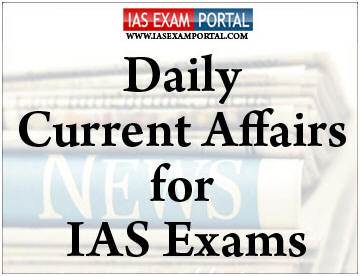 ---
Current Affairs for IAS Exams - 08 January 2022
::NATIONAL::
50 cheetahs to be introduce in India by 5 years
An 'Action Plan forIntroduction of Cheetah in India' was launched to introduce 50 Cheetahs over 5 years at the 19th Meeting of National Tiger Conservation Authority (NTCA).
Cheetah conservation should include as a part of the mandate of the NTCA andunder the Project Tiger Scheme of funding by the Ministry of Environment,Forest and Climate Change (MoEF&CC).
About:
The Asiatic cheetah is the only large carnivore to have gone extinct inIndia in 1952 due to over-hunting and loss of habitat.
Around 8-12 African cheetahs from South Africa, Namibia and Botswanawill be translocated to Kuno Palpur National Park (KNP) in MadhyaPradesh.
African Cheetahs (IUCN status: Vulnerable), are being considered forreintroduction as Asiatic Cheetah (IUCN: critically endangered) are low innumbers which is known to occur only in Iran now.
Benefits
To enhance local community livelihoods through eco-tourism prospects.
The re-introduction plan of anapex predator at the top of afood chain may help improve its habitats or even anecosystem.
Offers the prospect ofhousing four large felids of India - tiger, lion, leopard and cheetah to coexist as they didin the past.
How is the PM's security planned
Prime Minister Narendra Modi's recent visit ended in a fiasco after his cavalcade was stopped on a flyover en route to a rally at Ferozepur on Wednesday. The convoy turned back midway after protesting farmers allegedly blocked the PM's route. 
About:
Planning for the security of the PM during each visit is a complex exercise involving both central agencies and state police forces.
The broad guidelines are contained in the "Blue Book" of the Special Protection Group (SPG). The SPG only provides proximate security to the PM.
When the PM visits to any state, it is the responsibility of the state police to ensure overall security.They have the responsibility of intelligence gathering, route clearance, venue sanitisation, and crowd  management. 
CLICK HERE FOR FULL CURRENT AFFAIRS (Only for Course Members)
::INTERNATIONAL::
Collective Security Treaty Organisation
A Moscow-led military alliance dispatched troops to help quell mounting unrest in Kazakhstan as the police said dozens were killed trying to storm government buildings.
Kazakhstan is facing its biggest crisis in decades after days of protests over rising fuel prices escalated into widespread unrest.
About:
The KazakhstanPresidentKassym-Jomart Tokayev appealed overnight to the Russia- domina- ted Collective Security Treaty Organisation (CSTO), which includes five other ex-Soviet states, to combat what he called "terrorist groups" that had "received extensive training abroad".
Within hours, the alliance said the first troops had been sent — including Russian paratroopers and military units from the other CSTO members — in its first major joint action since its founding in 1999. 
Peacekeeping forces... were sent to the Republic of Kazakhstan for a limited time to stabilise and normalise the situation.
The CSTO's current Chairman, Armenian Prime Minister NikolPashinyan, earlier announced that the alliance would agree to the request, saying Kazakhstan was facing "outside interference".
Aquamation
The body of Nobel Peace Prize winning Anglican archbishop and anti-apartheid campaigner Desmond Tutu underwent aquamation, a green alternative to traditional cremation methods, in Cape Town.
About:
Aquamation, or alkaline hydrolysis, is a process in which the body of the deceased is immersedfor a few hours in a mixture of water and a strong alkali in a pressurized metal cylinder andheated to around 150 degree centigrade.
The combination of gentle water flow, temperature and alkalinity accentuate the breakdownof the organic materials.
Considered to be an environmentally friendly flameless way to dispose of a body, the process isalso known as water cremation, green cremation or chemical cremation.
CLICK HERE FOR FULL CURRENT AFFAIRS (Only for Course Members)
::ECONOMY::
Atal Pension Yojana
APY increase new enrolments crossing 65 lakh in the current financial year.
About:
It was launched in 2015 as a government-backed, voluntary scheme meant to provide old-ageincome security in the form of minimum assured pension (ranging from Rs 1,000-5,000/ month)in proportion to individual contributions, even as it is market-linked.
It aims to create a universal social security system, especially for poor, the under-privileged and theworkers in the unorganised sector.
It is administered by Pension Fund Regulatory and Development Authority (PFRDA).
::SCIENCE AND TECHNOLOGY::
India's first Open Rock Museum
Union Minister Dr Jitendra Singh inaugurates India's first Open Rock Museum displaying around 35 different types of rocks from different parts of India with ages ranging from 3.3 Billion years to around 55 Million years of the Earth's history.
The Open Rock Museum, set up with the aim to educate and enlighten the masses about several lesser known facts, displays around 35 different types of rocks from different parts of India with ages ranging from 3.3 Billion years to around 55 Million years of the Earth's history. 
These rocks also represent the deepest part of the earth up to 175 kms of distance from the surface of the earth.
CLICK HERE FOR FULL CURRENT AFFAIRS (Only for Course Members)