Current Affairs for IAS Exams - 08 June 2021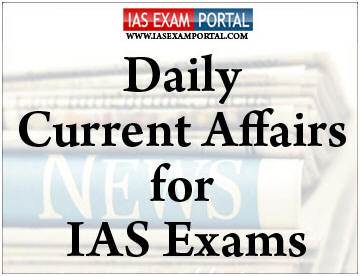 ---
Current Affairs for IAS Exams - 08 June 2021
::NATIONAL::
Malayalam language
GIPMER, a Delhi government hospital banned its nursing staff from speaking in Malayalam in the hospital and warned of "serious action" if they do not talk in English or Hindi.
About:
Malayalam is a Dravidian language spoken.
Malayalam has official language status in Kerala, Lakshadweep and Puducherry (Mahé district).
It is one of 22 scheduled languages of India and is spoken by 2.88% of Indians.
Due to Malayali expatriates in the Persian Gulf, Malayalam is also widely spoken in the Gulf countries.
Malayalam was designated a "Classical Language in India" in 2013.
Script
The earliest script used to write Malayalam was the Vatteluttu script.
The current Malayalam script is based on the Vatteluttu script, which was extended with Grantha script letters to adopt Indo-Aryan loanwords.
It bears high similarity with the Tigalari script, a historical script that was used to write the Tulu language.
State of India's Environment Report 2021 by Centre for Scienceand Environment
India's rank has slipped by two places from last year to 117 on the 17 Sustainable Development Goals (SDGs).
The reasons for drop are challenges like
1.      Ending hunger and achieving food security (SDG 2),
2.      Achieving gender equality (SDG 5) and
3.      Building resilient infrastructure, sustainable industrialisation and innovation (SDG 9).
India ranked below four South Asian countries — Bhutan, Nepal, Sri Lanka and Bangladesh.
Overall SDG score of India is 61.9 out of 100.
Centre for Science and Environment (CSE) is a public interest research and advocacy organisation based in New Delhi.
CLICK HERE FOR FULL CURRENT AFFAIRS (Only for Course Members)
::INTERNATIONAL::
I-Familia
The Interpol has launched a new global database named "I-Familia".
It aims to identify missing persons through family DNA and help the police solve cold cases in member countries.
About:
I-Familia is the first global database to automatically control for such differences without requiring knowledge of the missing person's genetic ancestry and provide standardised guidelines on what constitutes a match.
I-Familia has three components:
1.      a dedicated global database to host the DNA profiles provided by relatives, held separately from any criminal data;
2.      DNA matching software called Bonaparte, developed by Dutch company Smart Research; and
3.      interpretation guidelines developed by Interpol.
United Nations Global Compact's CEO Water Mandate
NTPC Ltd has become a signatory to the prestigious United Nations Global Compact's CEO Water Mandate.
About:
The Mandate was formed in 2007 to mobilize business leaders to advance water stewardship,sanitation, and the Sustainable Development Goals in partnership with United Nations, governments,peers, civil society, and others.
The Mandate develops tools and resources, convenes stakeholders, and facilitates meaningful partnerships and on-the-ground collective actions that improve conditions in at-risk river basins around the world.
Background info:
NTPC is India's largest power utility under Ministry of Power.
NTPC has already taken a series of measures across its plant locations on sound water management.
NTPC will further imbibe the 3 R's (Reduce, Reuse and Recycle) for water conservation and management while carrying out its core business activity of power generation.
::ECONOMY::
Base year for wholesale inflation may be changed to FY18
The working group (headed by Ramesh Chand)for revision of the Wholesale Price Index (WPI) has proposed a new base year 2017-18 (current 2011-12) and doubling the items to 1,196 items (from 692 items currently) covered in the basket.
WPI, measures the changes in the prices of goods sold and traded in bulk by wholesale businesses to other businesses.
The numbers are released by the Ministry of Commerce and Industry.
WPI (2011-12) reckons only basic prices and does not include taxes, rebate/trade discounts, transport and other charges.
::SCIENCE AND TECHNOLOGY::
Bose Einstein Condensation
Recently physicists observed a new phase in Bose Einstein condensation(BEC) of light particles.
Sometimes referred to as the 'fifth state of matter', a BEC is a state of matter created when particles, called bosons, are cooled to near absolute zero (-273.15 degrees Celsius).
At such low temperatures there is insufficient energy for the particles to move into positions that might cause their distinct quantum characteristics to interfere with one another. Hence, these particles in this state behave like a single giant super-particle.
 CLICK HERE FOR FULL CURRENT AFFAIRS (Only for Course Members)
::SPORTS::
India recorded its first win in FIFA World Cup qualifiers
India recorded its first win in FIFA World Cup qualifiers in six years after talisman Sunil Chhetri struck twice for a 2-0 win over Bangladesh in the joint preliminary round match.
Chhetri's double moved him on to 74 international goals — above Lionel Messi (72) and one goal shy of entering world football's all-time top 10
India registered its first win in what was turning out to be one of its worst World Cup qualifying campaigns in many years.
It was also its first victory in World Cup qualifiers away from home in 20 years.