Current Affairs for IAS Exams - 08 May 2021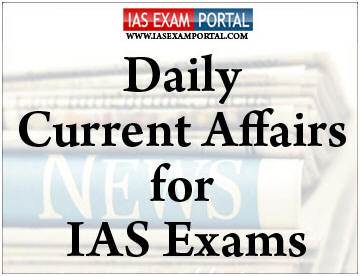 ---
Current Affairs for IAS Exams - 08 May 2021
::NATIONAL::
National Financial Reporting Authority
National Financial Reporting Authority (NFRA) has prepared a provisional database of companies and auditors that come under its regulatory ambit.
About:
NFRA has the mandate to oversee compliance with accounting and auditing standards by certain class of companies, described as Public Interest Entities (PIEs).
In this regard, a verified and accurate database of companies and auditors that come under the regulatory ambit of NFRA is being prepared.
Establishment of the database involves critical steps like identification and verification of the primary data source, and reconciliation of data such as Company Identification Number (CIN) from different sources.
For preparing the database, NFRA has been working with the corporate affairs ministry's Corporate Data Management (CDM) division and three recognised national stock exchanges.
Door step Banking
To tackle challenges posed by pandemic, Public sector banks (PSBs) have come together to form a newcompany in an attempt to take banking services to the doorsteps of their customers.
The new company will engage Banking Correspondents (BCs) under a common standard operating procedure(SoP) to provide financial and non-financial services directly to customer homes.
Cash withdrawal is the only financial service currently provided.
Non Financial services like cheque pickup, account statements etc are also offered.
CLICK HERE FOR FULL CURRENT AFFAIRS (Only for Course Members)
::INTERNATIONAL::
World Health Organization global sodium benchmarks for different food categories
The World Health Organization (WHO) has set its sights on reducing salt in food products around the globe through new global benchmarks.
About:
It suggests the benchmarks for sodium levels in more than 60 food categories will "help countries reduce salt intake and save lives".
WHO said most people consume double its recommended 5g of daily salt intake, putting themselves at greater risk of heart disease and strokes that kill an estimated three million people each year.
Its new Global Sodium Benchmarks for Different Food Categoriesis a guide for countries and the industry to reduce the sodium content in different categories of processed foods, the consumption of which is a "rapidly increasing source of sodium.
The benchmarks target a wide range of categories of processed and packaged foods, which the WHO says significantly contribute to overly salty diets.
These include processed and packaged bread, savoury snacks, meat products and cheese.
 Lumpy skin disease
It is caused by the pox virus which affects cattle and buffalo and is spreading through blood transmissionby mosquitoes, houseflies, and lice.
Humans are not at risk of developing LSD.
The disease has various implications like decreased milk production causing significant economic loss tofarmers.
The disease, currently, has no treatment. Hence, prevention by vaccination is the only effective means tocontrol the spread.
The World Organisation for Animal Health (OIE) has declared it as a notifiable disease.
::ECONOMY::
Special Kharif strategy
The Ministry of Agriculture has formulated a special Kharif strategy for implementation in the ensuing Kharif 2021 season with an aim to attain self-sufficiency in the production of pulses.
About:
Under the strategy, utilising all the high yielding varieties of seeds that are available either with the Central Seed Agencies or in the States will be distributed free of cost to increase area through intercropping and sole crop. 
For the coming Kharif 2021, it is proposed to distribute more than 20 lakh mini kits of seeds.
The total cost for these mini-kits will be borne by the Central Government to boost the production and productivity of tur, moong and urad. The move will cover over four lakh hectare area across the country.
The Ministry of Agriculture in a statement said that for effective implementation of the Kharif mini kit programme, a massive outreach with the concerned districts will be held. 
It said, the Agricultural Technology Application Research Institutes (ATARIs) and Krishi Vigyan Kendras will also be roped in for effective implementation and training to the farmers.
::SCIENCE AND TECHNOLOGY::
Foam path
A medical flight made an emergency belly landing at the Chhatrapati Shivaji Maharaj International Airport in Mumbai after a wheel of the aircraft separated from its body. Mumbai airport officials sprayed foam on the runway to prevent fire as the Beechcraft VT-JIL aircraft made a belly landing.
About:
A foam path is an aviation safety practice of spreading a layer of fire suppression foam on an airport runway prior to an emergency landing.
Following a crash-landing, liquids leaking from the aircraft, which are not yet burning, start evaporating, thereby resulting in forming an air-vapour mixture that is flammable or even highly explosive. In such cases, extinguishing foam is used preventively and the liquid is covered with a foam carpet as a vapor barrier.
Airport fire brigades create a foam carpet in order to secure an emergency landing if the landing gear of an aircraft is not extended or is unstable.
This is done in order to suppress sparking and burning of any aircraft metals due to friction with the runway surface.
 CLICK HERE FOR FULL CURRENT AFFAIRS (Only for Course Members)