Current Affairs for IAS Exams - 08 October 2021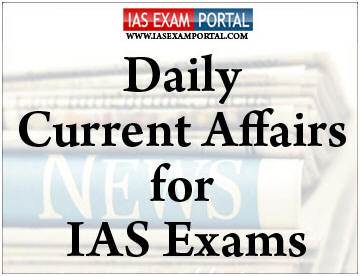 ---
Current Affairs for IAS Exams - 08 October 2021
::NATIONAL::
Odisha frames Policy forgiving equal opportunity to Transgenders
The Odisha government initiated a policy providing equal opportunity to transgenders in all offices of the nodal department for such people in the state.
About:
The policy was notified as per the Transgender Persons (Protection of Rights) Act, 2019, and rules framed under the Act.
The government would provide equal employment opportunities to all notwithstanding sex, sexual orientation, colour, disability, marital status, nationality, race, and religion, in its all offices.
The new policy will also ensure that the work environment is free from any discrimination against transgender persons.
The notification issued by the Social Security and Empowerment of Persons with Disabilities (SSEPD) Department stipulates the designation of an officer as a complaint officer for redressal of grievances of transgender people within 15 days from the date of receipt of such complaints.
Rashtriya Indian Military College
The Supreme Court emphasised that girls should not lose their opportunity to take the entrance exam in December 2021 for admission to the Rashtriya Indian Military College (RIMC).
A Bench led by Justice S.K. Kaul did not agree with the government's proposal to allow girls sit for the exam in June next rather than December 18, 2021.
The court reasoned that if the government has not shied away from admitting girls into elite military institutions for a career in the armed forces, it should not have problems in making the necessary preparations for having them write the entrance exam in December 2021 itself.
About:
The Rashtriya Indian Military College (RIMC), is an Inter Service Category 'A' establishment, administered through the Army Training Command (ARTRAC) under the aegis of the Ministry of Defence (MoD).
Christened the Prince of Wales Royal Indian Military College, it was inaugurated on 13 March 1922.
It is a military school situated in Doon Valley, Dehradun. The RIMC is a feeder institution for the National Defence Academy, Indian Naval Academy and subsequently the Indian Armed Forces.
CLICK HERE FOR FULL CURRENT AFFAIRS (Only for Course Members)
::INTERNATIONAL::
World first antimalarial vaccine
WHO recommended widespread use of RTS,S/AS01 (RTS,S) or Mosquirix malaria vaccine among children in sub-Saharan Africa and in other regions with moderate to high Plasmodium falciparum malaria transmission.
More than 2,60, 000 African children under the age of five die from malaria annually.
About:
According to World Malaria Report 2020(by WHO), India recorded largest reduction in cases in South-East Asia (SEA)from 20 million in 2000 to about 5.6 million in 2019.
India's Bharat Biotech will be producing part of the world's only malaria vaccine that has been developed by Pharma major GSK, and was recently approved by WHO (World Health Organisation).
In January, this year, Hyderabad-based vaccine major announced that it entered a product transfer partnership with the pharma major GSK for its malaria vaccine, RTS, S/AS01E1.
As part of this partnership, GSK would transfer RTS manufacturing technology to Bharat Biotech to produce the S antigen component of the malaria vaccine, and the license on all rights pertaining to it.
GSK will retain the production of the adjuvant of the vaccine (AS01E) and will supply it to Bharat Biotech.
Exercise Ajeya Warrior
The 6th Edition of India - UK Joint Company Level Military Training Exercise Ajeya Warriorhas commenced at Chaubatia, Uttarakhand and will culminate on 20 Oct 2021.
About:
The exercise is part of an initiative to develop interoperability and sharing expertise with friendly foreign nations.
During this exercise, an Infantry Company from Indian Army and an equivalent strength from UK Army would be sharing their experiences gained during the conduct of various military operations in their respective countries and during overseas engagements.
The joint military training would culminate with a grueling 48 hours exercise to validate the performance of both the Armies in conducting joint military operations in a semi-urban environment. 
::ECONOMY::
Aadhaar-enabled payment system
A series of recent scams have exposed the vulnerabilities of Aadhaar-enabled payment system (AePS).
About:
AePS is a bank led model which allows online interoperable financial inclusion transaction atPoS (MicroATM) through Business correspondent (BC) of any bank using the Aadhaar Authentication.
BC are retail agents engaged by banks for providing banking services at locations other than bank branch/ATM.
AePS is provided by NPCI (National Payments Corporation of India). Only inputs required for a customer to do a transaction are: Bank Name, Aadhar Number and Fingerprints.
::SCIENCE AND TECHNOLOGY::
Endosulfan
Allegedly thousands of endosulfan victims in Kerala's Kasaragod districts are yet to get aid from the government.
About:
Endosulfan is a relatively persistent, semi volatile organochlorine pesticide.
Organochlorines are a group of chlorinated compounds that belong to class of persistent organic pollutants (POPs).
Endosulfan has been detected in soil, sediment, and water, even in areas where it is not used.
Supreme Court banned its production and distribution in 2011.
Hazardous impact:
Neurotoxicity,
Late sexual maturity,
Physical deformities, Poisoning,
Autism,
Bioaccumulation.
 CLICK HERE FOR FULL CURRENT AFFAIRS (Only for Course Members)