Current Affairs for IAS Exams - 08 September 2021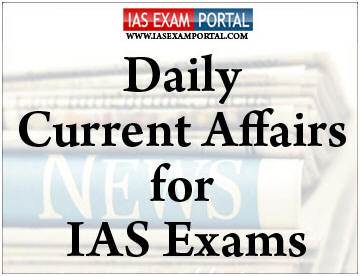 ---
Current Affairs for IAS Exams - 08 September 2021
::NATIONAL::
Employment exchange for senior citizens
The employment exchange, tentatively named SACRED, acronym for Senior Able Citizens for Re-Employment in Dignity, will start off as a facilitatory web portal, as per plans drawn up by the social justice and empowerment ministry. 
About:
The inter-ministerial committee formed to set up the exchange has approved Rs 10 crore for the purpose and another Rs 60 crore for creation and maintenance of the portal and its publicity for the next five years.
Taking a cue from the gig economy model, the portal will allow for various work models – full-time, part-time, freelance and pro bono options – which can work to mutual benefit, said people aware of the matter. Retraining and reskilling options are also being planned to bring senior citizens up to date, if required.
Electoral bonds worth 3,429.56 crore redeemed by parties in 2019-20
Association for Democratic Reforms (ADR) said that, electoral bonds worth ₹3,429.56 crore were redeemed by parties in 2019-20, and 87.29% of this was received by four national parties – the BJP, Congress, TMC and the NCP.
About:
In electoral bond is like a promissory note that can be bought by any Indian citizen or company incorporated in India from select branches of State Bank of India. 
The citizen or corporate can then donate the same to any eligible political party of his/her choice. 
The bonds are similar to bank notes that are payable to the bearer on demand and are free of interest. An individual or party will be allowed to purchase these bonds digitally or through cheque. 
When was electoral bond introduced? 
The electoral bonds were introduced with the Finance Bill (2017). On January 29, 2018 the Narendra Modi-led NDA government notified the Electoral Bond Scheme 2018. 
How to use electoral bonds? 
Using electoral bonds is quite simple. The bonds will be issued in multiples of Rs 1,000, Rs 10,000, Rs 100,000 and Rs 1 crore (the range of a bond is between Rs 1,000 to Rs 1 crore). These will be available at some branches of SBI. 
A donor with a KYC-compliant account can purchase the bonds and can then donate them to the party or individual of their choice. 
Now, the receiver can encash the bonds through the party's verified account. The electoral bond will be valid only for fifteen days. 
When are the bonds available for purchase? 
The electoral bonds are available for purchase for 10 days in the beginning of every quarter. 
The first 10 days of January, April, July and October has been specified by the government for purchase of electoral bonds. An additional period of 30 days shall be specified by the government in the year of Lok Sabha elections.
CLICK HERE FOR FULL CURRENT AFFAIRS (Only for Course Members)
::INTERNATIONAL::
China cuts time minors can spend on online games
Chinese regulators slashed the amount of time players under the age of 18 can spend on online games to an hour of gameplay on Fridays, weekends and holidays.
About:
The rules, published by the National Press and Publication Administration, said users under the age of 18 will only be able to play games from 8 p.m. to 9 p.m. local time on those days.
Online gaming companies will be barred from providing gaming services to them in any form outside those hours and need to ensure they have put real name verification systems in place, said the regulator, which oversees the country's video games market.
Previously, China limited the total length of time minors could access online games to three hours on holiday or 1.5 hours on other days.
Panjshir Valley
Taliban claimed of capturing PanjshirValley completely.
Location and Water Body:
Panjshiris located in Hindukush Mountainsand the entire valley is located along Panjshir River which flows all along its length.
Almost 100% of the population ofthis valley are Ethnic Tajiks.
Special feature:
It has rich deposits of Silver, Various types of crystals including Emeralds andrare earth minerals too.
It is known as graveyard of the invaders as no invader could succeed to conquer.
Bordering countries: 
Afghanistan is a landlocked country surrounded by Turkmenistan,Uzbekistan,Tajikistan, Pakistan, China, India.
::ECONOMY::
Green Hydrogen
India is proposing to mandate using green hydrogen in fertilizer and in refining.
Green Hydrogen
Use of green hydrogen would cut imports of ammonia and natural gas required for fertiliser production.
Green hydrogen is hydrogen produced from electrolysis (splitting of water into oxygen and hydrogen) by passing electricity from renewable sources resulting in no carbon emissions.
National Hydrogen Energy Mission has been launched to enable cost competitive green hydrogen production.
::SCIENCE AND TECHNOLOGY::
Doppler Weather Radar
Recently, a state-of-the-art Doppler Weather Radar was inaugurated at Indian Meteorological Department in Jammu along with an indigenous GPS based Pilot Sonde.
About:
Doppler Weather Radar (DWR) is based on doppler effect, i.e., change in frequency of a wave based on the relative motion between wave source and observer.
To monitor weather, DWR sends pulses of electromagnetic energy into the atmosphere, which are reflected back to radar by raindrops or snow.
It helps in providing advance information for early warning in the event of severe weather; protecting life and property.
 CLICK HERE FOR FULL CURRENT AFFAIRS (Only for Course Members)