Current Affairs for IAS Exams - 09 March 2020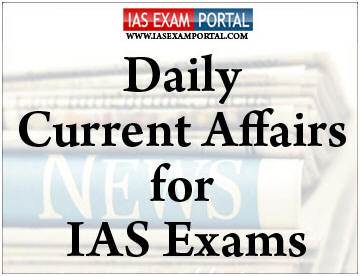 ---
Current Affairs for IAS Exams - 09 March 2020
---
::NATIONAL::
Centre claims 195 fast track courts set up for speedy disposal of POCSO and rape cases
A total of 195 Fast Track Special Courts have been set up across the country for expeditious trial and disposal of pending cases related to rape and Prevention of Children from Sexual Offences, POCSO Act 2012.
Giving this information in the Lok Sabha, Law and Justice Minister Ravi Shankar Prasad said, maximum 56 Fast Track Special Courts are functional in Madhya Pradesh, followed by Gujarat and Rajasthan. He said, 34 Fast Track Special Courts in Gujarat and 26 in Rajasthan are functional by the end of January, 2020.
He said, after receipt of consent from 27 States and Union Territories, Central share of funds amounting to 99.43 crore rupees have been released in financial year 2019-20 for setting up of 649 Fast Track Special Courts. Mr Prasad said, government has finalized a scheme for setting up of a total of 1,023 Fast Track Special Courts across the country.
In reply to another question, the Minister said, 14th Finance Commission has endorsed the proposal of government for setting up of 1,800 Fast Track Courts during the period 2015-20 for dealing with specified nature of cases related to women, children, senior citizen and other vulnerable sections of the society. Mr Prasad said, there are 828 such Fast Track Courts functioning in the country as on 31st December last year.
Parliamentary panel finds huge infrastructural gaps in govt. Schools
Almost half the government schools in the country do not have electricity or playgrounds, according to a report submitted by the parliamentary panel on education.
In its report on the 2020-2021 demand for .......................................
CLICK HERE FOR FULL CURRENT AFFAIRS (Only for Course Members)
::ECONOMY::
RBI ensures safe deposit to YES bank customers
In the wake of the moratorium on private sector lender Yes Bank, the RBI clarified on Sunday that deposits of customers were safe.
Allaying concerns over the banking sector health, Chief Economic Adviser Krishnamurthy Subramanian said Indian banks were well capitalised and there was no reason to worry. He said it was a wrong method to assess a lender's health based on the ratio of deposit to m-cap (market capitalisation).
"What I want to emphatically state is that the m-cap ratio is a totally incorrect metric for assessing the safety of the banks. No banking sector expert or banking regulator uses this measure," Mr. Subramanian told mediapersons at his office here.
"What banking sector experts and regulators use is what is called the CRAR. It is important to keep this in mind that the international norms for CRAR is 8% and Indian banks on an average have a CRAR of 14.3%.
"So, 8% is the mandated minimum norm and our banks on the average have 14.3% (CRAR). Now 14.3% versus 8% almost translates into 80% greater capital than the international norms," he said. He said the RBI mandated the banks to keep CRAR at 9%. "Even compared to that, our banks have 60% more capital. So this is something that is very important."
Govt. plans to form 75 lakh SHG's by 2022
The government is planning to create a total of 75 lakh Self Help Groups by 2022 to enable more women to get a livelihood. Rural Development Minister Narendra Singh Tomar said this while addressing a ..................................................
CLICK HERE FOR FULL CURRENT AFFAIRS (Only for Course Members)
::INTERNATIONAL::
Maldives launches inquiry into gender discrimination
Maldives Parliament today introduced a motion to launch an inquiry into systemic gender discrimination on the occasion of International Women's day. Parliament's deputy speaker Eva Abdulla presented the motion seeking to identify policies, laws and systems that are detrimental to women.
Noting that women constitute 49 per cent of the country's population, the motion stated that putting an end to gender discrimination and facilitating more opportunities for women contributes to the swifter development of the nation.
It called for all necessary steps to ensure gender equality and launching a parliamentary inquiry to compile a report on systemic gender discrimination in the country and presenting the recommendations to parliament.
The motion also noted recent efforts to empower women such as the new amendments to the decentralization act which allocated 33 percent of council seats for women.
South Korea accuses North of test firing projectiles
North Korea has fired three projectiles, Seoul's military said , a week after it launched what the South said appeared to be two short-range ballistic missiles.
The South's Joint Chiefs of Staff in ..................................
CLICK HERE FOR FULL CURRENT AFFAIRS (Only for Course Members)
::SCIENCE & TECHNOLOGY::
Report in wildlife trade reveals drop in poaching of red pandas in India
The iconic and endangered Red Panda (ailurus fulgens) has fewer hunters because the younger generations of people across its Himalayan habitat are losing interest in animal products, a new study by wildlife trade monitoring network TRAFFIC has found.
However, the reddish-................................................
CLICK HERE FOR FULL CURRENT AFFAIRS (Only for Course Members)
::SPORTS::
Five Indian boxers qualify for Tokyo Olympics
Five Indian boxers, including the seasoned trio of Vikas Krishan in 69 kilogram, Pooja Rani in 75 kg and Satish Kumar in91 kg category, yesterday secured Tokyo Olympic berths by advancing to the semifinals of the Asian Qualifiers with mostly commanding victories in Amman, Jordan.
Satish, Rani, Krishan, Lovlina Borgohain in 69 kg and Ashish Kumar in 75 kg became the first set of Indian boxers to qualify for quadrennial showpiece scheduled in July-August this year.