Current Affairs for IAS Exams - 09 May 2019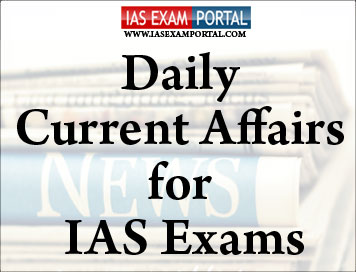 Current Affairs for IAS Exams - 09 May 2019
::NATIONAL::
PM claims government has ensured ease of living along with EODB
Prime Minister Narendra Modi today said people of Delhi have during the past five years always supported his government in every major decision, including GST.
Addressing a rally at Ramlila ground in the national capital, Mr Modi said the bond between Delhi and BJP is strong. He said BJP will keep working for Delhi's welfare. The senior BJP leader said NDA government has not only improved the ranking of country in Ease of Doing Business, but is also working towards Ease of Living.
He said price rise used to be a major issue in every election but NDA government has been able to bring it under control and Opposition parties are not being able to speak on it now. Mr Modi said the poor have access to houses, toilets, electricity and are given benefits of Ayushman Bharat Yojana now.
He added that middle class is given help for their houses under Pradhan Mantri Awas Yojana and the annual income upto 5 Lakh rupees has been kept out of taxable income.
The Prime Minister said pollution is a major challenge which threatens Delhi and the solution lies in using better technology and modern transport.
In a veiled attack on Aam Aadmi Party, he said Delhi's current political culture is to say no to every development initiative by the Centre. He said AAP has broken the trust placed on it.
Mr Modi said Centre has implemented Ayushman Bharat Yojana but state government is not providing the facility in its hospitals in Delhi.
Supreme court gives deadline for final NRC
The Supreme Court on Wednesday asked Assam National Register of Citizens (NRC) Co-ordinator Prateek Hajela to act with "wise discretion" while dealing with people who had failed to appear for scheduled hearings on their objections filed against exclusion from the draft NRC.
"Objections' hearings have started. 'Objectors' are not appearing in most cases," Mr. Hajela reported to a Special Bench of Chief Justice Ranjan Gogoi and Justice Rohinton F. Nariman.
"If they are not appearing, the law will take its own course," the Chief Justice replied.
The Chief Justice told Mr. Hajela to take whatever action was necessary in the cases of the absentee 'objectors'. The decisions taken should be free and fair, keeping the law in mind. "But whatever you do, do it by July 31. A day earlier than July 31 but not a day later," he said before listing the case for July 3, after the summer vacations.
In the previous hearing, the court had urged the NRC authorities to make the hearing processes as hassle-free as possible. Over 35 lakh people excluded from the draft had filed claims for Indian citizenship. The court asked the NRC authorities to ensure "optimum convenience" for those seeking justice in the proceedings.
::ECONOMY::
RBI expresses concern over fiscal slippages due to govts.income support scheme
The Reserve Bank of India (RBI) has voiced its concern over government schemes such as income support, revival package for power distribution companies and farm loan waivers as such schemes led to fiscal slippages.
In a presentation to the 15th Finance Commission, the RBI said the UDAY scheme, recent income support schemes of the government and farm loan waivers could drive fiscal slippage in the revised estimate for 2018-19.
In the Interim Budget presented in February, the government announced a cash transfer scheme, for small and marginal farmers with landholdings of up to two hectare, of ₹6,000. The government had allocated ₹75,000 crore towards the scheme for financial year 2020.
"Fiscal deficit of States is budgeted to be lower in 2019-20 BE (budgeted estimates), but RE (revised estimates) and actuals deviate significantly reflecting poor fiscal marksmanship," a statement issued by the government after the meeting said. The central bank noted that outstanding debt as percentage of GDP had been rising despite moderation in interest payment as percentage of revenue receipts.
Some of the other issues that were discussed during the meeting include public sector borrowing requirements and continuity of the Finance Commission and development of expenditure codes, especially given that expenditure norms vary from State to State
On the continuity of the Finance Commission, the government statement said "felt that this was required more in view of the fiscal management requirements of the States, especially given the absence of mid-term reviews of awards granted by the Finance Commission, as it used to happen earlier with the awards granted by the Planning Commission."
Indian equity indices lose for consecutive sessions
Indian benchmark equity indices lost ground for the sixth consecutive session on Wednesday as a mix of global and domestic factors made investors jittery even as foreign investors turned net sellers in the last few trading sessions.
On the global front, the escalation of U.S.-China trade war has led to a selling spree across equity markets globally, while on the domestic front, a largely lacklustre corporate results season has made investors cautious ahead of the election results.
Market participants are of the view that the ongoing weakness in the markets had led to many investors and traders being wary of taking fresh positions, especially since the election results are only a few trading sessions away.
Meanwhile, global markets continued to trade weak with the benchmarks of China, Hong Kong, Japan, Taiwan and Indonesia all ending the day in the red.
Back in India, 1,857 stocks lost ground on Wednesday which was nearly three times the number of gainers at 634.
Within the Sensex pack, heavyweights such as Reliance Industries, Tata Motors, State Bank of India, Vedanta, Yes Bank and Sun Pharmaceuticals, among others, ended in the red.
The rupee fell against the dollar for the third consecutive session amid escalating the U.S.-China trade tensions and sell-off in the domestic stock market. The rupee dropped 28 paise against the dollar on Wednesday to close the day at 69.71.
::INTERNATIONAL::
Trump imposes more sanctions on Iran
US President Donald Trump has imposed sanctions on Iran's iron, steel, aluminium and copper sectors. The move is aimed at stopping Tehran from acquiring a nuclear weapon and intercontinental ballistic missiles.
A year after he withdrew from the Iran nuclear deal and began the process of reimposing sanctions on Tehran, Mr Trump with his new move has now imposed sanctions on Iran's top three exports - oil, petrochemicals and metals.
The White House said, the US will aggressively enforce its sanctions, and those who continue to engage in a sanctionable activity involving Iran will face severe consequences.
Washington's European allies opposed Mr. Trump's decision to withdraw from the agreement and have failed so far to find ways to blunt the economic impact of new U.S. sanctions, which include an all-out effort to block Iran's oil exports to starve its economy.
The Kremlin said on Wednesday that Russia remained committed to the Iran nuclear deal and denounced "unreasonable pressure" that led Tehran to suspend some of its commitments under the agreement. Reiterating Moscow's "committment" to the agreement, Kremlin spokesman Dmitry Peskov denounced "ill-conceived and arbitrary decisions that put unreasonable pressure on Iran.
India Turkey expand economic cooperation
India and Turkey vowed to strengthen economic relations with the aim of reaching 10 billion US dollars bilateral trade by 2020.
Turkey's Deputy Foreign Minister Sedat Onal, who is on a three-day visit to India since May 7, held talks with Gitesh A Sarma, Secretary (West) under the institutional mechanism of foreign office consultations on Wednesday.
Ministry of External Affairs (MEA) said in a statement that Deputy Foreign Minister Onal and Secretary (West) held cordial discussions on various aspects of bilateral ties including examining opportunities for enhancing trade and investment relations.
It added that other aspects such as enhanced cultural interaction, tourism, people-to-people contacts were also discussed.
India and Turkey reviewed the current situation in their respective regions and also exchanged views on several multilateral issues. Mr. Onal had earlier visited India as part of the delegation of President Recep Tayyip Erdogan in May 2017.
::SCIENCE & TECHNOLOGY::
WHO to eliminate industrially produced transfat by 2023
Trans fat, also called the worst form of fat in food, responsible for over 5,00,000 deaths globally from coronary heart disease each year, could be eliminated from the industrially produced global food supply by 2023 if the World Health Organization (WHO) has its way.
The WHO has welcomed its partnership with the International Food and Beverage Alliance (IFBA) to achieve this target. It said: "Eliminating industrially produced trans fat is one of the simplest and most effective ways to save lives and create a healthier food supply."
WHO Director-General Dr. Tedros Adhanom Ghebreyesus, in a statement, said they had met the IFBA representatives, including chief executive officers from several of the 12 companies comprising the alliance on May 2 to discuss actions to eliminate industrial trans fats, and reduce salt, sugar and saturated fats in processed foods.
The meeting also stressed the value of regulatory action on labelling, marketing and urged industry for full adherence to the WHO code of marketing of breast milk substitutes.
Dr. Ghebreyesus said, "The commitment made by the IFBA is in line with the WHO's target to eliminate industrial trans fat from the global food supply by 2023. Of particular note was the decision by IFBA members to ensure that the amount of industrial trans fat in their products does not exceed two grams per 100 grams fat/oil globally by 2023."
Speaking about the relevance of this meeting and deadline for India, Medanta Hospital founder and heart surgeon Naresh Trehan said, "India has among the highest number of coronary heart disease cases in the world and we must try to beat this deadline."
::SPORTS::
Rafael nadal beats Felix auger
In Madrid Open, Rafael Nadal, a five times champion in Madrid, beat Canadian teenager Felix Auger Aliassime 6-3, 6-3 yesterday to reach the last 16.
He will face Frances Tiafoe of the US in the last 16. Laslo Djere, Stefanos Tsitsipas, Kei Nishikori, Stan Wawrinka, Alexander Zverev, Fabio Fognini and Dominic Thiem all advanced to the last 16 with straight-sets wins
In women's singles world number one Naomi Osaka delivered an improved display to reach the quarter-finals of the Madrid Open yesterday, beating Aliaksandra Sasnovich 6-2, 6-3.