Current Affairs for IAS Exams - 09 May 2022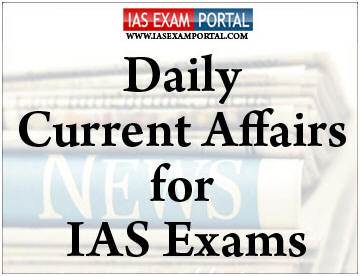 ---
Current Affairs for IAS Exams - 09 May 2022
::NATIONAL::  
Green Steel
The Parliamentary Consultative Committee meeting for Ministry of Steel was convened at Shimla to brainstorm on the topic "Transition towards Green Steel".
About:
Green steel is steel with lowest carbon footprint.
Steel-making requires stripping oxygen from iron ore to produce pure iron metal. In traditionalsteel-making, this is done using coal or natural gas in a process that releases CO2.
It can be produced using HYBRIT (Hydrogen Breakthrough Ironmaking Technology), whichuses electricity from renewable sources to create clean-burning gas.
In green steel production, hydrogen made from renewable energy replaces fossil fuels.
Concerns:
Iron and Steel sector is specially challenging with regard to reduction in Carbon Dioxide (CO2) emissions, as use of fossil fuel based energy & reductant is deeply embedded in the production process. 
The emissions from the Indian iron & steel industry is higher primarily due to higher usage coal based energy source and as reductant. 
CLICK HERE FOR FULL CURRENT AFFAIRS (Only for Course Members)
Tissue Culture Plants
The Centre, through the Agricultural and Processed Food Products Export Development Authority (APEDA), accredited tissue culture laboratories spread across India. 
It aims to boost exports of tissue culture plants.
About: 
It is a kind of production new plants from a small piece of plant tissue or cells removed from the growing tips of a plant in a suitable growth medium.
By this process the growth medium or culture solution is very important as it is used for growing plant tissue because it contains various plant nutrients in the form of 'jelly' known as agar and plant hormones which are necessary for the growth of plants.
Concerns:
Tissue culture plant laboratories highlighted the issues and challenges faced by them in tissue cultured planting material production and its exports. 
Exporters drew the attention of APEDA officials to issues such as increasing power costs, low efficiency levels of the skilled workforce in the laboratories, contamination issues in the laboratories etc.
Way forward:
To take up these issues with the concerned departments. APEDA has assured round-the-clock service to tissue culture plant laboratories so as to address all hardships faced by them. 
APEDA is running a Financial Assistance Scheme (FAS) to help laboratories upgrade themselves so as to produce export quality tissue culture planting material. 
CLICK HERE FOR FULL CURRENT AFFAIRS (Only for Course Members)
::INTERNATIONAL::
UN-Energy Plan of Action
The United Nations took a major step to catalyse the large-scale action and support needed for the transition to clean, affordable energy for all and net-zero emissions with the launch of a UN-Energy Plan of Action Towards 2025.
The 'Plan of Action' was launched by some 30 leading organisations comprising UN-Energy.
Seven key areas Plan of Action:
Scale up collective UN-Energy action: Joint programmes,supported by UN-Energy and leveraging relevant EnergyCompacts, significantly scaling up collective UN system action.
Scale up Energy Compacts: To bring new stakeholders aboard,catalysing the finance and investment, etc.
Lead a Global Campaign for SDG 7 Action.
Lead by example-Greening UN-Energy organizations'operations.
Convene a Global Action Forum on SDG 7 annually: To be convened on the margins of UNGA High Level Week in New York to consider, discuss and constructively advance relevant issues.
Inform global agenda-setting and demonstratethought-leadership
CLICK HERE FOR FULL CURRENT AFFAIRS (Only for Course Members)
Germany withdraws UN court case against Italy over World War II reparations 
The International Court of Justice has informed that, Germany withdrew its court case against Italy over war reparations for Nazi victims.
About International Court of Justice:
The International Court of Justice (ICJ) sometimes known as the World Court.
It is one of the six principal organs of the United Nations (UN).
It settles disputes between states in accordance with international law and gives advisory opinions on international legal issues. 
The ICJ is the only international court that adjudicates general disputes between countries, with its rulings and opinions serving as primary sources of international law.
Key highlights: 
They withdrew the case at the UN's highest judicial body, the International Court of Justice (ICJ), "following recent judicial developments in Italy" and due to discussions between the two countries.
Germany had alleged in a case filing reported on Sunday that Italian courts continued to bring claims against the country from victims of Nazi war crimes who were seeking reparations despite a 2012 ICJ ruling against Italy on the same issue.
About World War II (1939-1945):
The war involved all the world's majorcountries and ended in 1945 with thedefeat of Axis countries.
Germany's invasion of Poland inSeptember 1939 drove Great Britain andFrance to declare war on it marking thebeginning of WWII.
Reasons: 
Failure in creating enduring peace andsecurity after World War I by Treaty of Versailles (1919).
Weakness of the League of Nationswithout the US and USSR (USSR wasadmitted into the league only in 1934).
Rise of dictatorship in Italy (Fascism) andGermany (Nazism) under Benito Mussolini (1922) and Adolf Hitler (1933) respectively.
CLICK HERE FOR FULL CURRENT AFFAIRS (Only for Course Members)
::ECONOMY::
Rupee hits all-time low
Rupee slipped to 76.97/$ during intra-day deals on Friday, hitting its all-time low before rebounding following a possible intervention by the Reserve Bank of India (RBI). 
About:
The country's foreign exchange reserves, too, dropped to $598 billion for the week ended April 29, down from its all-time high of $642 billion in the week ended September 3, 2021, latest RBI data showed.
The rupee ended the day at 76.93/$, dropping 67 paisa or 0.87 per cent from its previous close. 
The rupee opened weaker on Friday, at 76.64/$ as compared to previous close of 76.26, in the wake of sharp fall in US equities as the treasury yields moved up with investors rushing for safe haven assets resulting in strengthening of dollar. Crude prices retreating to around $110/bbl added pressure on rupee as the country imports more than 80 per cent of its oil requirements.
The previous all-time low was on March 7 when rupee ended at 76.97/$.
Reasons behind fall of rupee:
Increase in crude oil prices and other commodities due to the Russia-Ukraine War.
Change in monetary policies of central banks, especially US FederalReserves with 50 bps hike in rates to tackle rising inflation.
Exit of overseas investors from Indian market to safe haven.
Domestic issues such as rise in current account deficit, inflation etc.
Rupee depreciation impact: 
Falling in forex reserves because of RBI efforts to arrest rupee fall.
Hike in interest rates from RBI to tackle rising inflation.
CLICK HERE FOR FULL CURRENT AFFAIRS (Only for Course Members)
::SCIENCE AND TECHNOLOGY::
PSR J0523−7125
Astronomers have confirmed that an object they thought was a distant galaxy is actually the brightest extra-galactic pulsar ever seen. 
About:
The team made the discovery using a technique that blocks a particular type of polarized light, similar to polarized sunglasses, which could be used to spy more 'hidden' pulsars.
Pulsars are highly magnetized spinning neutron stars that form from the collapsed remnants of exploded stars. 
As pulsars spin, they release a stream of radio waves from their poles — a 'pulse' that can be detected using radio telescopes. 
Astronomers use pulsars to test theories of gravity and to look for evidenceof gravitational waves.
CLICK HERE FOR FULL CURRENT AFFAIRS (Only for Course Members)