Current Affairs for IAS Exams - 09 October 2021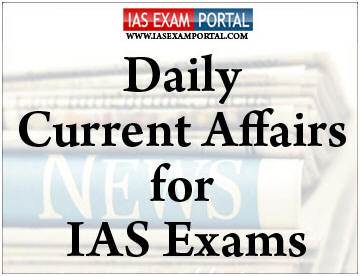 ---
Current Affairs for IAS Exams - 09 October 2021
::NATIONAL::
An institution's right to Government aid is not a fundamental right
In a recent judgement according to Supreme Court, the right of an institution, whether run by a majority or minority community, to get government aid is not a fundamental right. Both have to equally follow the rules and conditions of the aid.
About:
Government aid is a policy decision. It depends on various factors including the interests of the institution itself and the ability of the government to understand the exercise.
Article 30(2) states is that on the ground that an institution is under the management of a minority, whether based on religion or language, grant of aid to that educational institution cannot be discriminated against, if other educational institutions are entitled to receive aid.
A grant of government aid comes with accompanying conditions. An institution is free to choose to accept the grant with the conditions or go its own way.
If an institution does not want to accept and comply with the conditions accompanying such aid, it is well open to it to decline the grant and move in its own way. On the contrary, an institution can never be allowed to say that the grant of aid should be on its own terms.
All-India quarterly establishment-based employment survey
It is prepared by the Labour Bureau to provide frequent (quarterly) updates about the employment and related variables of establishments, in both organised and unorganised segments of nine selected sectors.
These nine selected sectors are Manufacturing, Construction, Trade, Transport, Education, Health, Accommodation and Restaurant, IT/ BPO and Financial Services.
The survey covers establishments with more than 10 workers.
These sectors altogether account for a majority of the total employment in the non-farm establishments.
The total employment in the nine selected sectors from the first round of QES (April-June) is30,800,000 approximately.
CLICK HERE FOR FULL CURRENT AFFAIRS (Only for Course Members)
::INTERNATIONAL::
White shipping information exchange
Recently, an MoU was signed on the White Shipping Information Exchange between the Indian Navy and the Royal Navy of Oman.
About:
White shipping information refers to exchange of relevant advance information on the identity and movement of commercial non-military merchant vessels.
Ships are classified into white (commercial ships), grey (military vessels), and black (illegal vessels).
It prevents potential threats from sea from impinging an coastal and offshore security of the country.
India has signed white shipping agreements with several countries including United States,Singapore and France.
Beresheet 2 Project
Beresheet 2 Project is the second lunar mission fromSpaceIL and Israel Aerospace Industries.
About:
The project is expected to be launched in 2024,
The Beresheet 1 spacecraft crash landed on the moon after its launch in February 2019 on a usedSpaceX Falcon 9 rocket.
Beresheet 2 Project will include three spacecraft- an orbiter and two landers- to the moon, to conduct experiments and collect data.
Presently, United States, the Soviet Union and China had successful spacecraft landing on moon.
::ECONOMY::
Social stock exchanges
The proposal to set up Social stock exchanges (SSEs) was first coined during the Union Budget in 2019.
About:
SSE functions as a regulated funding platform to allow For-Profit Social Enterprises (FPEs) and not-for-profit organisations (NPO) with a social purpose, to raise funds.
Some of the most prominent SSEs are: UK (Social Stock Exchange), Canada (Social Venture Connexion), Singapore (Impact Investment Exchange) etc.
Requirement of the SSE:
Improved market access to capital for enterprises that seek to deliver a positive change in society.
Reduced burden on government in achieving the developmental goals by leveraging private sector participation.
Better project implementation as performance of the enterprises listed on an SSE would be closely monitored.
::SCIENCE AND TECHNOLOGY::
Akash Prime Missile
A new version of the Surface to Air Akash Missile-Akash Primehas been successfully flight tested from Integrated Test Range (ITR), Chandipur, Odisha.
In comparison to existing Akash System, Akash Prime is equipped with an indigenous active Radio Frequency (RF) seeker for improved accuracy.
Other improvements include more reliable performance under low temperature environments at higher altitudes.
Akash missile is India's first indigenously produced medium range Surface to Air missile that can engage multiple targets from multiple directions.
It can be launched from mobile platforms like battle tanks or wheeled trucks.
 CLICK HERE FOR FULL CURRENT AFFAIRS (Only for Course Members)