Current Affairs for IAS Exams - 09 September 2021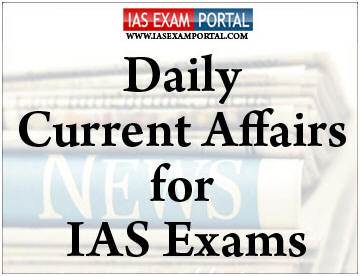 ---
Current Affairs for IAS Exams - 09 September 2021
::NATIONAL::
First dugong conservation reserve
Recently, the Tamil Nadu government announced India's first conservation reserve for Dugongs in Palk Bay.
About:
The dugong (Dugong dugon), also called the sea cow, is a herbivorous mammal. They can grow upto three meters long, weigh about 300 kilograms, and live for about 65 to 70 years, grazing on seagrass and coming to the surface to breathe.
They are found in over 30 countries and in India are seen in the Gulf of Mannar, Gulf of Kutch, Palk Bay, and the Andaman and Nicobar Islands.
Dugongs are listed as Vulnerable on the IUCN Red List of Threatened Species.
The loss of seagrass habitats, water pollution and degradation of the coastal ecosystem due to developmental activities have made life tough for these slow-moving animals.
Dugongs are also victims of accidental entanglement in fishing nets and collision with boats, trawlers.
Government  moves  to align Indian accounting standards with global accounting standards
India will explore whether it could bridge the gaps between its Indian accounting standards (IndAS) and the International Financial Reporting Standards (IFRS) by removing some of the carve-outs introduced while adopting the global norms five years ago.
About:
India began adopting IndAS gradually from 1 April 2016, replacing the earlier Generally Accepted Accounting Principles (GAAP).
IndAS is mostly based on IFRS; however, given India's legal framework and the practices followed in different sectors, some variations, called carve-outs, were introduced.
The full adoption of IFRS for financial statements would benefit companies that look to list overseas, as well as global mergers and acquisitions.
CLICK HERE FOR FULL CURRENT AFFAIRS (Only for Course Members)
::INTERNATIONAL::
Google-Equitas Small Finance Bank deposits deal under RBI's watch
Google has tied up with Equitas Small Finance Bank Ltd. to offer time deposits to users of its payments wallet.
Such deposits are covered by a deposit guarantee of up to Rs 5 lakh per depositor.
The Financial Stability Report (FSR) of RBI, 2021 had raised concerns about Big Tech firms in financial services.
Big Tech firms sometimes have opaque overarching governance structures,and the potential to become dominant players in financial services.
Financial Stability Report:
The Financial Stability Report (FSR) is published twice each year by the RBI.
It presents an assessment of the health of the financial system.
The data and information in the FSR allows the RBI to assess the state of the domestic economy.
The FSR also allows the RBI to assess the macro-financial risks in the economy.
Robots to detect poor social behaviour on streets
Recently, Singapore started trials of using robots to patrol public areas and aid in ensuring social distancing in parks and gardens.
The trials are being conducted via joint project involving five public agencies.
Singapore (Capital: Singapore)is a small island nation located off the coast of the southern tip of the Malay Peninsula in Southeast Asia.
It lies between theIndian Ocean and South China Sea.
Major Water Bodies:
Lying just 1-degree above the equator, Strait of Johar and Strait of Singapore reits main water bodies.
Its maritime borders have South China Sea in East,Strait of Malacca in West and the Riau islands inSouth.
::ECONOMY::
Seaweed Farming
Recently, the Lakshadweep administration launched seaweed farming units in nine inhabited islands.
About:
Seaweed is a common name for countless marine plants and algae that grows in shallow water of oceans as well rivers, lakes and other water bodies.
Present in different forms like Brown Seaweeds, Red Seaweeds and Green Seaweeds; they provide vital ecosystem services as excellent nutrient scrubbers with high potential in basic utilities like food and industrial uses. E.g., pharmaceuticals, cosmetics and nutraceuticals.
India has planned to produce 11.5 lakh tonnes of seaweed by 2025 under PM Matsya Sampadan Yojana.
::SCIENCE AND TECHNOLOGY::
Device to carry out biological experiments in space
Researchers at the Indian Institute of Science (IISc) and Indian Space Research Organisation (ISRO) have developed a modular, self-contained device to cultivate microorganisms which could enable scientists to carry out biological experiments even in space.
The research team showed how the device can be used to activate and track the growth of a bacterium called Sporosarcina Pasteurii over several days, with minimal human involvement.
The device uses a combination of Light Emitting Diode (LED) and photodiode sensor to track bacterial growth by measuring the optical density or scattering of light, similar to spectrophotometers used in the lab.
It also has separate compartments for different experiments. Each compartment or 'cassette' consists of a chamber where bacteria — suspended as spores in a sucrose solution — and a nutrient medium can be mixed to kickstart growth, by turning on a switch remotely.
 CLICK HERE FOR FULL CURRENT AFFAIRS (Only for Course Members)
Jasprit Bumrah 
Jasprit Bumrah became the quickest Indian fast bowler to take 100 Test wickets, achieving the feat in his 24th game, on the fifth and final day of the fourth Test against England.
Bumrah surpassed the legendary Kapil Dev, who had taken 25 Tests to reach the 100-wicket mark in 1980.
Bumrah reached the milestone mark when he cleaned up Ollie Pope (2).
He had made his Test debut against South Africa in Cape Town in January 2018 and since then has been an integral part of the Virat Kohli-led Indian team.
Irfan Pathan took 28 Tests and Mohammad Shami 29 to get their 100 Test wickets.
Bumrah is now 22nd on the list of highest wicket takers for India in Tests, the list being led by spin legend Anil Kumble (619 wickets).