Current Affairs for IAS Exams - 10 January 2021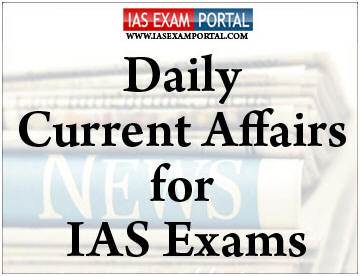 ---
Current Affairs for IAS Exams - 10 January 2021
::NATIONAL::
Delhi cabinet gives nod to set up Konkani academyin the national capital
The Delhi government will establish an academy to facilitate the growth and promotion of Konkani language and culture in the national capital. 
The proposal was approved in the cabinet meeting headed by Chief Minister. 
The move is being seen as an attempt to woo people from Goa, where AamAadmi Party is contesting Assembly elections next year. Konkani is main regional language of Goa.
According to the government, the academy will be set up under the Department of Art, Culture, and Languages of the Delhi government, for the people of Delhi to have exposure to the culture of the areas where it is used, most primarily in Goa. 
About the language:
Konkani is the official language of Goa. 
It is the only Indian language written in five different scripts - Devnagari, Roman, Kannada, Malayalam and Persian-Arabic.
Konkani was recognized as the official language of Goa on January 4, 1987, on August 20, 1992, it was given status of a national language in India, through the 71st Amendment to the Eighth Schedule of the Constitution of India. 
Konkani is one of the 15 languages in which the value is printed on Indian Rupee currency notes.
BagasaraPrant
Government of Gujarat has decided to create a new BagasaraPrant in Amreli district. 
This will take the state's revenue services nearer to the people and provide services faster. 
The newly created BagasaraPrant, which includes Bagasara and Vadiya talukas in it.
Since the districts with larger geographical areas cause inconvenience to the people, the state government has been reorganizing smaller districts and talukas for administrative convenience, faster development, reducing workload as well as saving the people's time. 
CLICK HERE FOR FULL CURRENT AFFAIRS (Only for Course Members)
::INTERNATIONAL::
PravasiBharatiya Divas Convention
Prime Minister Narendra Modi will inaugurate the PravasiBharatiya Divas.
The website for the 16th PravasiBharatiya Divas 2021 will be launched, marking the commencement of online registration for participation in the convention.
In view of the ongoing Covid-19 pandemic, the 16th PBD Convention will be held in virtual format on January 9.
About:
PravasiBharatiya Divas Convention is the flagship event of the Government of India and provides an important platform to engage and connect with the overseas diaspora.
The theme of PBD 2021 is "Contributing to Atmanirbhar Bharat".
The winners of 'Bharat ko Janiye Quiz' will also be announced in the inaugural session.
The PBD Convention will include two Plenary Sessions -- 'Role of Diaspora in Atmanirbhar Bharat' and 'Facing Post Covid Challenges-Scenario in Health, Economy, Social and International Relations'.
Global Economic Prospects Report
World Bank expects global economy to expand by 4% in 2021.
The report named Global Economic Prospects was recently released by World Bank.
Key highlights:
Global economy is expected to expand by 4% in 2021, assuming COVID-19 vaccine rollout becomes widespread.
In India, Output is estimated to contract by 9.6% in 2020-21, reflecting a sharp drop in household spending and private investment.
To support economic recovery, authorities also need to facilitate a re-investment cycle aimed at sustainable growth that is less dependent on government debt.
Economy
MeitY considers reimbursing merchant discount rates for UPI to payment firms
The ministry of electronics and information technology (MeitY) is looking at options to reimburse transaction fees or merchant discount rates (MDR) to payment firms for merchant transactions on Unified Payment Interface (UPI) and RuPay network.
MeitY has held meetings with digital payment firms last month to hear grievances and is currently modeling costs to understand the extent of potential funds required to reimburse transaction fees for UPI and RuPay payments for a year.
MDR is the cost paid by merchants to banks and payment service providers, during a transaction, and isapplicable on peer-to-merchant payments.
From January 1, 2020, businesses with annual turnover of more than Rs. 50 crore were to offer low cost digitalpayment options to customers, without levying any MDR on either customers or merchants.
Science and Technology
Arunachal puts India on vanadium map
Arunachal Pradesh, considered a sleeping hydropower giant, could be India's prime producer of vanadium, a high-value metal used in strengthening steel and titanium.
Exploration being carried out by Geological Survey of India (GSI) has placed the eastern Himalayan State on the vanadium map of the country and geologists are confident of identifying a deposit soon.
India is a significant consumer of vanadium but is not a primary producer of the strategic metal. 
It is recovered as a by-product from the slag collected from the processing of vanadiferous magnetite ores (iron ore).
According to data provided by GSI, India consumed 4% of about 84,000 metric tonnes of vanadium produced across the globe in 2017. China, which produces 57% of the world's vanadium, consumed 44% of the metal.
CLICK HERE FOR FULL CURRENT AFFAIRS (Only for Course Members)