Current Affairs for IAS Exams - 10 May 2019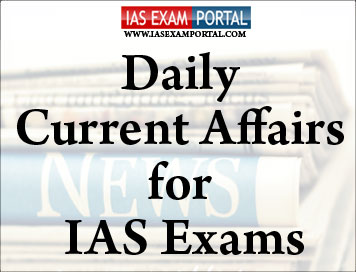 Current Affairs for IAS Exams - 10 May 2019
::NATIONAL::
Vice President upholds govt. commitment to reach out to overseas Indians
Vice President Venkaiah Naidu arrived in Vietnam today on his four-day official visit to the Southeast Asian nation. The visit is expected to enhance India's comprehensive strategic partnership with Vietnam.
Addressing Indian Community and Friends of India in Hanoi, Vietnam, Mr Naidu said that the government has made it a priority to reach out to the Indian community overseas.
He also said that Indians living abroad are the cultural ambassadors of the country. The vice president also appealed to the Indian diaspora to cherish their roots and carry the message of India to the world.
Describing the ties between India and Vietnam as historic, Mr Naidu said that the partnership between the two countries has stood the test of the times. Successive generations of leaders have built upon this trust and goodwill, he added.
The Vice President will be holding one-on-one interaction and delegation level talks with his Vietnamese counterpart Dang Thi Ngoc Thinh. He will also hold meetings with Prime Minister Nguyen Xuan Phuc and Chairperson of the National Assembly Mme. Nguyen Kim Thi Ngan.
On May 12, the Vice President will participate in the 16th United Nations Day of Vesak at Tam Chuc pagoda in the country's northern Ha Nam province and deliver the keynote address at the inaugural session.
The event has been themed as "Buddhist Approach to Global Leadership and Shared Responsibilities for Sustainable Societies."
Nation to celebrate 158th birth anniversary of Rabindranath Tagore
The 158th birth anniversary of Rabindra Nath Tagore is being celebrated all over West Bengal today.
Various programmes have been organised to pay respect to Gurudev Tagore. The day began with musical soirees, probhat ferry and garlanding statues and potraits of Tagore.
The West Bengal Government has organised a special musical programme in Kolkata this afternoon to pay tributes to Gurudev Tagore. The day is also being observed in Santineketan.
In a tweet, Mr Kovind said, Asia's first Nobel laureate and composer of India's National Anthem, Gurudev Rabindranath Tagore remains one of the country's foremost cultural icons. He called upon people to draw inspiration from Gurudev's genius and creativity.
In a tweet, Vice President M Venkaiah Naidu said, the multifaceted Nobel laureate lives in the hearts of crores of people through his writings and his works continue to inspire millions all over the world. He called upon people to strive to live by the ideals set by him.
Prime Minister Narendra Modi paid tributes to Gurudev Rabindranath Tagore on his birth anniversary.In a tweet, Mr Modi said, Gurudev Tagore manifests the best of India's ethos of learning and expressing.
He said, a multifaceted personality, the prose, poetry and artwork of Gurudev Rabindranath Tagore are brilliant and thought provoking. The Prime Minister said, Gurudev Tagore enhanced India's pride and richly contributed to the freedom movement.
::ECONOMY::
Digital technology sector to add 3million jobs by 2023
The Indian tech industry will add another three million new jobs in the next five years, said Indian Staffing Federation (ISF), the apex body for the 'flexi' working industry.
With the additions, the size of the country's tech army will be 7 million by 2023.
Rituparna Chakraborty president, ISF, told that all these new jobs would come up in digital technology areas such as artificial intelligence (AI), machine learning, Internet of things (IOT), data science, analytics, big data, blockchain and augmented reality. Jobs would also be created in newer technology areas that are presently unknown but are expected to emerge and evolve in the next few years.
The ISF's tech employment projection comes as a big relief to millions of young techies and software engineering students amid talks of the move towards jobless growth with automation that replaces humans with robots. "We, at ISF, are confident of making this job projection for the next five years based on our constant interactions with a wide range of companies, including Indian tech firms, MNCs, global capability centres of hundreds of international firms, enterprises across segments including e-com, BFSI, pharma and telecom," she said,
India now has about 1,300 captive units. Some 400 new captive units are coming up in 2019. "The shift is attributed to a sharp rise in hiring by existing and new global in-house centres (GCCs) due to technology innovation activities in India for their global markets."
It's impact on productivity of businesses would be 'huge'. Some 63% of CEOs think that AI would have a larger impact than the Internet and some 39% of them had already started AI-related initiatives in their organisations.
Staffing organisations in India are going to play a vital role in helping the industry reach this hiring milestone in terms of identifying and sourcing billable talent Ms. Chakraborty added.
Bank credit in FY2019 grows than previous year
Bank credit grew by 13.2% in financial year 2018-19 as compared to 10.3% in the previous financial year, mainly aided by loans to services and retail sector.
Deposit growth also gained momentum, growing by 10% as compared to 6.7% a year ago. "We have to be a bit careful while looking at this data because a bump-up has happened in the month of March. If you see, up to February, credit growth was not that strong," said Madan Sabnavis, chief economist, CARE Ratings. Banks typically tend to push for more loan disbursement and also try to get more deposits ahead of the end of a financial year to shore up their balance sheet and meet year-end targets.
The Reserve Bank of India's (RBI) data on deployment of gross credit across different sectors shows healthy credit growth in the services sector followed by retail sector.
Credit growth in services sector till the middle of February was 23.7% and in retail sector it was 16.7%. Credit growth in the industry sector was 5.6%.
Banks have also benefited from the liquidity crunch that non-banking financial companies are facing following the IL&FS crisis. NBFCs have slowed down their loan growth since their cost of funds increased substantially after September-October. This is particularly true for retail loans, where NBFCs are a major player.
Banks have been pushing loans to the corporate sector at a slower pace after sharp rise in bad loans, mostly in sectors like infrastructure.
::INTERNATIONAL::
India- China to resolve issues of market access in Delhi
India and China today agreed to resolve market access issues expeditiously in order to achieve the vision of the leaders of both countries by promoting a more balanced trade.
After a meeting of Commerce Secretary Anup Wadhawan and General Administration of Customs of China, Vice Minister Li Guo. Ministry of Commerce and Industry signed a protocol for export of Indian chilli meal to the neighbouring country.
A release said, that both the sides discussed trade-related issues of pending Indian request for clearance of agricultural products in the meeting.
From the Indian side, officials from different departments including commerce, agriculture, animal husbandry and the Agricultural and Processed Food Products Export Development Authority (APEDA) are participating.
The meeting assumes significance as India is seeking greater access for its manufactured and agricultural products in the Chinese market to bridge the widening trade deficit.
Recently, India has identified and shared with China a list of 380 products, including horticulture, textiles, chemicals and pharmaceuticals, as their shipments hold huge export potential.
Maldives expand cooperation with Srilanka to combat terrorism
The Maldives has said it will strengthen defence cooperation with Sri Lanka and other countries in the region to tackle global terrorism.
This was stated by Maldivian foreign minister Abdulla Shaheed when he met Sri Lanka's Prime Minister Ranil Wickremesinghe last evening during his two-day visit to Colombo.
The Minister's comments assume significance as a few Maldivian nationals were arrested after Easter Sunday attacks in Sri Lanka.
The Sri Lankan Prime Minister said that many Maldivians were living in Colombo and added that some extremists are continuing with terror activities while consolidating their security among the residents.
The Prime Minister emphasized that it is important for the two countries to share the specialist knowledge on the matter to curb the situation. Mr. Wickremsinghe said the revolutionary upsurge of the Muslim youth is a trend in both Sri Lanka and the Maldives.
Maldives has been a hotbed of IS ideology as over 100 people were believed to have travelled abroad to join the fight for Islamic state.
::SCIENCE & TECHNOLOGY::
Iceland researchers find new ways of reducing CO2 abundance
In the heart of Iceland's volcano country, 21st century alchemists are transforming carbon dioxide into rock for eternity, cleaning the air of harmful emissions that cause global warming.
The technology mimics, in accelerated format, a natural process that can take thousands of years, injecting CO2 into porous basalt rock where it mineralises, capturing it forever.
The plant, located on the Hengill volcano in southwestern Iceland, sits on a layer of basalt rock formed from cooled lava, and has access to virtually unlimited amounts of water.
The plant pumps up the water underneath the volcano to run six turbines providing electricity and heat to the capital, Reykjavik, about 30 km away.
The CO2 from the plant is meanwhile captured from the steam, liquified into condensate, then dissolved in large amounts of water.
"So basically we are just making soda water out of the CO2," says project director Edda Sif Aradottir.
The fizzy water is piped several kilometres to an area where grey, igloo-shaped domes dot a lunar-like landscape.Here the fizzy water is injected under high pressure into the rock 1,000 metres under the ground.
The solution fills the rock's cavities and begins the solidification process a chemical reaction that occurs when the gas comes in contact with the calcium, magnesium and iron in the basalt.
::SPORTS::
Indian archers fail to enter medal stages in worldcup
Indian archers drew a blank in the individual and team events of both recurve and compound sections as they failed to enter the medal rounds of the ongoing World Cup Stage II, in Shanghai today.
The Indian men's recurve team of Jagdish Choudhary, Chaman Singh and Sukhchain Singh lost to their lower-ranked counterparts from Bangladesh 1-5.
The compound women's team of Parveena, Monali Jadhav and Priya Gurjar too witnessed similar fate as they lost 219-231 against their opponents from Chinese Taipei.