Current Affairs for IAS Exams - 10 August 2017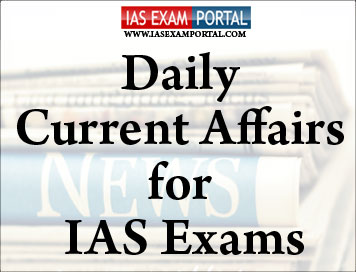 Current Affairs for IAS Exams - 10 August 2017
::National::
PM called for special initiatives to end poverty, illiteracy and graft
The Lok Sabha marked the 75th anniversary of the Quit India movement with a special sitting, at which Prime Minister Narendra Modi called for special initiatives to end poverty, illiteracy and graft."

Terming poverty, lack of education and malnutrition the greatest challenges, Mr. Modi called for their eradication in the next five years with the pledge of Karenge aur kar ke rahenge (We will do and surely do).

He said the period between 1942-47 was exceptional in India's freedom struggle as it created the mood for independence as being just a matter of time, an eventuality rather than something that was uncertain.

"In 1942, the clarion call was ' Karenge ya marenge ' (Do or Die) — today it is ' Karenge aur kar ke rahenge ' (We will do and accomplish). These five years are about Sankalp se siddhi (commitment to fulfilment)," he said.

In the years following Independence, he regretted, a sense of entitlement had overtaken the sense of duty to the country.

He said citizens were breaking even basic laws, like crossing red-lights or littering, with impunity and without a sense of duty to the rule of law and the freedoms that make a democratic polity possible.

Terming India's freedom from colonial rule as being not only about India but a defining moment in ending colonialism in other parts of the world, Mr. Modi said a transformational change in the development paradigms of the country would have a similar effect.
Dalai Lama says war between India and China is not a solution
The standoff between India and China at the Doklam plateau, near the trijunction with Bhutan, is unlikely to lead to a 'big war', said Tibetan spiritual leader Dalai.

Speaking at a public event, the Tibetan spiritual leader described India and China as close neighbours but cautioned against "harsh words."

"This issue (Doklam standoff) is not serious. India and China have historically been neighbours and even in 1962, China withdrew from Indian territories after the war. This shows that there is unlikely to be a big war between the two.

The Dalai Lama also praised India's role in ensuring safety for the Tibetan refugees who have been living in exile since the Chinese takeover of Tibet in 1950.
A new set of future satellites called hyperspectral imaging satellites
A new set of future satellites called hyperspectral imaging satellites is set to add teeth to the way India is gleaned from about 600 km in space.

The Indian Space Research Organisation (ISRO) says it plans to launch a full-fledged niche Earth observation (EO) satellite — called the Hyperspectral Imaging Satellite or HySIS — using a critical chip it has developed.

There is no specific time-frame yet for its launch, an ISRO spokesman said, adding that meanwhile, the new chip, technically called an "optical imaging detector array," that they have created for it would be tested and perfected.

Hyperspectral or hyspex imaging is said to be an EO trend that is being experimented globally.

Adding a new dimension to plain-vanilla optical imagers, it can be used for a range of activities from monitoring the environment, crops, looking for oil and minerals all the way up to military surveillance — all of which need images that show a high level of differentiation of the object or scene.

About a decade ago, ISRO added another EO niche with microwave or radar imaging satellites RISAT-1 and 2 that could 'see' through clouds and the dark — an important feature useful for the military and security agencies.

'Hyspex' imaging is said to enable distinct identification of objects, materials or processes on Earth by reading the spectrum for each pixel of a scene from space.

ISRO first tried it out in an 83-kg IMS-1 experimental satellite in May 2008. The same year, a hyperspectral camera was put on Chandrayaan-1 and used to map lunar mineral resources.

Very few space agencies have such a satellite; a German environmental satellite called EnMAP is due to be launched on an Indian booster in 2018.
Defence Minister told that armed forces are strong enough to meet any challenge
Amid the standoff with China at Doklam, Defence Minister Arun Jaitley told the Rajya Sabha that the armed forces were strong enough to meet any challenge to the country's security, underlining that lessons had been learnt from the 1962 war.

The people of the country, he said, had a predominant wish to retrieve parts of Jammu and Kashmir occupied by Pakistan since 1948, the Minister added.

Mr. Jaitley said India had learnt the lesson that "the armed forces will have to be made fully capable on our own because even today, the nation faces challenges from our neighbouring countries".

Compared with the situation in 1962, the armed forces were stronger in the 1965 and 1971 wars, he said.

He said the country was facing a bigger challenge from terrorism and Left-wing extremism. In a clear reference to Indira Gandhi and Rajiv Gandhi, he said a Prime Minister and a former Prime Minister lost their lives to terrorism.
::International::
President Trump followed up his incendiary warning to North Korea
President Donald Trump followed up his incendiary warning to North Korea against threatening the U.S. with a boast about the strength of the American nuclear arsenal, although he expressed hope it would not need to be used.

Mr. Trump's Twitter messages about the nuclear arsenal came after North Korea said it was considering plans for a missile strike on the U.S. Pacific territory of Guam.

That in turn followed Mr. Trump's comments on Tuesday that any North Korean threat to the U.S. would be met with "fire and fury."

The sharp increase in tensions between a country that has one of the world's largest nuclear arsenals and an aspiring nuclear power rattled financial markets and prompted U.S. Secretary of State Rex Tillerson to try to play down the rhetoric.

North Korea said it was "carefully examining" a plan to strike Guam, which is home to about 163,000 people and a U.S. military base that includes a submarine squadron, an airbase and a Coast Guard group.

The plan would be put into practice at any moment, once Mr. Kim made a decision, a Korean People's Army spokesman said in a statement carried by state-run KCNA news agency.

North Korea, which is pursuing missile and nuclear weapons programmes in defiance of UN Security Council resolutions, also accused the U.S. of devising a "preventive war" and said in another statement that any plans to execute this would be met with an "all-out war, wiping out all the strongholds of enemies, including the U.S. mainland."

Washington has warned it is ready to use force if needed to stop North Korea's ballistic missile and nuclear programmes but that it prefers global diplomatic action, including sanctions.

The UN Security Council unanimously imposed new sanctions on North Korea.

China, North Korea's closest ally despite Beijing's anger at Pyongyang's missile and nuclear programmes, described the situation as "complex and sensitive," and urged calm and a return to talks.

North Korea has made no secret of its plans to develop a nuclear-tipped missile able to strike the U.S. and has ignored all calls to halt its weapons programmes.

Pyongyang says its intercontinental ballistic missiles are a legitimate means of defence against perceived U.S. hostility, including joint military drills with South Korea.

South Korea and the U.S. remain technically still at war with North Korea after the 1950-53 Korean conflict ended with a truce, not a peace treaty.
::Business and Economy::
Net direct tax collectionsup to 1.90 lakh crore
Net direct tax collections up to July 2017 in the current financial year stood at Rs. 1.90 lakh crore or 19.1% higher than in the corresponding period of the previous year, according to official data released.

Within this, net personal income tax grew 15.7% and net corporate tax 23.2% over the year earlier period, the data showed.

In comparison, growth in net direct tax collections up to July 2016 in the previous financial year stood at 24% while growth in personal tax collections was 46.5% and corporate tax collections 2.84%.

The slowdown in the overall economy as well as the impact of a high growth base last year could be the factors responsible for slower growth in direct tax inflows, said experts.

A slowdown in personal tax collections could also reflect a slowdown in small business activity, since salary income tends to grow from year to year.

Direct tax collections up to July 2017 in the current financial year 2017-18 continue to register steady growth. Direct tax collection during the said period, net of refunds, stands at Rs. 1.90 lakh crore which is 19.1% higher than the net collections for the corresponding period of last year.

Govt however warned against drawing a conclusion about the efficacy of the government's various efforts to widen the tax net — such as demonetisation —based on these numbers.
Roll back of increase in tax rate for government works contracts
GST Council's decision to roll back the increase in tax rate for government works contracts comes as a relief for the Indian Railways which had received representations from contractors on increased tax liability on various ongoing projects.

The tax on construction activity, including composite work contracts, was increased to 18% from 12% under GST.

However, Finance Minister Arun Jaitley announced after the GST Council meeting that government works contract, for both Centre and states, will attract 12% GST with input tax credit.

The Railway Ministry has also constituted a committee to examine the impact of GST on the work contracts after receiving representations from contractors on increased tax liability.

Work related to track, construction of bridges, earthwork in embankment, supply, unloading and spreading of ballast, among others were facing increased tax liability after the government's initial move to increase GST on such projects.
Millions of companies are still not ready to file their first returns under GST
Millions of companies in India are still not ready to file their first returns under the new Goods and Services Tax (GST) ahead of an Aug. 20 deadline, a top official told Reuters, urging them not to leave things to the eleventh hour.

Navin Kumar, chairman of the GST Network, also said barely half of the 34 service providers accredited to help firms bulk-file invoices online had received approval to go live.

Yet he gave an assurance that the huge IT back end that is designed to crunch up to 3 billion invoices a month and calculate companies' taxes would be stable, even if there is a last-minute rush to file.

Billed as India's biggest-ever tax reform, the GST has replaced a slew of federal and state levies. It has also cleared barriers between India's 29 states, uniting its 1.3 billion people into a common market for the first time.

Yet the complexity of the tax — which has main rates of 5, 12, 18 and 28% and multiple exceptions — has raised concerns that companies will struggle to comply and file their monthly returns on time.

Even before the GST filings kick in, business surveys showed both the services and manufacturing sectors contracting at their fastest rate in years, heralding a likely dip in indirect tax revenues.

The government has allowed firms to file simplified, self-assessed GST returns by Aug. 20 for the month of July, when the tax was introduced.

They will have to file complete returns in early September that itemise and reconcile every single sales invoice under a regime that, by comparison with other countries, is labour- and data-intensive.

More than 7 million existing taxpayers have activated accounts on the GST's portal — although about a third have yet to complete the form-filling required to file a full tax return, Mr. Kumar said.

Another 1.3 million new firms have registered to pay GST.