Current Affairs for IAS Exams - 10 January 2022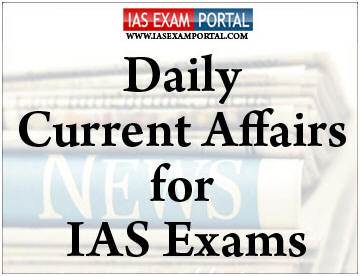 ---
Current Affairs for IAS Exams - 09 January 2022
::NATIONAL::
Asian Waterbird Census
The Asian Waterbird Census (AWC) is an annual count of waterbirds which is under way in parts of Delhi-NCR.
Key highlights:
It has found lower waterbird species diversity at East Delhi's Sanjay Lake when compared to the count from the past three years.
The census that was conducted at the lake recorded only 13 species, down from 17 species recorded from 2019 to 2021. Of these, 11 are resident water birds, while only two are winter migratory species.
The number of birds has increased from 90 in 2021 to 132 this year. 
It, however, is smaller than the 190 birds counted in 2019, and the higher figure of 347 birds in 2020. 
The census also found that only the number of Indian Cormorants has increased from 11 last year to 62 this year.
The lower species diversity is a sign of degradation of the lake, since waterbirds are an indicator of its health.
The two migratory species recorded were the Great Cormorant, which migrates from Southeast Asia, and the Eurasian Coot, which migrates from Temperate Asia. 
The resident species found at the lake include the Common Moorhen, the Indian Cormorant, the White-throated Kingfisher, the White-breasted Waterhen, the Little Grebe, and the Red-wattled Lapwing. 
SC grants last chance to Centre to file reply on PIL for identifying minorities
The Supreme Court Friday granted the "last opportunity" to the Centre to file its reply on a PIL seeking directions for framing of guidelines identifying minorities at the state level as Hindus are in a minority in 10 states and are not able to availthe benefits of schemes meant for minorities.
About:
The apex court also allowed the plea seeking transfer of cases from several high courts to it against the Centre's notification to declare five communities -- Muslims, Christians, Sikhs, Buddhists and Parsis -- as minorities and tagged the matter with the main petition.
Petitioner-advocate sought a fixed date of hearing from the bench but the top court posted the matter after seven weeks.
CLICK HERE FOR FULL CURRENT AFFAIRS (Only for Course Members)
::INTERNATIONAL::
Asian Infrastructure Investment Bank
Former Reserve Bank of India (RBI) governor Urjit Patel has been appointed as a vice-president of the Asian Infrastructure Investment Bank (AIIB).AIIB is a Beijing based multilateral development bank. 
About:
AIIB is currently headed by China's JinLiqun, who is a former Chinese vice minister for finance.
India has emerged as AIIB's biggest beneficiary by obtaining $6.8 billion funding for 29 projects. 
In December, AIIB approved the $150 million "Chennai City Partnership: Sustainable Urban Service Program" aiming to strengthen institutions and improve the quality and financial sustainability of selected urban services in Chennai.
Also, the AIIB and the Asian Development Bank (ADB) in Manila are processing a $2 billion loan request from India to purchase 667 million Covid-19 jabs.
Mr. Pandian has consistently sought to dispel the notion that the AIIB is a Chinese bank, saying it has emerged as a multilateral bank becoming the lead financier of infrastructure projects in Asia. Except the US and Japan, most of the developed and developing countries have joined the bank. 
In late December, the AIIB approved the application of Iraq to join, becoming the bank's 51st regional member to bring its membership to 105. 
As of October 22, AIIB has overall approved 147 projects in 31 countries valued at $28.97 billion.
Rafale-M
Onmonday, French aircraft maker Dassault Aviation will fly its Rafale-M fighter jet from the Indian Navy's Shore Based Test Facility (SBTF) in Goa to demonstrate compatibility and suitability to operate from the carrier's deck.
About:
The Rafale-M arrived in Goa last Thursday and the demonstration starting from Monday is expected to go upto February 1, two Defence officials independently said. Boeing will also demonstrate the compatibility of its F/A-18 Super Hornet on the SBTF likely in March, it has been learnt.
These trials are part of demonstrations by aircraft manufacturers to showcase the compatibility of their aircraft to fly from Indian Navy's aircraft carriers which use a ski-jump to launch aircraft, one official explained.
Both the Rafale-M and F/A-18 are originally designed to operate from carriers with a catapult launch mechanism. The carrier would thus require minor modifications to operate the aircraft
Boeing has taken a lead in the race having already demonstrated the ability of F/A-18 to take off from a similar shore based facility at Naval Air Station Patuxent river in Maryland, U.S. in December 2020.
CLICK HERE FOR FULL CURRENT AFFAIRS (Only for Course Members)
::ECONOMY::
Current Account Deficit 
As per RBI data, India's current account balance recorded a deficit of USD 9.6 billion (1.3% of GDP)in the second quarter of the fiscal and is widening further.
A Current Account Deficit (CAD) is a trade measurement that says a country imported more goods, services, and capitalthan it exported.
If the value of goods and services country import exceeds the value of those it export, thecountry is said to be in a deficit, and the difference in the two values is CAD.
The current account includes net income, including interest and dividends, and transfers, likeforeign aid.
::SCIENCE AND TECHNOLOGY::
Liquid Medical Oxygen
Indian Railway has transported more than 14 thousand tons of Medical Liquid Oxygen, LMO to the Hospitals and Covid care centers in the state of Punjab, Haryana, Uttar Pradesh, Uttrakhand and Delhi through its 8 hundred 58 Special freight trains run by Northern Railway.
Why in liquid state?
Due to its low melting and boiling points, oxygen is in a gaseous state at room temperature. Liquification enables storage in larger volume and easier transportation.
CLICK HERE FOR FULL CURRENT AFFAIRS (Only for Course Members)
How Liquid Medical Oxygen is produced?
There are several methods. The most common production method is separation of oxygen in what are known as Air Separation Units or ASUs. 
ASUs are basically plants that separate large volumes of gases. They use a method called Fractional Distillation Method to produce pure oxygen from atmospheric air, which consists mostly of nitrogen and oxygen - 78% nitrogen, 21% oxygen and remaining 1% other gases including argon, carbon dioxide, neon, helium, and hydrogen.
In this method, gases from the air are separated into various components after cooling them into a liquid state and then liquid oxygen is extracted from it.
Atmospheric air is first cooled to -181°C. Oxygen liquifies at this point. Since, the boiling point of Nitrogen is -196°C, it remains in a gaseous state. But Argon has a boiling point similar to that of oxygen (–186°C) and hence a significant amount of Argon liquifies along with Oxygen.
The resultant mixture of Oxygen and Argon is drained, decompressed and passed through a second low-pressure distillation vessel for further purification.
We then get the output as final purified liquid oxygen, which is then transported using cryogenic containers.
What are cryogenic containers?
Cryogenics is the production and behaviour of materials at very low temperatures.
A cryogenic liquid is defined as a liquid with a normal boiling point below –90°C.
Cryogenic liquid containers are specially designed for safe and economic transportation and storage of liquefied gases at cryogenic temperatures, lower than –90°C.   These containers are highly insulated, in which liquid gases are stored at very low temperatures.
What is Pressure Swing Adsorption Technique?
Oxygen can also be produced non-cryogenically, in gaseous form, using selective adsorption. This method leverages the property that under high pressure, gases tend to be attracted to solid surfaces. The higher the pressure, the more the adsorption of gas.
If a gas mixture such as air is passed under pressure through a vessel containing an adsorbent bed of 'zeolite' that attracts nitrogen more strongly than oxygen, a part or all of the nitrogen will stay in the bed, and the gas exiting the vessel will be richer in oxygen, relative to the mixture entering the vessel.
CLICK HERE FOR FULL CURRENT AFFAIRS (Only for Course Members)