Current Affairs for IAS Exams - 10 June 2021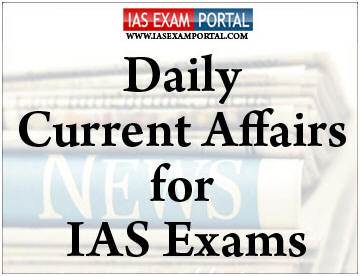 ---
Current Affairs for IAS Exams - 10 June 2021
::NATIONAL::
India's first international maritime services cluster
Gujarat Maritime Board(GMB) will be setting up India's first international maritime services cluster at GIFT City in Ahmedabad.
About:
GIFT City is India's only approved IFSC (International Financial Services Centre) located in Gandhinagar, Gujarat.
IMSC will be developed as a dedicated ecosystem comprising ports, shipping, logistics services providers and pertinent government regulators, all present in the same geographic vicinity of GIFT City.
It would help to enhance competitiveness, ease of doing business and self-sufficiency in the maritime sector.
Madras HC issues directions to remove prejudice against LGBTQIA+ community
In a significant outcome for the LGBTQIA community, the Madras High Court issued directions for protecting them from harassment by authorities and other major stakeholders in society. 
About:
Directions, to protect LGBTQIA (Lesbian, Gay, Bisexual, Transgender, Queer and/or Questioning, Intersex, and Asexual and/or Ally) community fromharassment, include:
Prohibition on attempts to cure or change sexual orientation of LGBTIQA+ people.
Union ministry of social justice and empowerment to publish a list of NGOs who have expertise in handling issues faced by LGBTQIA+ community.
Change in curricula of schools and universities to educate students on understanding the LGBTQIA+ community.
Use of Parent Teachers Association in schools to sensitise parents.
Changes in hiring policies for inclusivity, provide support in case of grievances etc.
CLICK HERE FOR FULL CURRENT AFFAIRS (Only for Course Members)
::INTERNATIONAL::
Sea snot outbreak in Turkey
Turkey has witnessed some unprecedented sludge in its sea water.
The Sea of Marmara, which connects the Aegean Sea and Black Sea, has witnessed marine mucilage accumulation (commonly known as sea snot) and become a cause of grave concern for Turkey.
The slimy layer of grey/ green sludge, having the ability to damage marine ecosystems, has blanketed harbors and shorelines.
About:
Sea snot is formed when algae present in the water becomes overloaded with nutrients.
The increase in these nutrients is a result of water pollution as well as climate change impact.
Global warming causes water to be warm and algae feast on it, resulting in more nutrients.
According to the environmental experts, phytoplankton are overproduced leading to formation of thick and slimy layers of organic matter.
WHO calls for intensified efforts to prevent foodborne diseases
The World Health Organization (WHO) South-East Asia Region has called for an intensified whole-of-society efforts to prevent, detect, and manage the risk of foodborne diseases (FBD), which affects 600 million people globally.
About:
The region contributes a quarter of the global burden of FBD morbidity and nearly 42 per cent of FBD mortality.
The use of anti-microbials in farm animals is a major contributor to antimicrobial resistance (AMR) – a health and development threat, and one of the region's eight flagship priorities.
The region has in recent years achieved sustained, multi-sectoral progress to enhance food safety.
All member States have established a National Codex Committee to advise government on Codex standards, codes of practice and guidelines.
::ECONOMY::
Reserve Bank of India transfer tops govt's non-tax revenue source
Dividend, or surplus transfer, from the Reserve Bank of India (RBI) has become one of the biggest sources of non-tax revenues for the Centre.
In the last seven years, the Union government received a record Rs 5.45 trillion from the RBI at an annualised rate of nearly Rs 78,000 crore.
About:
Non-tax revenue(NTR) is recurring income of the governments earned from sources other than tax.
Sources:
Interest of loans given to states and union territories;
Dividends and profits PSEs as well as thetransfer of surplus from RBI;
Petroleum license (exploration or production);
Power supply fees;
Fees forCommunication Services;
Fees for broadcasting; road & bridges usage, examination (collected by UPSC and SSC), Administrative Services and police services;
Sale of stationery, gazettes etc.;
Receipts relating toDefence Services.
::SCIENCE AND TECHNOLOGY::
Scientists identify genes to improve fertiliser nitrogen use efficiency in rice
Indian biotechnologists have identified candidate genes for nitrogen use efficiency (NUE) in rice in what is a major boost to the scientific efforts for crop improvement to save nitrogenous pollution and fertilisers worth billions.
About:
The researchers analysed over 16,600 genes compiled from their own research and dozens of others. They then systematically shortlisted '62 candidate genes'.
They further narrowed them down to '06 high priority target genes' for their potential to improve NUE in rice.
NUE is controlled by too many genes and shortlisting them is very important for crop improvement towards NUE.
According to Indian Nitrogen Assessment, rice is important for NUE, as it consumes 37 per cent of all N-fertilisers in India, the highest among all crops on account of its lowest NUE.
Fertilisers like urea emit ammonia, which can deposit on particulate matter and impact human health.
 CLICK HERE FOR FULL CURRENT AFFAIRS (Only for Course Members)