Current Affairs for IAS Exams - 10 September 2021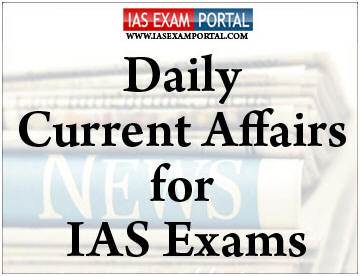 ---
Current Affairs for IAS Exams - 10 September 2021
::NATIONAL::
Government emasculating tribunals by not filling up vacancies
The government is "emasculating tribunals" by not filling up vacancies in them.
About:
The apex court is "very upset" by the government, said a bench headed by Chief Justice of India N.V. Ramana and censured the Centre for re-enacting the same provisions for the administration of tribunals that were struck down by the court in July.
The bench lauded the Centre for clearing nine names as judges of the Supreme Court within a week. 
It clarified that it is not looking for "any confrontation with the government" but said that the reluctance in appointing members in tribunals had left most of them virtually defunct.
There are more than 200 posts lying vacant across 15 tribunals in the country.
About Tribunals:
It is a quasi-judicial institution that is set up to deal with problems such as resolving administrative disputes and reducing the workload of traditional judiciary.
Tribunals were not part of original constitution, they were incorporated on recommendation of Swaran Singh Committee, by the42nd Amendment Act, 1976 whereby,
Article 323-A deals with Administrative Tribunals.
Article 323-B deals with tribunals for other matters.
Tribunals are vested with the powers of Civil Court in respect of somematters.
Vatan Prem Yojana
It is launched by the Gujarat Government to assist people of Gujarat settled outside India (NRIs) indonating for development works in their native villages.
Such NRIs can contribute 60% of the cost of a village-level project, while the remaining will be borne by the state government (40%).The contribution of the state government and NRIs in the earlier version of the scheme was 50:50.
The scheme will cover village-level projects like smart classes in schools, community hall, primary health centre, Anganwadi, library, CCTV surveillance system, water recycling, drainage, sewage treatment, beautification of ponds, bus-stand, solar energy powered streetlights, etc.
It aims to create development projects worth Rs.1000 crore by December 2022.
CLICK HERE FOR FULL CURRENT AFFAIRS (Only for Course Members)
::INTERNATIONAL::
India-France Agree on Space Security Dialogue
India and France have agreed to start a bilateral space security dialogue. 
This will be the third country with which India will be engaged in a space security dialogue.
The other two countries are the United States and Japan, with such dialogues beginning in 2015 and 2019, respectively. 
For France, India will be the first Asian country with which it will have such a dialogue.  
About:
The idea of a space security dialogue between India and France comes as no surprise for a couple of reasons. 
First, France has remained one of India's oldest and steadiest partners in the area of space and other strategic technologies. Cooperation between New Delhi and Paris across space and nuclear domains reflect the confidence and trust the two enjoy with each other. 
Second, the space security dialogue between the two countries is a sign of the worsening space security environment and a number of like-minded countries are coming together to brainstorm ways to address the growing challenges and threats in outer space.  
Bhitarkanika National Park
German government agency GIZ, will conserve mangrove and biodiversity of Odisha'sBhitarkanika National Park, India's second-largest mangrove forest.
It is supported by International Climate Initiative (IKI) of German Federal Ministry for Environment,Nature Conservation and Nuclear Safety (BMU).
Objective of project is to support implementation of livelihood-oriented conservation and restoration activities as well as train community members in alternative sustainable livelihoods.
Bhitarkanika National Park is a Ramsar site, is located in estuary of Brahmani, Baitarani, Dhamra, and Mahanadi Riversystems.
::ECONOMY::
Trade plus 1 day settlement cycle
The Securities and Exchange Board of India (Sebi) has introduced an optional T+1 settlement cycle for the markets. 
T+1 means that settlements will have to be cleared within one day of the actual transactions taking place.
The regulator has put the onus on the stock exchanges to decide whether they want to opt for the shorter settlement cycle for any of the listed scrips. This can be done after giving a one-month prior notice to all stakeholders.
A switch to the T+1 settlement cycle is expected to benefit domestic investors by increasing market liquidity and trading turnover while reducing settlement risk and broker defaults. 
Foreign portfolio investors (FPIs), however, are expected to face considerable operational challenges in adjusting to the new regime because of the difference in time zones, especially for the US and European investors.
::SCIENCE AND TECHNOLOGY::
Coal based Hydrogen
The Ministry of Coal has constituted a Task Force and Expert Committee to Prepare Road Map for Coal based Hydrogen Production. 
Coal is one of the important sources of hydrogen making (Brown Hydrogen) apart from NaturalGas (Grey hydrogen) and renewable energy (Green Hydrogen) through electrolysis.
Coal has not been encouraged elsewhere because of the fear that while extracting hydrogen via coal(from the moisture embedded in coal) there may be carbon emission.
 CLICK HERE FOR FULL CURRENT AFFAIRS (Only for Course Members)