Current Affairs for IAS Exams - 11 January 2020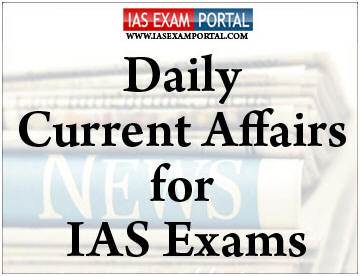 ---
Current Affairs for IAS Exams - 11 January 2020
---
::NATIONAL::
Foreign envoys meet civil society members at Jammu
In Jammu and Kashmir, the team of 15 Foreign Envoys today interacted with civil society members and other delegations in Jammu on the second and final day of their visit.

The team was also briefed by a high-level team led by Chief Secretary BVR Subramanian and Director General of Police Dilbag Singh about security situation and initiatives of development in the region, post abrogation of Article 370.

They also answered questions posed by the delegates on various issues including arrests, internet ban and law and order situation. They briefed the envoys about 'zero causality' during the period, which they said was exemplary on the part of the police and security forces while dealing with the situation.

Financial Commissioner (Health) AtulDulloo briefed the team about the health facilities created by the government to ensure quality and timely health care facilities to the people of J&K. It was followed by the meeting with various delegations including West Pakistan refugees, J&K Gujjar United Front, PoK Refugees, ValmikiSamaj, lawyers and others.

Most of these delegations welcomed the abrogation of Article 370 and termed it beneficial for their communities. The team also visited the biggest Kashmiri Migrant Camp at Jagati on the outskirts of Jammu city where they interacted with migrants.
SC asks Jammu administration to review order imposing curbs on internet
The Supreme Court has said that access to Internet is a fundamental right under Article 19 of the Constitution subject to some restrictions. The court today asked the Jammu and Kashmir administration to review within a week all orders imposing restrictions in the Union Territory.

A three judge bench headed by Justice N V Ramana also asked the J-K administration to restore Internet services in institutions providing essential services like hospitals and educational places. The bench said, freedom of press is a valuable and sacred right.

The bench which also comprised justices B R Gavai and R Subhash Reddy said Section 144 CrPC (prohibitory orders) cannot be used indefinitely to suppress freedom of speech and expression and difference of opinion. It said magistrates, while passing prohibitory orders, should apply their mind and follow doctrine of proportionality.

The Court was hearing a batch of pleas which challenged curbs imposed in Jammu and Kashmir after the Centre's abrogation of provisions of Article 370 on August 5 last year.

These batch of pleas were different from another set of petitions which challenge constitutional validity of abrogation of Article 370, being heard by a five-judge Constitution bench. The bench will resume its hearing on January 21.
::ECONOMY::
Industrial output turns positive due to manufacturing output
The industrial output grew 1.8 per cent in November last year, turning positive after three months of contraction, on account of growth in the manufacturing sector.

According to National Statistical Office data released yesterday, the growth in the manufacturing sector was 2.7 per cent as against a contraction of 0.7 per cent in November 2018. The Index of Industrial Production (IIP) had grown by 0.2 per cent in November 2018.

In November 2019, Electricity generation turned negative (-) 5 per cent as against a growth of 5.1 per cent in November 2018. Mining sector output decelerated to 1.7 per cent from 2.7 per cent in the year ago month.

The IIP growth during April-November period of the current fiscal came in at 0.6 per cent, down from 5 per cent in the same period of 2018-19.
Government releases state energy efficiency index for 2019
Union Government today released the State Energy Efficiency Index 2019, which tracks the progress of Energy Efficiency initiatives in 36 States and Union Territories.

Power Minister R K Singh released the index in New Delhi. The index is developed by Bureau of Energy Efficiency in association with Alliance for an Energy Efficient Economy.

It will help states to contribute towards national goals on energy security and climate action by helping drive Energy Efficiency policies and programme implementation at the state and local level.

The first such Index was launched on August, 2018. The index this year incorporates qualitative, quantitative and outcome-based indicators to assess energy efficiency initiatives, programs and outcomes in five distinct sectors.

These are buildings, industry, municipalities, transport, agriculture, and DISCOMs. The required data was collected from the concerned state departments such as DISCOMs, Urban Development and other departments with the help of State Designated Agencies.
::INTERNATIONAL::
U.S imposes sanctions of Iranian metal exports
Secretary of State Mike Pompeo and Treasury Secretary Steven Mnuchin announced yesterday that the U.S. imposed new sanctions on Iran's metal exports and eight senior Iranian officials.

The new penalties came days after Iran fired a barrage of missiles at Iraqi bases that were housing US targets - a move made in retaliation for an American airstrike in Baghdad that killed Iran's top military leader, QasemSoleimani.

US President Donald Trump had said on Wednesday that the US will "immediately impose additional punishing economic sanctions on the Iranian regime" following the attacks on American targets in Iraq.

US Treasury also designated 17 Iranian metals producers and mining companies, along with entities based in China and the Seychelles, among other penalties.

The sanctions are the latest move in an aggressive tit-for-tat between Tehran and Washington that escalated sharply over the past few weeks.

Mr Trump yesterday said Iranian general Soleimani was planning attacks against four US embassies before he was killed last week. Officials said, a high-ranking commander in Iran's Islamic Republican Guard Corps (IRGC), Abdul Reza Shahlai was also on US military targeting list but the mission was not successful.

The State Department has offered a USD 15 million reward for information leading to the disruption of IRGC finances, including Shahlai, a key financier in the organization.

The State Department said Shahlai has a long history of targeting Americans and US allies globally, and planned multiple assassinations of coalition forces in Iraq.
Bangladesh hosts second largest muslim congregation in the world
The first phase of the world's second largest Muslim congregation after Haj began on the outskirts of Dhaka today. Thousands of devotees from Bangladesh and abroad are thronging the bank of river Turag at Tongi near Dhaka to participate in the congregation called BishwaIjtema.

Noted scholars give religious sermon to the devotees on this occasion. The Ijtema began with the 'aambayan' and will end on January 12 with the final prayers 'AkheriMunajat'.

Police has made extensive security arrangement for the congregation. Large number of police personnel have been deployed near the venue which has been brought under CCTV surveillance.The second phase of BishwaIjtem will take place between January 17-19.

BishwaIjtema has been taking place on the Turag riverbank in Tongi near Dhaka since 1967. In 2011, the congregation was split into two phases to ensure better management.

BishwaIjtema draws in Muslim devotees from about 150 countries. In 2010, 5 million people were estimated to take part in the BishwaIjtema. It is a gathering that focuses on prayer and meditation and is not open for political discussions.
::SCIENCE & TECHNOLOGY::
Home ministry unveils new cyber crime reporting portal
Union Home Minister Amit Shah today inaugurated the Indian Cyber Crime Coordination Centre (I4C) and also dedicated National Cyber Crime Reporting Portal to the nation today.

This state-of-the-art Centre is located in New Delhi. The scheme to set up I4C was approved in October 2018 at an estimated cost of around 416 crore rupees to deal with all types of cyber-crimes in a comprehensive and coordinated manner.

At the initiative of Home Ministry, 15 States and UTs have given their consent to set up Regional Cyber Crime Coordination Centres.

On the other hand, National Cyber Crime Reporting Portal (www.cybercrime.gov.in) is a citizen-centric initiative that will enable citizens to report cyber-crimes online through the portal.

All the cyber-crime related complaints will be accessed by the concerned law enforcement agencies in the States and Union Territories for taking action as per law.

This portal was launched on pilot basis on 30th August, 2019. It enables filing of all cyber-crimes with specific focus on crimes against women, children, particularly child pornography, child sex abuse material, online content pertaining to rapes.

So far, over 700 Police Districts and 3,900 Police Stations have been connected with this portal. Home Ministry is committed to provide and create an eco- system for dealing with the cyber-crimes in a comprehensive and coordinated manner.
::SPORTS::
India beat Srilanka in final T20 to clinch series
In Cricket, India beat Sri Lanka by 78 runs in the third and final T20 International to win the the three-match series 2-0 in Pune yesterday. Earlier, put into bat, India scored 201 for six in the stipulated 20 overs.

Openers K L Rahul and ShikharDhawan scored fifty each for India. Sandakan scalped 3 wickets for Sri Lanka. Defending the total, the Indian bowlers, led by right-arm pacer NavdeepSaini, Shardul Thakur, dished out a disciplined effort to bundle out Sri Lanka for 123 in 15.5 overs.