Current Affairs for IAS Exams - 11 January 2021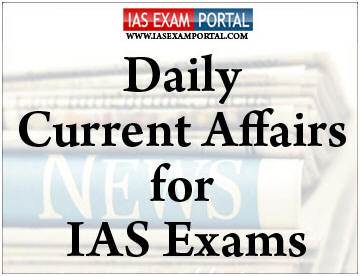 ---
Current Affairs for IAS Exams - 11 January 2021
::NATIONAL::
Freight business development portal
Union Railway Minister launched the freight business development portal.
The portal designed to replace physical processes with online ones to minimise the need of human-to-human interaction. 
Key highlights:
For customers new to rail, the business development portal guides them to search the most suitable terminal with detail of various terminal facilities and logistics services available, assisting them to choose the right wagon, presenting the expected charges and estimated time for their planned freight transportation. 
A new customer can register on this portal and place demand for wagons.
The personalised dashboard of freight business portal provides customers a view with their business in railways, outstanding indents, on-run consignments, status of various interactions and facility to apply for various services and raising concerns, among others.
Customers also get to know about discount schemes, diversion, rebooking, demurrage and wharfage waivers, stacking permissions. They can also get to know about rake allotments and pendency or maturity of indents at various freight terminals.
Gangetic dolphin
Three youths have been arrested in Uttar Pradesh Under Wildlife Protection Act, 1972 for allegedly killing aGangetic dolphin.
Killing the Gangetic River Dolphin is a punishable offence under Section 9/51 of the Wildlife Protection Act, 1972.
Gangetic dolphin is found in the Ganges-Brahmaputra River system primarily in India and Bangladesh.
It is India's national aquatic animal and listed as Endangered on the IUCN red list.
India's first dolphin observatory is being built at the Vikramshila Gangetic Dolphin Sanctuary (VGDS),Bhagalpur in Bihar.
Other critically endangered aquatic animals in India are Ganges Shark, Gharial (Chambal river), Humpback Mahseer(Cauvery).
CLICK HERE FOR FULL CURRENT AFFAIRS (Only for Course Members)
::INTERNATIONAL::
Indonesia locates two black boxes of crashed plane
Indonesian authorities on Sunday located the black boxes of the Sriwijaya Air jet that crashed into the sea soon after taking off from the capital Jakarta, as human body parts and suspected pieces of the plane were retrieved.
Indonesia National Transport Safety Committee chief has said, the locations of the two black boxes of crashed Sriwijaya Air plane have been identified on Sunday after nearly a day of searching.
The Boeing 737-500 with 62 passengers and crew was headed to Pontianak in West Kalimantan on Saturday before it disappeared from radar screens four minutes after takeoff.
World Hindi Day
World Hindi Day was observed on 10th January.
The day is commemorated every year with the objective to promote use of Hindi language abroad. 
On this day in 2006, the First World Hindi Conference was held in Nagpur with the aim to promote the language worldwide and since then, every year 10th January is being observed as the World Hindi Day. 
The Ministry of External Affairs and Indian Missions abroad also observe the day annually.
Economy
India urges WTO to find solution for public stock holding for food security
India urged the members of the World Trade Organization (WTO) to work on finding a permanent solution to the issue of public stock holding for food security purposes.
The ongoing COVID-19 pandemic has again brought to the fore the importance of food and livelihood security.
Crucial highlights:
Indian representative urged the Membership for a permanent solution to Public Stock Holding (PSH) for food security.
The comments were made during the final session of India's seventh Trade Policy Review (TPR) which concluded at the WTO in Geneva.
Indian representative has also informed that India has a stable policy environment with considerably lower applied rates than its WTO commitments.
The TPR is an important mechanism under the WTO's monitoring function in which member countries' trade and related policies are examined with an aim to contribute towards improved adherence to WTO rules, while providing constructive feedback to the member under review.
Under the global trade norms, a WTO member country's food subsidy bill should not breach the limit of 10 per cent of the value of production based on the reference price of 1986-88.
As full implementation of food security programme may result in breach of WTO cap, India has been seeking amendments in the formula to calculate food subsidy cap.
Science and Technology
Missing supermassive black hole
A supermassive black hole, which is estimated to weigh up to 100 billion times the mass of the Sun, is seemingly missing, leaving astronomers perplexed.
Scientists have been looking for the black hole using NASA's Chandra X-ray Observatory and Hubble Space Telescope, and have so far found no evidence that it is anywhere to be found.
According to NASA, every large galaxy in the universe has a supermassive black hole at its centre, whose mass is millions or billions of times that of the Sun.
The black hole at the centre of our galaxy– the Milky Way– is called Sagittarius A*, and is 26,000 light-years away from Earth.
The 'missing' black hole:
The black hole is supposed to be located in Abell 2261, an enormous galaxy cluster that is about 2.7 billion light-years away from our planet.One light-year is the distance that a beam of light travels in one Earth year, which is 9 trillion km. 
On the scale of the Universe, astronomers measure the distance from stars and galaxies in the time it takes for light to reach us. So, when we look at a celestial object, we are looking at how it appeared that long ago in the past.
At 2.7 billion light-years away, the Abell galaxy is at an overwhelmingly large distance away from us.
CLICK HERE FOR FULL CURRENT AFFAIRS (Only for Course Members)
Sports
India pulls off draw in Sydney Test
Australia and India on Monday held on to their top two positions in the World Test Championship (WTC) standings following the engrossing draw in the third Test here.
The Indian batting unit displayed tremendous grit as it hung on for a memorable draw against Australia in the third Test to leave the series levelled at 1-1 with one game to go at Brisbane.
India's remarkable show saw them stay marginally ahead of third-placed New Zealand in the WTC points tally.
New Zealand had earlier achieved the number one position in the ICC Test Team Rankings for the first time in history following their clean-sweep of Pakistan and West Indies.