Current Affairs for IAS Exams - 11 February 2020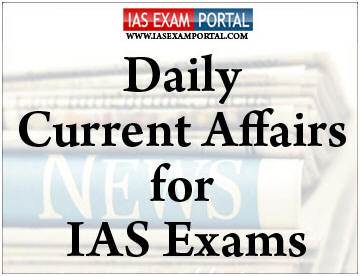 ---
Current Affairs for IAS Exams - 11 February 2020
---
::NATIONAL::
SC upholds validity of sc/st amendment act 2018
The Supreme Court today upheld the constitutional validity of the SC/ST Amendment Act, 2018 which rules out anticipatory bail in case of atrocities against SC/STs.

Hearing a bunch of PILs, the Apex Court said, anticipatory bail can only be granted in cases where prima facie case is not made out. A bench headed by Justice Arun Mishra said, a preliminary inquiry is not essential before lodging an FIR under the act nor is the approval of senior police officials.

The SC/ST Amendment Act 2018 was brought to nullify the effect of a Supreme Court ruling which had diluted the provisions of the stringent Act.

Earlier, on the 20th of March, 2018, taking note of rampant misuse of the stringent SC/ST Act, the top court ruled out the immediate arrest on any complaint filed under the law.

Violent protests had taken place across the country after the apex court's verdict in which several persons lost their lives and many were injured.
Centre embraces country's achievement in conservation of nature,wildlife
Addressing a curtain raiser press conference on Conference Of the Parties, COP on the Conservation of Migratory Species in New Delhi, Mr Javadekar said, this 13th convention will be held in Gandhinagar, Gujarat from 17th to 22nd of this month.

He said, 130 countries including 15 Foreign Ministers and 18 State Ministers from various states will participate in this convention. More than 1,800 experts across the country and bird lovers will also attend the COP13.

Mr Javadekar said, Prime Minister NarendraModi will inaugurate the event through video conference. He said, the conference will discuss various aspects, challenges and opportunities to preserve the migratory species from the threats.

Mr Javadekar said, the conference will also be an opportunity to discuss ways and means for growing the numbers of migratory species.
::ECONOMY::
RBI gives CRR exemption to retail and MSME loans
The Reserve Bank of India (RBI) has exempted banks from maintaining cash reserve ratio (CRR) for loans to retail and micro, small and medium enterprises for five years, if these loans are extended between January 31 and July 31, 2020.

"An amount equivalent to the incremental credit outstanding from the fortnight beginning January 31, 2020 and up to the fortnight ending July 31, 2020 will be eligible for deduction from NDTL (net demand and time liabilities) for the purpose of computing the CRR for a period of five years from the date of origination of the loan or the tenure of the loan, whichever is earlier," the RBI said.

During the monetary policy review last week, the central bank said lenders will not have to maintain CRR for loans extended between the above mentioned time period.

This exemption was available for incremental credit disbursed as retail loans to automobiles, residential housing, and loans to micro, small and medium enterprises (MSMEs).

At present, CRR is 4% of net demand and time liabilities. Banks do not earn any interest for maintaining CRR with the RBI.
Government aims 40000cr public procurement via GeM
Public procurement worth Rs 40,000 crore has taken place through the government's online marketplace GeM, Expenditure Secretary T V Somanathan said on Monday.

Stressing that the focus of public procurement system is on economy, rigour, fairness and transparency, he said the efficiency of procurement makes a big difference to the fiscal discipline of government.

Towards this, the government has recently revised the general financial rules (GFR) and procurement manuals, and made advances in the use of technology in procurement.

The Government e-Marketplace (GeM), an online platform for public procurement, was launched by the Commerce Ministry in August 2016 with the objective of creating an open and transparent procurement platform for government departments. Currently, 3.24 lakh vendors are registered on this platform.

"We have the GeM, central procurement portal, which currently has electronic bids of 1,00,000 tenders - including state government tenders. And we have (Rs) 18-19 lakh crore per annum, of tendering on central public procurement portal (CPPP)," Somanathan said while addressing the Global Procurement Summit 2020.
::INTERNATIONAL::
Isreali NSA meets Indian PM to expand bilateral relationship
Israel's National Security Adviser Meir Ben Shabbat met Prime Minister NarendraModi yesterday and discussed the deepening relationship between the two countries.

Besides calling on Mr Modi, he also met Defence Minister Rajnath Singh. India and Israel share close defence ties.

Last week, addressing at an event at the DefExpo in Lucknow, Israeli Ambassador Dr Ron Malka had said that India-Israel partnership is steadily growing on the foundation of mutual respect, trust, values, interest, tradition and culture.

Seeking more joint ventures, he had hoped for transforming the cooperation from the buyer-seller relationship to a strategic partnership.

Meanwhile Israeli forces attacked Hamas positions from the air early today after militants in the Palestinian enclave last night fired a projectile at the Jewish state.

A statement from the Israeli Army said, aircraft and fighter jets targeted a number of Hamas terror targets in the southern Gaza Strip.
India-U.S relationship gains momentum in recent times
United States-India Strategic and Partnership Forum in Washington has said that bilateral trade between India and the US has got momentum in recent times and it is moving in favour of Washington. The group said that it is mainly due to the sudden increase in energy import by New Delhi that the trade got momentum. The forum is a top India-centric American trade and strategic advocacy group.

Noting that the India-US trade has gone up from 142 billion US Dollars in 2018 to 160 billion US Dollars in 2019, the forum's President MukeshAghi said that the bilateral trade numbers are going up without trade deal and when the big ticket items such as Boeing planes are not being delivered.

He said, India's private air carrier Spice Jet has placed an order for 200 planes to Boeing. As such, the trade numbers would go up significantly, once the delivery of the planes kicks in motion. Mr Aghi said that even after the US withdrew India's privileges under Generalized System of Preferences, the export in that sector had not slowed down.

The momentum on the bilateral trade continues even as a trade deal between the two countries is still being negotiated. He said that American companies continued to be bullish on India and will continue with their investment in the country. He further said, they are showing a substantial growth on the current base itself and are also gaining the market share.
::SCIENCE & TECHNOLOGY::
Solar orbiter blasts off to capture sun's pole images
Europe and NASA's Solar Orbiter rocketed into space Sunday night on an unprecedented mission to capture the first pictures of the sun's elusive poles.

The $1.5 billion spacecraft will join NASA's Parker Solar Probe, launched 1 1/2 years ago, in coming perilously close to the sun in order to unveil its secrets.

While Solar Orbiter won't venture close enough to penetrate the sun's corona, or crown-like outer atmosphere, like Parker, it will maneuver into a unique out-of-plane orbit that will take it over both poles, never photographed before. Together with powerful ground observatories, the sun-staring space duo will be like an orchestra, according to Gunther Hasinger, the European Space Agency's science director.

Solar Orbiter -a boxy 4,000-pound (1,800-kilogram) spacecraft with spindly instrument booms and antennas will swing past Venus in December and again next year, and then past Earth, using the planets' gravity to alter its path. Full science operations will begin in late 2021, with the first close solar encounter in 2022 and more every six months.

At its closest approach, Solar Orbiter will come within 26 million miles (42 million kilometers) of the sun, well within the orbit of Mercury.
::SPORTS::
Bangladesh's worldcup celebrations comes under ICC scanner
India's Under-19 Cricket Team Manager Anil Patel has said that the ICC has taken a serious view of the aggressive celebrations by Bangladesh players after their World Cup triumph. He said ICC will be reviewing the footage of the final game's last few minutes.

Some Bangladeshi players got carried away while celebrating their historic three-wicket win over India in the final at Potchefstroom last night. While their captain Akbar Ali apologized for the unfortunate incident, his Indian counterpart PriyamGarg said, their reaction was dirty.

Patel claimed that match referee Graeme Labrooy met him and expressed regret at what transpired on the field.