Current Affairs for IAS Exams - 11 March 2018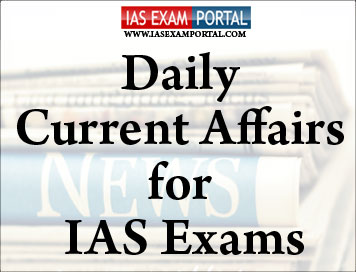 Current Affairs for IAS Exams - 11 March 2018
::NATIONAL::
India-France-Indian Ocean Security
India and France joined hands in ensuring freedom of navigation in the Indo-Pacific region.
Both sides also announced a new phase of cooperation in space security focussed on the maritime domain and a fresh logistics agreement that will allow their defence forces to closely cooperate on mutually agreed operations.
"Whether it is the environment, or maritime security, or marine resources, or the freedom of navigation and over flight, we are committed to strengthening our cooperation in all these areas. And therefore, we are releasing a Joint Strategic Vision for our cooperation in the Indian Ocean area," said Prime Minister Narendra Modi.
He announced the initiative that will open up vast French maritime domain in the Indian Ocean region to India.
'The Joint Strategic Vision of India-France Cooperation in the Indian Ocean Region' stated that India and France share common concerns on freedom of navigation in the region and will tackle challenges to over-flight and threat of weapons of mass destruction.
The agreement has a vast scope stretching from "countering maritime terrorism and piracy" to "building maritime domain awareness.
The statement also said it would support "greater coordination in regional/international fora in the region."
This is the second major maritime agreement India has signed in the last six months following the Quadrilateral agreement with Australia, Japan and the U.S. in October 2017.
Presenting the French perspective on maritime and military cooperation, President Emmanuel Macron said, "The Pacific and the Indian Oceans cannot become zones for hegemonic power and we are, therefore, building a strategic partnership. The same is true for our defence cooperation signed a while ago."
The logistics support agreement is likely to "extend" both Indian and French ability to respond to common challenges.
The agreement "seeks to extend logistical support on reciprocal access to respective facilities for Indian and French armed forces," said the statement.
Sources indicate that while reviewing the ongoing military contracts and discussing the commissioning of INS Kalvari, the first Scorpene submarine made in India, Mr. Macron suggested extending the bilateral contract for the supply of more of these conventional submarines.
New Regulations on Tobacco products by WHO
The World Health Organization has launched new guidelines on the role that tobacco product regulations can play in reducing tobacco demand, saving lives and raising revenues for health services to treat tobacco-related diseases.
The new guide, titled 'Tobacco product regulation: Building laboratory testing capacity', and a collection of country approaches to regulation of menthol in tobacco products, presented in the publication, titled 'Case studies for regulatory approaches to tobacco products.
Menthol in tobacco products', were launched at the 2018 World Conference on Tobacco or Health recently.
Most countries hesitate to implement policies, due in part to the highly technical nature of such policy interventions and the difficulties in translating science into regulation, explained Dr. Vinayak Prasad, who leads WHO's Tobacco Free Initiative.
The new guidelines provide practical, stepwise approaches to implementing tobacco testing.
Such guidance is relevant to a wide range of countries in various settings, including those with inadequate resources to establish a testing facility.
The laboratory guide has comprehensible information on how to test tobacco products, what products to test, and how to use testing data in a meaningful way to support regulation.
Illegal gold mine in Devala, Nilgiris
It's an illegal gold mine, deep in the heart of one of the hills surrounding the small, picturesque town of Devala in the Nilgiris, around 70 km from Udhagamandalam.
We crawl through a dark, labyrinthine tunnel with a group of eight local miners, then venture down an 80-foot-deep shaft, lit only by battery-powered torches tied to the miners' heads with bits of cloth and rope.
At the bottom of the vertical shaft are more tunnels that eventually lead to the "seam" — layers of rock, hewn with pickaxes and rudimentary metal tools by the miners.
The men work in two shifts, sometimes up to 10 to 12 hours at a stretch. Tasks are divided between the groups — one for excavating the mine, while the other cooks a quick meal for the team before catching up on some sleep.
The entrance to this damp and claustrophobic mine, excavated over eight months, is a trek of more than five km from Devala.
Groups of men carrying rucksacks and little else in terms of equipment, walk along the town's road before congregating at a tea stall and a provision store at the head of a narrow path leading to the illegal mines.
"It's an open secret," says Murali, a lorry driver who has come home for two weeks, and will try his luck in the mines. On the narrow path, the men point out the "pits," so stragglers don't fall in.
There are over a hundred such pits along the route, hidden by vegetation and undergrowth.
Some are more than a 100-feet-deep, the miners say, used in the past as gateways into the deep tunnels in the hillock.
Most have been hollowed out and abandoned, now harbouring snakes and acting as death-traps for large mammals.
Of the numerous mines that have been excavated, around 50-60 in the Devala-Pandalur region are still used regularly, the miners say, though older ones are also routinely prospected by neophytes.
E-way bill from April 11: Jaitley
The Goods and Services Tax Council, at its 26th meeting, decided to go forward with the April 1 rollout of the e-waybill system for inter-State transport of goods.
Union Finance Minister ArunJaitley said the system would be implemented in phases.
Mr. Jaitley also said the Council discussed in detail the options to ease the return filing process, but did not arrive at a conclusive decision.
"From April 1, the e-waybill system will be applicable to the inter-State transport of goods," Mr. Jaitley said at a press conference following the meeting.
"The States have been categorised into four segments. The intra-State transport of goods will be brought under the e-waybill system in a phased manner, with each segment being added each week. So, by the end of April, the entire process should be completed."
The e-waybills will have to be generated for the transport of goods of a value of more than Rs. 50,000.
"During the 26th meeting of the GST Council, no tariff items were discussed," Mr. Jaitley said.
::INTERNATIONAL::
Concrete actions on promises by North Korea needed: US
A day after U.S. President Donald Trump accepted an invitation from North Korean leader Kim Jong-un for direct talks, the White House appeared to be taking a step back.
Press Secretary Sarah Sanders said the proposed meeting was conditional on North Korea fulfilling certain commitments.
"They've got to follow through on the promises that they've made, and we want to see concrete and verifiable actions. The President has accepted that invitation on the basis that we see concrete and verifiable steps," she said.
Her statement leaves the possibility of a meeting between Mr. Trump and Mr. Kim hanging, as verifying any action by North Korea is not easy for America in the absence of regular diplomatic contacts.
As the magnitude of the President's decision to meet Mr. Kim sank in, U.S. lawmakers and commentators offered cautious support to the initiative.
"President Trump's agreement to meet with Kim Jung-un in May is a big gamble and highly unorthodox," said Gary Samore, executive director for Research at the Belfer Center for Science and International Affairs at Harvard's Kennedy School of Government.
The South Korean intermediaries who met Mr. Trump with Mr. Kim's message had said the President agreed to a meeting in May.
Ms. Sanders made no such commitment. She said the U.S would continue the pressure on Pyongyang for "concrete actions."
"The maximum pressure campaign, we're not letting up. We're not going to step back or make any changes to that. We're going to continue in that effort, and we're not going to have this meeting take place until we see concrete actions that match the words and the rhetoric of North Korea," she said.
Meanwhile, Mr. Trump spoke with President Xi Jinping of China about developments related to North Korea.
"The two leaders welcomed the prospect of dialogue between the U.S. and North Korea, and committed to maintain pressure and sanctions until North Korea takes tangible steps toward complete, verifiable, and irreversible denuclearisation," the White House said in a statement.
3000 lawmakers set to vote for Xi term limit
China's nearly 3,000 law makers are set to vote, on proposed changes to the constitution, which will allow President Xi Jinping to serve indefinitely.
The delegates to the National People's Congress (NPC), China's Parliament, will cast their ballots on the constitutional amendments, which also include enshrining Mr. Xi's "thought" in the national basic law.
Though the passage of the constitutional amendment through a mandatory two-thirds majority is a foregone conclusion, the leadership of the Communist Party of the China (CPC), would try and avoid any show of serious dissent to the move.
The Hong Kong-based South China Morning Post has quoted analysts as saying that the Chinese leadership wanted a more affirmative support from the Congress, compared to the endorsement of the constitutional amendments on two previous amendments in 1999 and 2004.
In 1999, out of the around 2,860 delegates, only 21 voted against and 24 abstained from the amendment to endorse the late paramount leader Deng Xiaoping's "theory" in the national Constitution.
The number of dissenters dropped to 10, when, five years later, 2,890 delegates voted on former President Jiang Zemin's "theory of the three represents".
The "Xi Jinping Thought on Socialism with Chinese Characteristics for a New Era", which will also be voted was flagged by the President in October during the course of the 19th Party Congress.
The leaders of the CPC are lobbying hard with the delegates to ensure a resounding vote for changes in China's basic law.
During the course of the NPC session, which will end on March 20, China's top leaders have been meeting provincial delegates, for support for the amendments. President Xi has held talks with the delegation from the Guangdong province, the industrial heart of China.
His six other high ranking colleagues — all part of the standing committee of the Politburo — have also been visiting other provincial delegations, seeking support for a yes vote.
Analysts say President Xi, already the General Secretary of the CPC and the head of the Central Military Commission, is expected to utilise the consolidation of power to help achieve two well defined strategic goals.
China hopes to become a "moderately prosperous" country by 2020, the stepping stone for becoming an advanced socialist nation by 2050.
Delegates will express their choice on a ballot paper, written in Chinese as well as seven ethnic minority languages, including Mongolian, Tibetan, Uygur, Kazakh and Korean.
::ECONOMY::
Domestic Paper manufacturer's crisis
Paper imports during the first nine months of the current financial year rose 40% to 1.47 million tonnes or almost 15% of the total consumption in the country, posing a challenge to the domestic industry, according to industry sources.
Domestic manufacturers faced issues such as high energy cost and inadequate raw material availability, said Saurabh Bangur, president, IPMA, in a statement.
Overseas manufacturers, however, had easy access to captive plantations and lower energy costs.
They also enjoyed nil import tariffs in India, thus giving the foreign firms a competitive edge.
Though India is one of the fastest growing markets for paper with almost 7% growth a year, no major greenfield investment for capacity addition had taken place in the last two years, RohitPandit, secretary general, IPMA.
"The consolidated production of large paper mills is stagnant, with a drop in capacity utilisation from 92% in 2015-16 to 83% in 2016-17," said Mr. Pandit.
Raw material cost accounts for about 40% to 50% of the total cost of production.
The mill delivered cost of domestic wood in India was higher by almost $30-$40 per tonne compared with other Asian countries. This had pushed up the cost of paper production in India by $100 for a tonne of paper, Mr. Pandit said.
Incorporate green norms in Mass housing projects: US Council
Green Business Certification Inc., (GBCI) a part of the U.S. Green Building Council (USGBC), has initiated discussions with the Indian government to make policy changes for incorporating green norms in mass housing projects.
The objective is to ensure that a larger section of society can avail of the economic, social and environmental benefits, a senior executive of GBCI said.
Earlier this week, the head of GBCI met the Minister for Housing and Urban Affairs, HardeepPuri, and discussed ways to integrate green concepts and LEED rating into the larger context of Housing for All, a key objective of the government.
"The ministry is looking very strongly [at this] from a development point of view," said Mahesh Ramanujam, president and CEO, GBCI and is also the president and CEO of USGBC.
"There is a need to have all the best practices incorporated now so that policy-making would be strong. We discussed the topic in depth and the Minister is... on board," he said.
GBCI is urging the government to help incorporate green solutions at the initial stage in projects.
GBCI certifies buildings with LEED, or Leadership in Energy and Environmental Design rating which is developed by its parent USGBC.
LEED is a widely used green building programme that aims to help buildings, homes, communities and cities achieve high performance in key areas of environmental and human health, he said.
For the mass housing segment, the EDGE rating, requiring compliance on lesser specifications, has been developed with the help of IFC and the World Bank.
He said an EDGE rating could help gain tangible benefits for the residents.
He said with 'green' concepts incorporated in mass housing projects, the overall community would develop. People can save in energy and water costs, he added.
"Our effort is to help the government to implement [the concept]. Our role is encouragement, implementation support and providing solutions. So we see GBCI's role in capacity building, education and outreach," Mr. Ramanujam added.
He said now, the government is expected to frame regulations for developers to follow.
Meanwhile, GBCI has also introduced its global rating system called Performance Excellence in Electricity Renewal (PEER) in India with an aim to issue certification for the power sector, as it has done with LEED for buildings.
"A building is as green as the power that goes into that building. So we are focusing on clean power particularly when India is now coming up with 14 more Smart Grids under the National Smart Grid Mission," Mr. Ramanujam said.
In this context, GBCI would focus on efficient electricity distribution, smart grid development and work towards sustainable power reliability, according to him.
Currently, it is working with Tata Power Delhi Distribution Ltd. and the Delhi Metro Rail Corporation to enable certification for their projects.
Karnataka & Kerala pepper farmers in distress
A drastic fall in the price of black pepper price, coupled with low production owing to climate vagaries, has put farmers in Kerala and Karnataka – the two major pepper producing States in the country – in distress.
The spot prices of pepper in Kerala's Wayanad and Karnataka's Coorg markets was ₹360 a kg and ₹350 a kg respectively as against ₹570 and ₹580 a kg respectively last year.
The price in Kerala was ₹490 a few weeks ago.
"The influx of imported pepper from Vietnam via Sri Lanka was the major reason for the fall in prices in the Indian market," M.C. Abdu of Ideal Spices, a pepper dealer in Wayanad.
The cheaper pepper from Vietnam continues to flood the market through Sri Lanka, aided by a low-duty structure under the ASEAN (Association of South-East Nations) trade agreement, SAFTA (South Asian Free Trade Area) and ISFTA (Indo-Sri Lanka Free Trade Agreement).
Under SAFTA, India could import 2,500 tonnes of pepper a year from Sri Lanka without duty, and above the quota, a duty of 8% would be imposed as per the ISFTA, Mr. Abdu said.
But direct pepper import from Vietnam attracts a duty of 52% under the ASEAN trade agreement.
Close to 20,000 tonnes of Vietnam pepper was imported to India in a few months via Sri Lanka, and this was the major reason for the decline in price, he said.
Since most of the pepper-producing countries are in the ASEAN region, there have been apprehensions of pepper from these countries being routed through Sri Lanka, taking advantage of the lower duty under SAFTA and ISFTA, he alleged.
The Union Ministry of Commerce and Industry had fixed the minimum import price (MIP) for pepper at ₹500 a kg last December, following which prices improved in local markets.
But when the landed cost of a kg of Vietnamese pepper through Sri Lanka came to ₹300, including an import duty of 8%, the prices started to decline, trading sources said.
Hence the MIP was yet to make any positive results now, the sources added.
Moreover, the pepper imported from Sri Lanka to Nepal and Bhutan through Kolkata sea port also flows in to the Indian market, the sources added.
The total production of pepper expected in the country during the current fiscal was about 63,000 to 64,000 tonnes, including 24,000 tonnes from Kerala, 6,000 tonnes from Tamil Nadu, and the remaining from Karnataka.
But the production fell in those States, especially in Kerala, owing to erratic weather conditions during the flowering season in Wayanad and Idukki districts.
Sri Lankan pepper had lost eligibility for any concession from India ever since its production rose to more than 28,000 tonnes, and Sri Lankan authorities were allegedly issuing a wrong Certificate of Origin to Vietnampepper imported into India via Sri Lanka, he added.
Apart from the declining price of pepper and increasing inputs, Quick Wilt disease, affecting the pepper vines, also posed a serious threat to the pepper farmers, said Chandrasekharan, a pepper planter in Wayanad.
If the Centre failed to impose a duty of 55% on import, farmers would be forced to abandon pepper cultivation, said A. Muthanna, a farmer in Coorg district of Karnataka.
::SCIENCE & TECHNOLOGY::
As oceans get more acidic, sediments that constitute coral reefs could begin dissolving by the end of this century, suggests a study published in the journalScience.
Coral reefs are formed by not just the calcium carbonate skeletons that tiny animals called coral 'polyps' create, but also carbonate sediments which accumulate on them over thousands of years.
Ocean acidification – lowering of sea water's pH when it absorbs the excess, human-caused carbon dioxide from the atmosphere – prevents polyps from building their stony skeletons.
In several reef systems, acidification also dissolves corals' carbonate sediments. Scientists from several institutes including the Southern Cross University in Australia studied this less-explored aspect of sediment dissolution at 57 locations across five reefs in the Pacific and Atlantic Oceans.
They found that the link between sediment dissolution and acidification is stronger than that between acidification and coral formation.• Predictions
Based on this, the team also predicted changes in coral systems by incorporating several factors including current rates of coral formation and sediment dissolution.
According to their calculations, coral sediments will begin dissolving by 2050; by 2080, they will dissolve faster than they are formed.
This means ocean acidification is causing coral reef systems to erode rather than grow. Currently, the processes of coral formation are also under threat.
In 1998, Lakshadweep's reefs experienced bleaching: increased ocean temperatures caused algae that live as symbionts within corals to leave, stressing the corals.
Two more bleaching events followed in 2010 and 2016. With repeated bleaching, frequent storms due to climate change and now, ocean acidification that causes sediment dissolution apart from slowing down coral-building, Lakshadweep's reefs could be facing a triple whammy, says Arthur.
"Local factors like over-fishing in reefs too play a role," he adds.
Coral reefs span 3,062 sq. km in India. Many coral species are afforded protection at par with tigers: they are included in Schedule I of the Wildlife Protection Act (1972).
While coral systems support a diversity of fish species that local communities depend on for sustenance, many like those in Lakshadweep also provide protection from storms and prevent coastal erosion.
Plastics to help fuel cars
Certain plastic wastes can soon help fuel your cars. Researchers from IIT Guwahati have successfully converted packaging plastic waste to plastic-derived oil (PDO), which has characteristics similar to diesel.
Low- and high-density polyethylene (LDPE, HDPE) and polypropylene are commonly used as packaging materials and end up in the waste stream.
According to a 2016 Central Pollution Control Board report, almost 15,000 tonnes of plastics waste is generated per day in India.
The researchers collected the waste (biscuit wrappers, shopping bags, food containers, shampoo bottles) from houses, cleaned and segregated them according to the resin identification code. These codes on plastics indicate the type of plastic resin it is made of.
Using a semi-batch reactor, the different wastes were heated for six to seven hours at 300-400 degree Celsius.
"Heating at very high temperatures in inert conditions caused the plastic to convert into wax, so we chose this particular temperature range in which the plastic turned to plastic-derived oil and stayed in its oil state," explains Pallab Das, PhD scholar at the institute and first author of the paper published in Resources, Conservation and Recycling.
But burning plastic waste generates pollution, particularly dioxins which are toxic to humans.
"There is no oxygen in the three plastic wastes that is heated that we are also not supplying any oxygen. Pyrolysis is done under inert conditions. Only hydrocarbon gases such as methane, ethane and propane were produced and there was negligible amount of carbon dioxide and carbon monoxide produced," says Das.
More experiments need to be carried out to get a trade-off between the quality of the oil and the environmental pollution caused by the pyrolysis process.
The researchers then studied the properties of the new plastic derived oil. One of the oil samples from polypropylene showed a high research octane number of approximately 92.
Octane number indicates the quality of the gasoline range fuel. Premium petrol has research octane number of 98 to 100.
The oil also showed low viscosity and had high calorific value. Calorific value denotes the amount of heat generated when unit amount of sample was burnt with oxygen supply.
The new oil had calorific value greater than 45 MJ per kilogram. Calorific value of petrol and diesel is 46-48 and 44-46 MJ per kilogram, respectively.
Soil bacteria and Plants help in generation of Electricity and Reading lights
We generate electric power through hydroelectric plants (in Bhakra, Nagarjunasagar or Hirakud dams), from coal and fossil fuels (Ramagundam, Bhilai and Neyveli), or nuclear plants (ones at Tarapur, Kudankulam or Kakrapar).
Each method has its downside – be it water shortage or inter-state disputes, fouling the environment with pollution dust and greenhouse gases, or safety issues with radioactive damage.
A group of researchers at the Wageningen University in the Netherlands, led by Dr. MarjoleinHelder, has hit upon a method that generates electricity from living plants and the microbes that live beneath them in the soil, where the plants drop their roots.
The plant of course does photosynthesis, using sunlight, water and atmospheric carbon dioxide, generating food in the form of carbohydrates and oxygen for our breathing.
The microbes in the soil use some of this organic material coming out of the plants into the ground, metabolise them and, in the process, generate carbon dioxide and hydrogen ions and electrons.
While the plant above the ground does photochemistry, the bacteria beneath do electrochemistry, generating positive and negative ions.
What Dr. Helder and colleagues have done is to place positive and negative electrodes in appropriate positions and obtain an electric current, just as we do with batteries.
This method of producing electricity is through what is termed as plant microbial fuel cells (PMFC).
Look at the simplicity of it. The method is completely natural and environment-friendly, needs no externally added material and is part of a cyclic process in nature.
But how much electricity is produced with such PMFC? It depends on the size. A small 50 cm x 50 cm plot of a garden is estimated to produce 5 volts of electricity, while a 100 square metre garden gives enough electric power to charge a cell phone or to light up several LED light bulbs.
Indeed the Wageningen group has lit up their Atlas building with LED bulbs, using PMFCs, and a mobile phone charging station in a place at the nearby town Tilburg.
Theory suggests that one should be able to generate 3.2 watts of electric power per square meter (3.2W/m2), using PMFCs.
The best level obtained so far in practice is but a sixteenth of it, namely, 220 mW/m2.
Thus, improvement in efficiency needs to be done, both by adding such microbes in the soil which perform better, and by enhancing the area by miles and miles of grass lawns, farm lands and focus on paddy fields and similar acreages.
These will also bring the cost–benefit ratio to acceptable proportions. It is with this in mind that Dr. MarjoleinHelder came over to visit N. Chandrababu Naidu to consider taking up electricity generation across the state of Andhra Pradesh.
Another dramatic advance, this one directly from the plants themselves rather than the microbes underneath, has come from Dr. Michael Strano of MIT, Cambridge, MA, USA.
This is an audacious idea, namely, "how to make plants glow with light"! We know that a plant captures light, and using this, converts water molecules and atmospheric carbon dioxide into sugar.
What Strano's group aims to do is to make plants not just absorb but also emit light and, indeed, glow such that we may use such plants as a table lamp to help read a book in a dark room! In other words, make a plant glow as a firefly does.
A firefly glows because it has an enzyme that converts a molecule called luciferin into oxyluciferin, and the energy released in this reaction comes out in the form of visible light.
The enzyme is called luciferase. (Incidentally, luciferin is named after the Latin word lucifer, meaning light-bringer or the morning star).
Now, plants do not have luciferin or luciferase. If we can somehow inject into a plant luciferin and luciferase, perhaps the plant too will emit light — this was the idea that Strano had. Towards this, he used the technology of nanoparticles.
Taking watercress and spinach as experimental plants, his group first packaged luciferase in nanoparticles made of silica.
Then, they packed luciferin in another set of nanoparticles made of the polymer PLGA. Each of these nanoparticles carried a tag that would allow it to go to one specific part of the plant cells. Then they also devised a third nanoparticle system, packed with molecules called co-enzyme A, which was to remove a product of the luciferin reaction, which inhibits or stops the reaction from proceeding.
They now immersed the plant in water, added the three sets of nanoparticles, and applied high pressure so that these will enter and position themselves in appropriate places inside the plants.
Now, the reaction proceeded and the plant emitted feeble glow, a Eureka moment, which lasted for about 3 hours!
Clearly, more tinkering needs to be done in order to brighten the glow, increasing the time it lasts and other issues. Also how to turn off the light when you do not need it anymore (this has already been established by adding a switch-up the off molecule at will).
Given the progress, these appear doable soon enough. Strano says: "our work seriously opens up the doorway to street lamps that are nothing but treated trees and to indirect lighting around homes".