Current Affairs for IAS Exams - 11 March 2020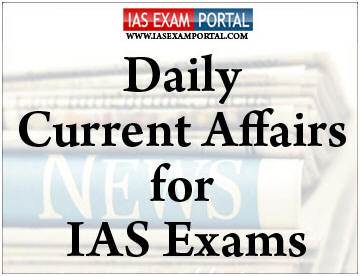 ---
Current Affairs for IAS Exams - 11 March 2020
---
 ::NATIONAL::
People in UT ladakh demand better constitutional safeguards
People in the newly-formed Union Territory of Ladakh are demanding constitutional safeguards and strengthening of the already existing Hill Councils in Leh and Kargil, to ensure protection of the identity, land, jobs and culture of this region.
The formation of Ladakh as a Union Territory, locals claim, has made them vulnerable to aggressive external influence, which has forced them to demand protection at multiple levels.
Hundreds of locals across political, ethnic and religious divide marched in Leh last month demanding constitutional safeguards for this mountainous region, which remains cut off from the world for around six months, as the two main highways from Srinagar and Manali are blocked due to heavy snowfall.
The BJP government in Delhi passed the J&K ......................................
CLICK HERE FOR FULL CURRENT AFFAIRS (Only for Course Members)
::ECONOMY::
India not to accept limits of farm input subsidies
India has ruled out any chances of capping input subsidies for irrigation, fertilisers and electricity, stating that these support rural development, food and livelihood security of marginal farmers.
Instead, around 60 countries including China and India have insisted that the focus of multilateral trade talks should be on addressing product-specific subsidies that the US, the EU and Canada give as these allow them more policy space and cause distortions in global farm trade. These are called aggregate measurement of support, or AMS, in trade parlance.
Referring to a recent push to advance negotiations on domestic support with the narrative of capping and reducing all forms of trade and production distorting domestic support, India said there was no question of accepting any limit or reduction of such support.
Reiterating that it is a proponent of a sequential approach where developed countries' maximum permissible level of trade distorting farm subsidies, called final bound total AMS, entitlements are capped, reduced and eliminated first, India said at a meeting of heads of delegations to the World Trade Organization on Monday: "Only once the playing field is levelled, should we have a discussion on disciplining other forms of domestic support."
Survey finds women disciplined about savings and taking charge of their money
Indian women are actively saving and taking charge of their money, with a whopping 68 per cent either managing their own finances or having an equal say in their families' financial decisions, according to a survey.
Only less than 10 per cent women leave....................................................................
CLICK HERE FOR FULL CURRENT AFFAIRS (Only for Course Members)
::INTERNATIONAL::
UNSC approves U.S-Taliban peace agreement
United Nations Security Council has unanimously approved a United States' resolution on the recent deal between the US and the Afghan Taliban, a rare endorsement of an agreement with a militant group. The US military has begun withdrawing troops as part of the pullout agreed in the February 29 pact with the Taliban.
In the resolution, the Security Council urged the Government of the Islamic Republic of Afghanistan to advance the peace process, including by participating in intra-Afghan negotiations through a diverse and inclusive negotiating team composed of Afghan political and civil society leaders, including women.
The United States is keen to end its longest-ever conflict and under the terms of a deal signed in Doha last month all foreign forces would quit Afghanistan within 14 months -- provided the Taliban stick to their security commitments.
The UN resolution came with Afghanistan in political crisis, following the double swearing-in on Monday of President Ashraf Ghani and his rival and former chief executive Abdullah Abdullah, both of whom claimed victory in last year's Presidential election.
Activists from PoK demand help against Pakistan's aggression
Political activists from Pakistan occupied Kashmir (PoK) have urged the United Nations Human Rights Council to protect their rights and save them from Pakistan's oppression.
Speaking at the 43rd Session of Human ..............................
CLICK HERE FOR FULL CURRENT AFFAIRS (Only for Course Members)
::SCIENCE & TECHNOLOGY::
Experts suggest no relation between temperature variation and coronavirus spread
With the mercury decreasing over the last few days and fear of coronavirus looming, experts have said there is no established correlation between the variations in temperature and spread of COVID-19.
The experts said COVID-19 ......................................
CLICK HERE FOR FULL CURRENT AFFAIRS (Only for Course Members)
::SPORTS::
India w ins over Indonesia in fed cup Tennis
The Indian Fed cup tennis team created history by progressing to the play-offs for the first time ever with Ankita Raina leading the side to a 2-1 win over Indonesia at an ongoing tournament in Dubai.
India finished second in the six-team Group with four wins in a row after losing the opening tie to China, who remained unbeaten in the tournament. Since earning their place back in Asia Oceania Group I in 2016, India has remained in the regional group.
+