Current Affairs for IAS Exams - 11 June 2019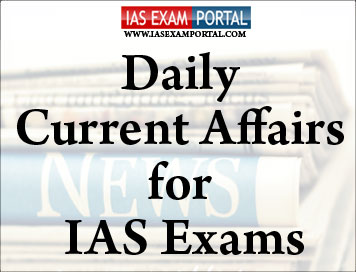 Current Affairs for IAS Exams - 11 June 2019
::NATIONAL::
PM seeks target oriented 5year plans from ministries
Prime Minister Narendra Modi has asked top bureaucrats to prepare a five-year plan document for each Ministry with well-defined targets and a significant impactful decision in each Ministry for which approvals will be taken within 100 days.
Interacting with all Secretaries to the Union Government at his residence in New Delhi yesterday Mr Modi said all departments of the government must seek to leverage the upcoming milestone of 75 years of independence. He said it can inspire people to make a contribution to the betterment of the country.
During the interaction, the Prime Minister said, the recent General Elections mandate reflects the will and aspirations of the people to change the status quo and seek a better life for themselves. He said, the huge expectations of the people should not be viewed as a challenge, but an opportunity.
Mr Modi said, every Central department and each district have a role in making India a five trillion dollar economy. India's progress in ease of doing Business, should reflect in greater facilitation for small businesses and entrepreneurs. Prime Minister said that each Ministry of the government should focus on ease of living. He said, water, fisheries, and animal husbandry are also the important areas for the Government.
Mr Modi also urged secretaries to use technology to improve outcomes and efficiency in each department. During the interaction, various Secretaries shared their vision and ideas on various subjects including administrative decision-making, agriculture, IT initiatives, education reform, healthcare and industrial policy.
Cyclone VAYU to hit Gujarat coast soon
A deep depression over the Arabian Sea, which brewed over the past two days, has intensified into a cyclonic storm and is likely to hit the Gujarat coast on Thursday morning.
The MeT department today said, Cyclone 'Vayu' is likely to intensify into a severe cyclonic storm in the next 24 hours.
It is very likely to move nearly northward and cross Gujarat coast between Porbandar and Mahuva around Veraval and Diu region as a Severe Cyclonic Storm with wind speed up to 120 kilometres per hour gusting to 135 kilometres per hour.
The cyclone is likely to cause heavy rains and winds in the coastal districts of Kutch, Devbhoomi Dwarka, Porbandar, Junagarh, Diu, Gir Somnath, Amreli and Bhavnagar districts at the time of landfall.
A warning of heavy rains and high winds at a speed of over 110 kilometres has been issued for Thursday and Friday in coastal areas of Saurashtra and Kutch. The Gujarat government is on high . It has deployed National Disaster Response Force personnel in the coastal areas of Saurashtra and Kutch.
Talking to AIR News, Director General, NDRF, SN Pradhan said, all necessary arrangements have been made and they are coordinating very closely with the Gujarat government. The fishermen have been advised not to venture into the sea in the next few days while ports have been directed to flag a danger signal.
::ECONOMY::
SEBI proposes framework to reward whistleblowers
The Securities and Exchange Board of India (SEBI) has proposed establishing a framework to reward individuals who bring forward instances of violations of insider trading norms while at the same time protecting such persons from victimisation in the form of demotion or termination of job.
The capital markets regulator has proposed that entities that come forward with such information will have to disclose the source of information and give an undertaking that such information has not been sourced from any regulator.
To protect such complainants against victimisation, the regulator has proposed that all listed companies and intermediaries would include in their code of conduct, provisions to ensure that such individuals are not "discharged, terminated, demoted, suspended, threatened, harassed, or discriminated against, directly or indirectly."
While SEBI has also proposed an amnesty for such individuals, it has also stated that if a complaint is found to be frivolous, the regulator can initiate actions against the informant.
Net outflows from credit risk funds jumps three fold in may
Net outflows from credit risk funds jumped over threefold in the month of May as investors remained wary of the segment in the light of recent downgrades and defaults.
The overall inflows into the debt funds segment also took a huge hit in May even as the overall assets under management of the mutual fund industry registered a marginal increase on the back of inflows into equity schemes.
Industry experts believe that while investors are likely to be sceptical of investing in credit funds, the income and gilt categories could see a jump in inflows on the back of favourable macro-economic factors
Meanwhile, equity funds registered a notable rise in the net inflows with open-ended equity oriented schemes seeing net inflows of Rs. 5,407.75 crore in May, as against Rs. 4,608.74 crore in the previous month.
This assumes significance as the net inflows into equity schemes in the previous month had fallen to their lowest level since September 2016.
According to Mr. Venkatesh, the flows into equity schemes are likely to revive going forward as uncertainty related to election results are over and the recent market movement also points towards increased investor confidence.
::INTERNATIONAL::
PM to attend SCO summit in Bishkek
Prime Minister Narendra Modi will leave for Bishkek, Kyrgyzstan on Thursday to attend the Shanghai Cooperation Organisation (SCO) Summit.
Several important issues, including counter-terrorism, extremism and multilateral economic cooperation will be discussed during the meeting which will be held on Friday.
Mr Modi will also hold bilateral meetings with Chinese President Xi Jinping and Russian President Vladimir Putin on the sidelines of the Summit.
AIR correspondent, covering the Prime Minister's visit, reports that India and Kyrgyzstan enjoy strong historical and cultural relations. Kyrgyz people not only following culture and history of ancient India but are also learning classical dance forms like Kathak and practising Yoga.
Canada set to ban single use plastics by 2021
Canada Prime Minister Justin Trudeau on Monday announced that single-use plastics will be banned in the country from 2021. He declared it a global challenge to phase out the plastic bags, straws and cutlery clogging the world's oceans.
Mr Trudeau said, Canada has a unique chance to lead the fight against plastic pollution as the country with the world's longest coastlines. He said, less than 10 percent of plastics used in Canada are currently recycled.
Each year a million birds and more than 100,000 marine mammals worldwide suffer injury or death by becoming entangled in plastic or ingesting it through the food chain. Single-use items represent some 70 percent of the plastic waste littering the marine environment.
Canada, France, Germany, Britain and Italy, along with the European Union, subscribed at last year's G7 summit in Quebec to a new charter against pollution in the world's oceans. The United States and Japan did not join the pact.
The non-binding Ocean Plastics Charter called on participating countries and the EU to commit to making all plastics reusable, recyclable or recovered by 2030.
::SCIENCE & TECHNOLOGY::
ISRO gets ready for Chandrayaan mission
Chandrayaan-2, the country's first moon lander and rover mission, is a month away.The Indian Space Research Organisation has marked mid-July for the take-off and kept the launch window open from July 9 to 16.
After putting the spacecraft through manoeuvres at the earth end, a journey of over a month and a few more orbital manoeuvres as it approaches the moon, ISRO has set September 6 as the date to soft-land its landing craft at the lunar south pole - a region where no agency has got to so far.
ISRO recently listed at least six complexities of soft landing a mission on the Moon – something that pioneers Russia and the U.S. could not achieve easily back in the mid-1960s.
The mission carries 14 payloads or instruments to observe and gauge the lunar scene – both from a distance and on its surface. One of them is a tiny NASA reflectometer to mark the spot for future missions and assess the distance from the earth.
Weighing about 3,500 kg, Chandrayaan-2 will be launched on the heavy-lift GSLV-Mk III rocket. The mission has missed many dates and its lander elements have been revamped as recently as in 2018. The tests related to the lander were conducted at the Challakere multi-agency campus where ISRO, DRDO, BARC and the IISc facilities are located.
::SPORTS::
Novak Djokovic tops ATP rankings
Rafael Nadal might have won a 12th Roland Garros title on the weekend, but he remains well behind Novak Djokovic, a semi-finalist in Paris, in ATP rankings released today.
Austrian Dominic Thiem, whom Nadal beat in yesterday's final, keeps his fourth place behind Switzerland's Roger Federer, who went down to the Spaniard in the last-four on his first appearance in Paris since 2015.
Russian Karen Khachanov jumped two spots into a personal best of ninth thanks to his achievement in reaching the French Open quarter-finals.