Current Affairs for IAS Exams - 11 November 2017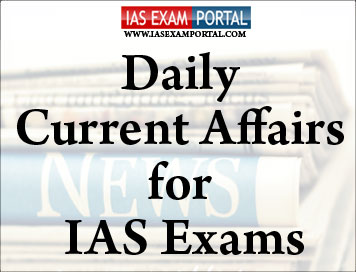 Current Affairs for IAS Exams -11 November 2017
::NATIONAL::
CJI Misra asserts himself in SC amidst corruption storm
• Disapproving of a judicial order that had decided the composition of a Bench for hearing a corruption case, a five-judge Constitution Bench, headed by Chief Justice of India Dipak Misra, ruled that it is the prerogative of the Chief Justice to decide what matter is heard by which judge.
• The ruling effectively nullifies an order passed by a two-judge Bench a day earlier, directing that the case be posted before a Bench comprising the five senior-most judges on November 13.
• In his order, the CJI asserted his role as "the master of the roster" in order to protect the Supreme Court from "anarchy", at the end of a raucous hearing marked by exchange of harsh words, heckling, accusations of browbeating judges and forum-shopping and repeated warnings of action for contempt of court.
• The matter concerns two petitions seeking a probe by a special investigation team (SIT) into allegations of corruption contained in a first information report registered by the CBI.
• The FIR alleged that a conspiracy was hatched by some persons, including a former Orissa High Court judge and a hawala dealer, to bribe Supreme Court judges hearing the case of a debarred private medical college. Chief Justice Misra was leading the Bench that had heard and decided the case of the medical college in question.
• The petitions, filed by advocate Kamini Jaiswal and NGO Campaign for Judicial Accountability and Reforms, said Chief Justice Misra should not be part of any proceedings, either administrative or judicial, in the case.
• A Bench headed by Justice J Chelameswar, which heard Ms. Jaiswal's petition, found the allegations in the FIR "disturbing" and ordered a Constitution Bench comprising the five senior-most judges to convene on November 13. It had ordered that material and evidence in the corruption case be sealed and produced before that Bench.
• In effect annulling this order, the Constitution Bench held that "there cannot be any kind of command directing the CJI to constitute a Bench" and that no judge can take up or post matters on his own. That authority is the Chief Justice's exclusive domain. Senior advocates said the judicial institution would crumble if every judge acts like the Chief Justice of India.
GST tax rates reduced
• The Goods and Services Tax Council sharply reduced to just 50 the number of items in the highest tax rate of 28%.
• At its 23rd meeting in Guwahati, chaired by Union Finance Minister Arun Jaitley, the Council also staggered the return filing process, reduced the tax rates on restaurants and expanded the Composition Scheme for small firms.
• Tax experts termed the Council's decisions — virtually upending the original GST structure — as a bold decision ahead of the Gujarat elections.
• The decisions are expected to win over businesses struggling to cope with the transition to the new indirect tax system. The Council decided to reduce the tax rate on 178 of current 228 items from 28% to 18%, with effect from November 15. Items with tax rates reduced to nil from 5% include guar meal, sweet potatoes, and dried or frozen fish.
• All restaurants will be taxed at 5%, except those in hotels with a tariff of Rs. 7,500 or more, which will be taxed at 18% with input tax credit. Outdoor catering will be taxed at 18% with ITC
• The items in the 28% slab that have got cheaper include wires, cables, insulated plugs, furniture, bedding, mattresses, suitcases, detergents, shampoo, perfumes, lamps, wrist watches, and slabs of marble and granite. Items that have seen their tax rate reduced to nil from 5% include guar meal, sweet potatoes, and dried or frozen fish.
• "Items on which cess is currently being applied, such as luxury, sin, and some white goods, will continue to be taxed at 28%," Mr Jaitley added. "Two items have been reduced from 28% to 12%."
• The GST Council decided to ease the return filing process for both small and larger businesses. "The filing of the form 3B will continue till March 31," Revenue Secretary Hasmukh Adhia said. "And we will further ease this form for those businesses who file returns but have no tax liability. We have found that there are 30-40% of such businesses."
No one is above the law
• "Anybody and everybody, however high, has to be subject to the rule of law... We as judges have a duty to protect the rule of law and justice," Justice A.K. Sikri.
• Justice Sikri's observation came on a day replete with high drama over a corruption case involving an alleged conspiracy to bribe Supreme Court judges hearing a medical college case.
• The two-judge Bench of Justices Sikri and Ashok Bhushan was hearing a petition filed by the Campaign for Judicial Accountability and Reforms (CJAR), represented by advocate Prashant Bhushan, to transfer the case from the CBI to a Special Investigation Team for a fair probe.
• Though Mr. Bhushan pleaded that the CJI should not be part of any Bench hearing the petition, Justice Sikri's Bench ordered the petition to be placed before the CJI for "passing appropriate order for listing this matter". Justice Sikri's Bench even impleaded the Supreme Court Bar Association.
• Another two-judge Bench led by Justice Justice Chelameswar had ordered a Constitution Bench to be set up to hear Ms. Jaiswal's petition which is identical with the CJAR petition. Ms. Jaiswal had alleged that the case involved the highest echelons of the judiciary.
National Testing Agency for higher educational institutions
• The Union Cabinet approved the creation of a National Testing Agency (NTA) to conduct entrance examinations for higher educational institutions.
• Its creation will relieve the Central Board of Secondary Education (CBSE) – which conducts exams like the National Eligibilty-cum-Entrance Test – and the All India Council for Technical Education of the burden of conducting entrance tests.
• "The Union Cabinet chaired by Prime Minister Shri Narendra Modi has approved the creation of a National Testing Agency (NTA) as a Society registered under the Indian Society Registration Act, 1860, and as an autonomous and self-sustained premier testing organization to conduct entrance examinations for higher educational institutions," said a press release.
• The NTA will begin by conducting exams managed by the CBSE and gradually conduct other examinations too.
• The NTA will be chaired by an eminent educationist appointed by the Ministry of Human Resource Development. There will be a Board of Governors comprising members from user institutions.
• The Centre will give an initial grant of Rs. 25-crore to the NTA to start its operations in the first year. Thereafter, it will be self-sustaining.
::ENVIRONMENT::
Delhi pollution level improves
• After days of dense smog and dangerous levels of pollution, Delhiites got some respite thanks to change in weather conditions.
• From November 7-9, the concentration levels of particulate matter had been well over eight times the safe limit. Though still in the severe category — the average levels of both PM2.5 and PM10 were between five to six times the standards, as per the SAFAR index of the Union Ministry of Earth Sciences.
• A SAFAR report stated the PM2.5 level had come down from an average of 640 micrograms per cubic metre (ug/m3) on November 9 to 370 ug/m3, which is just over six times the standard of 60 ug/m3, on Friday.
• The level of PM10 had reduced from 895 ug/m3 on November 9 to 587 ug/m3, which is just over five times the standard of 100 ug/m3.
• Pollution level in the Capital had reached 'severe' level on November 7 when calm conditions on the ground coupled with winds from north India, bringing in smoke from crop residue fires, led to the formation of dense smog.
• Meanwhile, the air quality index for Delhi, Noida, Ghaziabad, Gurugram and Faridabad - remained in the 'severe' category for a fourth day, as per the Central Pollution Control Board.
::INDIA AND WORLD::
India and U.K. compete in ICJ election
• The government is putting "all efforts in" to ensure the election of its nominee Judge Dalveer Bhandari for the International Court of Justice, after receiving a setback at the United Nations.
• India failed to secure enough support in the first few rounds of voting for the court where the Kulbhushan Jadhav case is being heard.
• Mr. Bhandari will face off with the United Kingdom's candidate, Christopher Greenwood, who also lost in the vote, in what is being described as a close contest. While India finished far ahead in the 193-member United Nations General Assembly, Britain got more votes in the United Nations Security Council.
• The judges who won were from France, Somalia, Brazil and Lebanon, which was India's rival in the Asia bloc.
• If the next round of voting proves inconclusive, the U.N. would hold a "joint conference" made up of members from both the Assembly and the Council, after which the elected judges may be asked to decide.
• To be elected, any candidate must obtain a majority of 97 votes or more in the UN General Assembly and also a majority of eight votes in the Security Council.
• During the last unsuccessful round, India won 115 to U.K.'s 74 votes in the UNGA, but won only six out of 15 U.N. Security Council members, while U.K. won nine.
• India's task is made more difficult, given the U.K. is a permanent member and has a vote in both the UNSC and the UNGA.
• As a result, Prime Minister Narendra Modi had himself taken up the issue of support with countries that he has held bilateral meetings with since June this year, when India declared its nomination bid.
• India has a particular interest in the ICJ spot, given the trial of Jadhav, the man convicted of spying in Pakistan, which is now in the international court at The Hague. In October, Pakistan nominated an ad-hoc judge Tassaduq Hussain Jillani according to ICJ rules to sit on the Bench.
::INTERNATIONAL::
Globalisation is an "irreversible historical trend": Xi
• Chinese President Xi Jinping laid out his country's credentials as the new champion of world trade, calling globalisation an "irreversible historical trend", in comments that offered a contrast to the "America First" doctrine espoused by Donald Trump moments earlier.
• Speaking at the APEC summit in Vietnam, Mr. Xi conceded that the philosophy behind free trade needed to be repurposed to be "more open, more balanced, more equitable and more beneficial to all" but defended multinational trade deals, which he said helped poorer nations benefit from global commerce.
• Speaking at the same stage moments earlier, Mr. Trump gave a spirited airing of his "America First" doctrine, saying Washington would "no longer tolerate" unfair trade, closed markets and intellectual property theft, as he seeks to rewrite the rules of global commerce.
• Meanwhile, China said it will further open the country's financial markets to foreign firms, a key demand from the U.S. and Europe, which have long complained about the strict limits on access to the giant economy.
• The announcement came after Mr. Trump's state visit to Beijing during which the U.S. leader called for a more level playing field for American companies and measures to reduce a massive trade imbalance.
• China's Vice Finance Minister Zhu Guangyao said foreign firms will be allowed to own as much as 51% of shares of tie-ups in securities, funds and futures industries, instead of the current 49% limit, according to the official Xinhua news agency.
• The limits will be phased out in three years. Foreign ownership restrictions in Chinese banks and financial asset management firms will also be lifted, Mr. Zhu said, as he discussed the "consensus" reached during Mr. Trump's state visit, according to Xinhua. Overseas companies are currently not allowed to have a controlling stake in firms in China.
• Foreigners cannot hold more than a quarter of a China-based bank's capital. The limit has made it difficult for foreign banks to play any major role in the Chinese market.
• The U.S. and the European Union have long complained about a lack of access in a host of industries.
::BUSINESS AND ECONOMY::
India, Canada to take forward bilateral trade
• India and Canada will discuss ways to take forward talks on the proposed bilateral trade and investment pacts. Also on the agenda will be measures to remove irritants, including those affecting trade in goods, especially 'high' tariffs on farm items such as pulses, and services, particularly 'curbs' relating to easier movement of skilled workers.
• In the talks related to the proposed Canada-India Free Trade Agreement (FTA), officially known as the Comprehensive Economic Partnership Agreement, both sides are expected to exchange their respective services trade wish list, indicating the areas where they would like to gain from the trade pact, said official sources.
• One main area of interest for India is ensuring easier movement of Indian skilled workers to Canada for short-term work.
• The last round of FTA negotiations saw modalities on goods trade taking shape.
• Both countries are learnt to be getting closer to finalising the proposed bilateral Foreign Investment Promotion and Protection Agreement (FIPPA).
• India and Canada had said in June 2007 that they concluded the FIPPA talks. However, the agreement has not yet been ratified and made operational.
• India is learnt to have had reservations regarding the inclusion of provisions on the Investor-State Dispute Settlement (ISDS) mechanism in the FIPPA.
• The ISDS, among other things, enables investors to sue governments before international tribunals and seek huge compensation for the economic harms they suffer due to reasons including policy changes.
• Since December 2015, India has been negotiating its investment pacts on the basis of its new Model Bilateral Investment Treaty Text.
• On trade in goods, one issue that is likely to top the agenda would be India's recent decision to increase the rate of basic customs duty on peas to 50% from nil duty — a move that has "upset" Canada which is a major pulses exporter, including to India.
• On trade in services, India will push for easing norms in Canada (Canada's Temporary Foreign Worker Program) to help Indian skilled workers, especially professionals from the Information Technology field, to take up short-term project work.
• Meanwhile, three Canadian Ministers — Navdeep Bains, Minister of Innovation, Science and Economic Development; François-Philippe Champagne, Minister of International Trade; and Marc Garneau, Minister of Transport – will lead a trade mission to India from November 13 to 17, accompanied by a delegation of nearly 200 Canadian business representatives, according to a statement by the High Commission of Canada in India.

• The Ministers will participate in the Canada-India Technology Summit, where there will be several significant business and innovation announcements involving top-tier Canadian companies, the statement added.
The road map to create jobs is clear- EAC
• The Prime Minister's Economic Advisory Council said that it had spelt out a 'clear road map' for the government to ramp up job creation and infrastructure financing avenues while investing more resources in health, education and skill development.
• While it did not reveal any details of the roadmap, the Council headed by NITI Aayog member Bibek Debroy said in a statement that it had also begun work on designing a new tracking monitor for the economy that would link economic growth indicators with social indicators, as well as improving the country's National Accounts.
• Taking the idea further, the Council also sought to set a similar tone for the Fifteenth Finance Commission which would recommend the formula for sharing taxes between the Centre and the States and the allocations that each State would receive, for the five-year period between 2020 and 2025.
• The Council also did not share any assessment of the present state of the economy, but said it 'took stock of the economic and social analysis done by the theme groups and evolving initiatives' led by its different members.
• Key issues, strategies and recommended interventions in respect of these themes were discussed, the statement added.
• "Innovative steps for unlocking growth, exports and employment potential were also deliberated upon — including through transformation of India's gold market," the Council said.
• "Its value addition as an independent institutional mechanism for providing informed advice to the Prime Minister is increasingly being recognised, with focused time-bound recommendations to move from policy to practice, benefiting from consultation with a wide spectrum of experts and stakeholders," the Council said.
• The Council's chairman stressed on the need for according high priority to infrastructure financing and made a presentation on the issue with a focus on developing new mechanisms for a risk coverage umbrella, the statement said.