Current Affairs for IAS Exams - 11 November 2020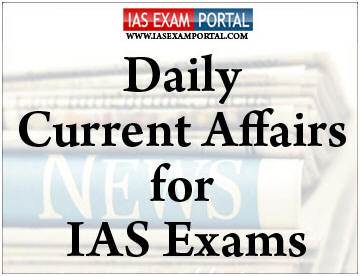 ---
Current Affairs for IAS Exams - 11 November 2020
---
::NATIONAL::
---
Hunar Haat 
---
Hunar Haat will restart from today after a gap of about seven months due to the Corona pandemic.
Minority Affairs Minister will inaugurate the Hunar Haat at Delhi Haat at Pitampura. 
About:
'Hunar Haat', the flagship initiative by the Minority Affairs Ministry to generate employment for master craftspeople.
The theme of this event is Vocal for Local where indigenous exquisite products made from Maati (clay), Metal and Machiya (wooden and jute products) will be the major attraction. 
The Minister has said that, it will showcase the rare exquisite products made from clay, different metals and wooden products, products made from cane-bamboo and mesmerising pottery work will be available for display. 
The Hunar Haat will continue till 22nd of November. 
The Minister said that every corner of the country has a traditional and ancestral legacy of indigenous products. 
New Nursing Act proposed
---
Ministry of Health and Family Welfare has finalised NNMC to replace the Indian Nursing Council Act 1947.
The draft bill replaces the Indian Nursing Council with a new representative body called National Nursing andMidwifery Commission.
It would have representatives of Centre and states, would frame policies and regulate standards for thegovernance of nursing and midwifery education.
Key features: 
A common entrance test held.
Mandatory registration and a temporary licence for foreignnationals who are qualified nurses and midwives to practice in India.
CLICK HERE FOR FULL CURRENT AFFAIRS (Only for Course Members)
::ECONOMY:: 
---
1st BRICS Finance Ministers and Central Bank Governors Meeting
---
Union Finance Minister participated in the meeting to discuss the BRICS Economic and Financial Cooperation agenda for 2020.
Key issues discussed:
Outcomes of G20 Saudi Presidency in 2020 including the G20 Action Plan in response to COVID-19. Expansion of the membership of the New Development Bank (NDB).
NDB is an initiative of BRICS (Brazil, Russia,India, China, South Africa) countries for mobilizing resources for infrastructure and sustainable development projects in BRICS and other emerging economies anddeveloping countries.
CLICK HERE FOR FULL CURRENT AFFAIRS (Only for Course Members)
---
---
::INTERNATIONAL::
---
Armenia and Azerbaijannew peace deal
---
Russia conducted a new peace deal between Armenia and Azerbaijan.
The two countries that have been in a military conflict for over six weeks over the disputed region of Nagorno-Karabakh in the South Caucasus.
About:
During the course of the conflict, considered one of the most serious in recent years, over 1200 have lost their lives as per the Nagorno-Karabakh authorities, while thousands have been displaced.
The deal, which is meant to end the conflict between the two nations, was signed by Russian President Vladimir Putin, Azerbaijani president Ilham Aliyev and Armenian prime minister NikolPashinyan. 
Since the conflict started in September, multiple ceasefire agreements have been signed between the two sides, but none so far have been successful.
What is the new peace deal?
As per the new peace deal, both sides will now maintain positions in the areas that they currently hold, which will mean a significant gain for Azerbaijan as it has reclaimed over 15-20 per cent of its lost territory during the recent conflict.
Under this agreement, all military operations are suspended, Russian peacekeepers will be deployed along the line of contact in Nagorno-Karabakh and along the Lachin corridor that connects the region to Armenia. These Russian peacekeepers with a force of roughly 2,000 will be deployed in the area for a period of five years.
Refugees and internally displaced persons will return to the region and the adjacent territories and the two sides will also exchange prisoners of wars and bodies.
Significantly, a new corridor will be opened from Nakhchivan to Azerbaijan, which will be under Russian control.
---
::SCIENCE & TECHNOLOGY::
---
Virgin Hyperloop completes first human trial
---
Virgin Hyperloop said it made history as the first people successfully travelled in a hyperloop pod at the DevLoop test facility in the United States.
The testing will continue with Tanay Manjrekar, Virgin Hyperloop's Power Electronics specialist and native of Pune, riding next.
Josh Giegel, Co-Founder and Chief Technology Officer, and Sara Luchian, Director of Passenger Experience, were the first people in the world to ride on this new form of transportation.
Key findings:
The human testing was overseen by the industry-recognized Independent Safety Assessor (ISA) Certifer. 
Having undergone a rigorous and exhaustive safety process, the newly-unveiled XP-2 vehicle demonstrates many of the safety-critical systems that will be found on a commercial hyperloop system and is equipped with a state-of-the-art control system that can detect abnormal conditions and rapidly trigger appropriate emergency responses.
CLICK HERE FOR FULL CURRENT AFFAIRS (Only for Course Members)
---
---
---
---
---