Current Affairs for IAS Exams -11 February 2023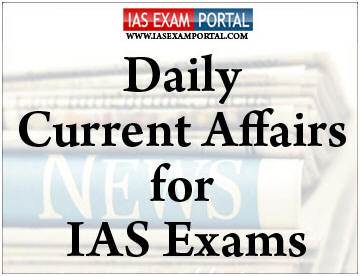 ---
Current Affairs for IAS Exams - 11 February 2023
::NATIONAL::
Article 105 of Constitution
Protesting against the expunction of parts of his speech on the motion of thanks on the President's Address, Leader of Opposition in Rajya Sabha has argued that MPs have freedom of speech, and that he did not make any personal allegations in the House.
What does Article 105 say?
Article 105 of the Constitution deals with "powers, privileges, etc of the Houses of Parliament and of the members and committees thereof", and has four clauses. 
"(1) Subject to the provisions of this Constitution and to the rules and standing orders regulating the procedure of Parliament, there shall be freedom of speech in Parliament.
(2) No member of Parliament shall be liable to any proceedings in any court in respect of anything said or any vote given by him in Parliament or any committee thereof, and no person shall be so liable in respect of the publication by or under the authority of either House of Parliament of any report, paper, votes or proceedings.
(3) In other respects, the powers, privileges and immunities of each House of Parliament, and of the members and the committees of each House, shall be such as may from time to time be defined by Parliament by law, and, until so defined, shall be those of that House and of its members and committees immediately before the coming into force of section 15 of the Constitution (Forty-fourth Amendment) Act, 1978.
(4) The provisions of clauses (1), (2) and (3) shall apply in relation to persons who by virtue of this Constitution have the right to speak in, and otherwise to take part in the proceedings of, a House of Parliament or any committee thereof as they apply in relation to members of Parliament."
Lithium reserves found in Jammu and Kashmir
The government said, lithium reserves have been found for the first time in the country in Jammu and Kashmir.
India has discovered first lithium reserves in igneous rocks located in Marlagalla-Allapatna region of Karnataka's Mandyadistrict.
About:
Lithium, referred as white gold, is first of alkalis in periodic table. It's anon-ferrous metal.
It is lightest solid metal. It is extracted from either brines or mined rocks. It has lowest density of all metals.
Significance of Lithium:
Key component of rechargeable batteries (used in EVs) and energy storage solutions.
Lithium oxide is used in special glasses and glass ceramics.
Critical mineral for energy transition, and net-zero emissions will require higher reliance lithium.
::INTERNATIONAL::
Fifth international marine protected areas congress held 
The fifth International Marine Protected Areas Congress (IMPAC5) will conclude today in Vancouver.
About:
IMPAC is a global conference primarily focused on protecting and conserving sustainable marine life in oceans. 
The congresses are held jointly by the International Union for the Conservation of Nature and the host country's government.  
This year, various experts and marine biologists from around the world gathered in Vancouver to attend the week-long event and share knowledge on means to preserve the ocean for the future.
Key objectives:
It aims to protect 30 percent of global ocean by 2030 2030.
It supported Kunming-Montreal Global Biodiversity Framework,"Our Ocean, Our Future, Our Responsibility" Call for Action andOcean Conservation Pledge.
It was jointly hosted by Host First Nations (Musqueam, Squamish andTsleil-Waututh) together with International Union for Conservationof Nature (IUCN), Canadian Parks and Wilderness Society (CPWS),Government of Canada and Province of British Columbia.
MPA is a section of ocean where a government has placed limits on human activity.
Currently, an estimated 7.65% of ocean is covered by MPAs.
Important MPAs (coastal or marine) of India are as given in image.
They are notified as either 'national parks' or 'wildlife sanctuaries' under Wildlife (Protection) Act, 1972.
Electricity Market Report 2023
The International Energy Agency's Electricity Market Report 2023 offers a deep analysis of recent policies, trends and market developments.
Key highlights of the report:
World electricity demand remained resilient in 2022 amid global energy crisis triggered by Russia's invasion of Ukraine.
Renewables and nuclear energy will dominate growth of global electricity supply over next three years, meeting more than 90% of additional demand.
Highlights about India: 
Demand growth to rise close to 5.6% on average per year during 2023-2025.
Gas-fired output fell by 36% in 2022 due to higher imported gas prices.
Because of higher coal-fired generation, total power generation CO2 emissions rise by 8% from 2022 levels by 2025, despite falling CO2 intensity.
::Economy::
NSE Indices launches sub-category benchmarks for AIFs
NSE indices launched sub-category level benchmarks under Nifty Alternative Investment Fund (AIF) Benchmark.
About:
The Nifty AIF benchmarks have been created in line with the SEBI guidelines, for each of the three AIF categories (Cat I, Cat II, and Cat III) based on performance data for the period ended March 31, 2022, said NSE.
AIF is any fund established in India which is a privately pooled investment vehicle that collect funds from investors, both Indian or foreign, for investing.
Types of categories
Category I: Mainly invests in start-ups, SMEs, or any other sector which Government considereconomically and socially viable.
Category II: These include private equity funds or debt funds for which no specific incentiveor concessions are given by government or any other Regulator.
Category III: AIF such as hedge funds or funds that trade to make short-term returns or such other funds which are open-ended and for which no specific incentives or concessions are given by government or any other Regulator.
::SCIENCE AND TECHNOLOGY::
AzaadiSAT-2
The successful launch of small satellite launch vehicle (SSLV-D2) from Satish Dhawan Space Centre in Sriharikota recently.  
About AzaadiSAT-2:
It has been developed by about 750 girl students across India.
They contributed to the design and construction of the satellite built by Chennai-based startup Space Kidz India.
The girls received training both online and, in some cases, in-person.
Experiment materials were sent to these girls and they were guided on how to use it.
"SpaceKidz developed basic and simple experiments that students can learn and assemble with the simultaneous support of their science teachers. 
Objective: It aims to measure various health data like temperature and reset count from 75 student experiments installed inside the satellite.