Current Affairs for IAS Exams - 11 January 2022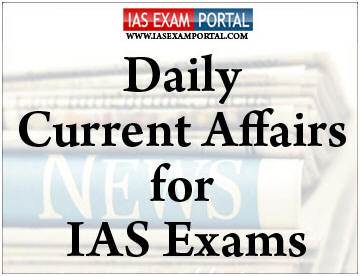 ---
Current Affairs for IAS Exams - 11 January 2022
::NATIONAL::
Expenditure limit for Lok Sabha, Assembly candidates revised
Election Commission has increased the existing election expenditure limit for candidates inParliamentary and Assembly constituencies.
About:
Depending on the State, the expenditure limit for candidates for Lok Sabha constituencies was increased to ₹75 lakh from ₹54 lakh and ₹95 lakh from ₹70 lakh.
The spending limit for Assembly constituencies was hiked from ₹20 lakh to ₹28 lakh and ₹28 lakh to ₹40 lakh.
According to the Law Ministry's notification, for the upcoming Assembly elections, the enhanced amount of ₹40 lakh would apply in Uttar Pradesh, Uttarakhand and Punjab and ₹28 lakh in Goa and Manipur.
Reasons behind:
The reasons in behind, increase in number of electors and Cost Inflation Index since 2014 substantially.
It also factored into the changing modes of campaigning, which is gradually shifting to virtual campaign.
CLICK HERE FOR FULL CURRENT AFFAIRS (Only for Course Members)
Extended ProducerResponsibility
Ministry of Environment, Forest and Climate Change released draft notification for regulations forExtended Producer Responsibility (EPR) for waste tyres.
About:
India discards roughly 275,000 tyres each year but does not have comprehensive plan for them.
Over and above it, about 3 million waste tyres are imported for recycling.
EPR is a policy approach under which producers are given a significant responsibility – financialand/or physical - for the treatment or disposal of post-consumer products.
Objectives of EPR: 
Integration of environmental costs, 
Improved waste management, 
Reduction ofdisposal, 
Reduction of burden on municipalities, 
Design of environmentally sound products etc.
::INTERNATIONAL::
CLICK HERE FOR FULL CURRENT AFFAIRS (Only for Course Members)
Japan and Australia sign Reciprocal Access Agreement
The Reciprocal Access Agreement (RAA), the defence treaty between Australia and Japan.
Apart from its strategic significance for Asia and the Indo-Pacific, fortifies trends that are part of the changing security architecture in the region.
About:
It marks the move away from a US-centric outlook towards a greater focus on bilateral ties and regional groupings. It is also a sign that Japan is willing to play a more proactive role in the region.
Australia's willingness to stand up to China on the question of a free and open Indo-Pacific and rules-based global order, despite their deep economic ties. 
For Japan, this marks an even greater shift, of a piece with the recent evolution in its outlook and global image. Thus far, Japan's only major defence ally had been the US. 
Highlights behind the formation of this group:
Important Sea Lines of Communication (SLOC): Presence of keychoke points, from Mozambique Channel and Bab-el-Mandeb in thewest to Lombok Strait in the east
Trade and Economy: Region includes 65% of the world population;accounts for 62% of world GDP; and contributes to 46% of the world'smerchandise trade.
Richness in Natural resources: Including- Offshore Hydrocarbons,Methane hydrates, Sea Bed minerals, Rare earth metals, fisheries etc.
China factor: China's aggressive foreign policy, rapid economicexpansion, military modernization and power projection has raisedseveral 'red flags , among 'regional and extra-regional countries.
Polio vaccine
UNICEF data shows that the administration of the third dose of polio vaccine for children (aged12-23 months) declined five percentage points in 2020, compared to 2019 — worst drop since1991.
About:
Poliois a highly infectious viral disease that largely affects children under 5 years of age.
Virus is transmitted by person-to-person spread mainly through the faecal-oral route.
It infects a person's spinal cord, causing paralysis.
There are two types of vaccines to prevent infection: OPV (Oral Polio Vaccine) and Injectable PolioVaccine (IPV).
CLICK HERE FOR FULL CURRENT AFFAIRS (Only for Course Members)
::ECONOMY::
Khadi Handmade Paper Slippers
The devotees visiting the Kashi Vishwanath Temple in Varanasi and hundreds of temple workers will no longer need to enter the temple premises barefoot. 
About:
Khadi and Village Industries Commission (KVIC) is beginning the sale of Khadi handmade paper "Use & Throw" slippers for the use of the devotees and the workers. 
The Khadi handmade paper slippers will be sold from the Khadi sales outlet located at the parking lot of the Kashi Vishwanath Corridor. 
The handmade paper slippers can be purchased at a nominal price of Rs 50 per pair. The slippers will be sold by Kashi Hastkala Pratisthan, a registered Khadi Institution in Varanasi.   
The development comes in wake of the jute slippers sent by the Prime Minister for the workers of Kashi Vishwanath Temple after he learnt that most of the people working at the temple performed their duty barefoot. 
It is forbidden to wear footwear made of leather or rubber on the temple premises. The entire workforce of the temple including the priests, security guards, sanitation workers and people performing seva have to abide by this rule.
::SCIENCE AND TECHNOLOGY::
Google fit can measure heart, respiratory rate
Google has released the ability to track heart rate and respiratory rate features using a camera in its Google Fit app. Google Fit on Iphone has this feature, reports 9to5google.
Key highlights of the report:
As per the report, a user has to scroll down in the Google fit app to find the "Check your heart rate and respiratory rate" feature. Users will also receive a guide as to how to use the feature.
Additionally, the tracking app also works when there is no internet connection. As per the report, with the heart rate algorithms, the tech giant is tracking the "subtle changes in the color of your fingers to approximate blood flow".
To get the results it takes about 30 seconds with a preview graph and BPM (Beats per minute) noted at the bottom of the screen.Users can also check the respiratory rate. On the screen prompts, app will guide users when to hold still. 
A user should be seated in front of the front camera and the phone should be placed in a stable surface without any disturbances. Users are advised to hold still for about 30 seconds, the report added.
Google fit then calculates your respiratory rate from chest movements with computer vision tracking at pixel level.
CLICK HERE FOR FULL CURRENT AFFAIRS (Only for Course Members)