Current Affairs for IAS Exams - 11 May 2022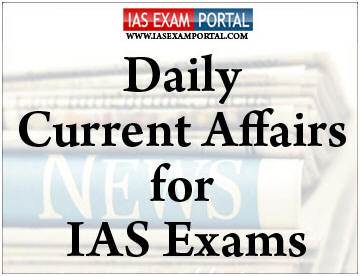 ---
Current Affairs for IAS Exams - 11 May 2022
::NATIONAL::  
Cyclone Asani
Severe cyclonic storm 'Asani' which is moving towards the east coast, packing winds above 105 kmph and setting off heavy rain, is likely to recurve in a north-eastward direction and weaken gradually into a cyclonic storm, the India Meteorological Department said.
About:
Asani is first cyclonic storm in North IndianOcean region in 2022.
It was named by Sri Lanka. Asani means"wrath" in Sinhalese.
Cyclone that will form after Asani will becalled Sitrang, name given by Thailand.
CLICK HERE FOR FULL CURRENT AFFAIRS (Only for Course Members)
Asani is unlike cyclones Fani (April-May 2019) or Amphan (May 2020)
Systems formed over the Bay of Bengal in the peak of summer in May are among the strongest in the North Indian Ocean region. Warm seas present ripe conditions for cyclogenesis, and to fuel these systems over the water.
The 'Extremely Severe' cyclone Fani and 'Super cyclone' Amphan wreaked havoc in Odisha and West Bengal respectively. 
Cyclone Asani by contrast, is expected to only graze the coast, and not make landfall. 
Centre to SC: Sedition law, 1962 ruling fine, no need for larger bench
The Centre defended the penal law on sedition (Section 124A of the IPC) in the Supreme Court.
As the apex court's 1962 verdict of a Constitution bench upholding its validity was "long standing, settled", had stood the test of time and needed no reference to a larger bench. And that instances of its abuse can't be a justification for its reconsideration.
Key highlights: 
Section 124A of IPC defines sedition as anoffence committed when any person brings or attempts to bring into hatred or contempt,or excites or attempts to excite disaffectiontowards the government established by law inIndia by:
Words, either spoken or written, signs, visiblerepresentation, or otherwise.
It is a non-bailable offence.
In 1962, Kedar Nath Singh vs State of Bihar,the constitution bench of SC held its
constitutional validity with condition on itsapplication as:
Unless accompanied by incitement or acall for violence, criticism of thegovernment cannot be construed as aseditious offence.
CLICK HERE FOR FULL CURRENT AFFAIRS (Only for Course Members)
::INTERNATIONAL::
W boson
On April 7, researchers from Collider Detector at Fermilab (CDF) Collaboration, in the U.S., announced that they have made a precise measurement of the mass of the W boson. 
About:
They stated that this precisely determined value did not match with the estimates from the standard model of particle physics.
The recent experiment which measured the mass of the W boson as 80,433.5 +/- 9.4 Mev/c2 is more than what is expected from the standard model. 
The expected value using the standard model is 80,357 +/- 8 MeV/c2. This implies the incompleteness of the standard model description.
This mass discrepancy of the W boson needs to be checked and confirmed to the same accuracy by other research facilities.
Brazilian scientists warn that the Pantanal is at risk of collapse
Recently Brazilian scientists warn that Pantanal, freshwater wetland, is at risk of collapse.
About:
Pantanal in South America, is one of the world's largest tropical wetland.
It spans over 179,000 sq. km in Brazil, Paraguay and Bolivia.
It consists of highest concentrations of flora and fauna in South America.
In 2000, it was inscribed on UNESCO's World Heritage List.
Concern: 
The team, cited a dangerous escalation over the past two decades in locally-made and legal land-use decisions and proposals to open up the wetland to more intensive uses that collectively threaten the long-term survival of the Pantanal.
CLICK HERE FOR FULL CURRENT AFFAIRS (Only for Course Members)
::ECONOMY::
Green manures
ThePinjab state agriculture department is promoting the cultivation of green manure these days as Punjab Agro is providing subsidy on the seed at the rate of Rs 2,000 per quintal, which costs Rs 6,300 per quintal without subsidy. 
What is green manure?
Green manures are crops grown specifically for maintaining soil fertility and structure.
They are normally incorporated back into the soil, either directly, or after removal and composting. 
There are three main varieties of green manure, including Dhaincha, Cowpea, Sunhemp. 
Also some crops such as summer moong, mash pulses and guar act as green manure. 
Green manure varieties are incorporated into the soil when the crop is 42-56 days old. 
Green manure must be leguminous in nature, bear maximum nodules on its roots to fix large amount of atmospheric nitrogen in the soil. Experts have also said that seeds of green manure should be easily available to the farmers at a low price.
CLICK HERE FOR FULL CURRENT AFFAIRS (Only for Course Members)
::SCIENCE AND TECHNOLOGY::
Algorithm
With the quantity of information available on the internet growing steadily, search algorithms are becoming increasingly complex, raising privacy and other concerns and drawing the attention of regulators. 
Last month, U.K.'s digital watchdog said they will take a closer look at algorithms, seeking views on the benefits and risks of how sites and apps use algorithms, as well as inputs on auditing algorithms, the current landscape and the role of regulators.
How do search algorithms work?
An algorithm, essentially, is a series of instructions. It can be used to perform a calculation, find answers to a question or solve a problem. Search engines use a number of algorithms to perform different functions prior to displaying relevant results to an individual's search request.
Tech giant Alphabet Inc's Google, whose flagship product is the Google search engine, is the dominant player in the search market. 
As the algorithms used to deliver results would vary from one search engine to another, when a user inputs a query, the results would also differ. Moreover, results from different users would be rarely similar, even when searching for the same things, since the algorithms take into account multiple factors, like their location.
How are they developed?
Algorithms are often built using historical data and for specific functions. Once developed, they go through frequent updates from the companies to enhance the quality of search engine results presented to users. 
Most large search engine providers also bank on machine learning to automatically improve their users' search experience, essentially by identifying patterns in previous decisions to make future ones.
Search engines exert huge control over which sites consumers can find. Any changes or updates in their algorithms could also mean that traffic is steered away from certain sites and businesses, which could have a negative effect on their revenue.
CLICK HERE FOR FULL CURRENT AFFAIRS (Only for Course Members)