Current Affairs for IAS Exams - 11 November 2022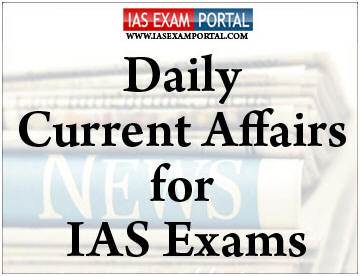 ---
Current Affairs for IAS Exams - 11 November 2022
::NATIONAL::
India Infrastructure Project Development Fund Scheme
The Department of Economic Affairs (DEA), Ministry of Finance, Government of India, notifies Scheme for Financial Support for Project Development Expenses of PPP Projects – India Infrastructure Project Development Fund Scheme (IIPDF Scheme.
About:
As a Central Sector Scheme, the India Infrastructure Project Development Fund Scheme (IIPDF Scheme) will aid development of quality PPP projects by providing necessary funding support to the project sponsoring authorities, both in the central and state Governments.
Funding:
The corpus of the IIPDF shall comprise of initial budgetary outlay of Rs. 100 Crore by the Ministry of Finance. This would be supplemented, should it become necessary, through budgetary support by the Ministry of Finance from time to time.
Funding under IIPDF Scheme is in addition to the already operational Scheme for Financial Support to PPPs in Infrastructure (VGF Scheme).
A key step in structuring quality PPP projects is to provide quality advisory/ consultancy services to the Project Sponsoring Authorities (PSAs). 
However, procurement of such services is a time consuming and difficult process often resulting in delays in onboarding of the appropriate Transaction Advisers (TAs) or non-optimal structuring of PPP projects
Article 142
The Supreme Court recently upheld the Employees' Pension (Amendment) Scheme, 2014 of the Employees' Provident Fund Organistion as "legal and valid" while reading down certain provisions.
Key findings: 
The court used its extraordinary powers under Article 142 of the Constitution to allow eligible employees who had not opted for enhanced pension coverage prior to the 2014 amendments, to jointly do so with their employers within the next four months.
The court struck down a requirement in the 2014 amendments that employees who go beyond the salary threshold (of ₹15,000 per month) should contribute monthly to the pension scheme at the rate of 1.16% of their salary.
The requirement to contribute 1.16% of the salary to the extent that such salary exceeds ₹15,000 per month as an additional contribution made under the amendment scheme is held to be ultra vires to the provisions of the Employees' Provident Funds and Miscellaneous Provisions Act, 1952, a three-judge Bench led by Chief Justice U.U. Lalit held.
Article 142 of Constitution:
Title:Enforcement of decrees, orders of Supreme Court and orders as to discovery, etc.
Provisions:This article has 2 provisions –
142(1): The Supreme Court may pass an order for doing complete justice.
142(2): It confers three different powers on the Supreme Court. They are:
1.    Securing the attendance of persons before it.
2.    Discovery and production of documents and
3.    Investigation and punishment of contempt of itself.
::INTERNATIONAL::
Comprehensive Economic Partnership Agreement
The 9th round of India-Republic of Korea (ROK) Comprehensive Economic Partnership Agreement (CEPA) up-gradation negotiation was held in Seoul from November 3-4, 2022.
About:
The two sides underlined the need to have negotiations, which are based on win-win approach, are forward looking and outcome oriented. 
Both sides shared the hope that the CEPA upgradation negotiations would play an important role in strengthening and deepening economic cooperation between both countries. Sub Groups on Trade in Goods, Services, Rules of Origin, Investment, SPS/TBT issues held in-depth discussions.
India raised serious concerns on the growing trade deficit between the two countries and discussed market access issues.
Both sides agreed to work closely to address tariff and non-tariff barriers and deepen the relationship in the services sector. 
They also shared a common view that both sides should make utmost efforts to expedite negotiations in order to reach a mutually beneficial and satisfactory outcome during 2023, while taking note of the importance of the upcoming 50th anniversary of diplomatic relations between the two countries.
Adaptation Gap Report 2022
Global efforts in adaptation planning, financing and implementation are not enough to prepare vulnerable communities around the world to adapt to the rising risks from the impacts of climate change, according to United Nations Environment Programme's (UNEP) Adaptation Gap Report, 2022.
About:
The report found some progress on adaptation plans from national governments, but they are not backed by finance.
A third of the 197 parties to the United Nations Framework Convention on Climate Change (UNFCCC) have incorporated quantified and time-bound targets on adaptation. And 90 per cent of them have considered gender and disadvantaged groups, the report read.
On the other hand, international adaptation finance flows are five-10 times lower than required and this gap continues to grow. Finance for adaptation increased to $29 billion in 2020 — only four per cent increase over 2019.
This is when developing countries' estimated annual adaptation needs are $160-$340 billion by 2030 and $315-$565 billion by 2050.
The report also highlighted that the best way was to link actions on mitigation and adaptation in terms of planning, financing and implementation, which would provide co-benefits. One example of this could be nature-based solutions. 
::Economy::
MPC holds special meet to draft report on inflation target miss
The Monetary Policy Committee (MPC) convened a special off-cycle meeting Thursday to discuss and draft the content of the report which the Reserve Bank of India (RBI) has to send to the government for missing the inflation target.
About Inflation targeting
It means bringing the inflation to a targeted level within a specific time horizon.
RBI adopted flexible inflation targeting (FIT) through the signing of Monetary Policy Framework Agreement (MPFA) in 2015.
Section 45-ZA of the RBI Act, 1934 requires that the central government in consultation with RBI, determine inflation target in terms of Consumer Price Index (CPI), once in every five years.
Currently, the inflation target has been set at 4% (with the upper tolerance level of 6% and the lower tolerance level of 2%) for the 5-year period 2021 to 2026.
::SCIENCE AND TECHNOLOGY::
RISAT-2 satellite
ISRO's RISAT-2 satellite, has made an uncontrolled re-entry into the Earth's atmosphere.
About:
RISAT 2 is a radar-imaging satellite which was part of RISAT programme of ISRO.
It weight only about 300 kg and was launched by the PSLV-C12 launch vehicle in 2009.
The RISAT satellites are equipped with a synthetic aperture radar (SAR) that can take pictures ofthe earth during day and night, and also under cloudy conditions.
It helps round-the-clock border surveillance along with checking infiltration and keeping an eye on terror or anti-national activities across the borders.
As RISAT-2 re-entered within 13.5 years, it complied with all necessary international mitigation guidelines for Space Debris, showing ISRO's commitment towards long term sustainability of Outer Space as well.