Current Affairs for IAS Exams - 11 October 2021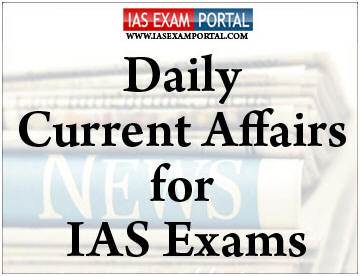 ---
Current Affairs for IAS Exams - 11 October 2021
::NATIONAL::
Nationwide River Ranching Program Launched
Union Minister for Fisheries, Animal Husbandry & Dairying, launches a nationwide River Ranching Programme in Uttar Pradesh.
Key highlights:
In UP, 3 lakhs fingerlings were ranched at 3 sites.
In Uttarakhand, a total of 1 lakh fingerlings were ranched.
In Tripura, a total of 1.85 lakh of fingerlings were ranched.
In Chhattisgarh, 1.5 lakh fingerling has been ranched.
About:
River ranching programme"is introduced as special activity under PMMSY scheme for augmenting and enhancing the fish production and productivity through expansion, intensification, diversification and productive utilization of land and water.
The River Ranching Program is one such activity which can achieve sustainable fisheries, reducing habitat degradation, conserving biodiversity, maximizing social-economic benefits and assessing ecosystem services.
River Ranching also ensures the upgrade of traditional fishery, ecosystem sustainability and trade & social protection of Inland communities.
It is programmed to address increased fish catch, improved livelihood of fishers and to maintain the cleanliness of the river as they feed on organic remnants. Primarily to uplift the depleted fish stock and to enhance production of the ranched fish species.
Operation Greens Scheme
The Centre's move to increase the scope of Operation Greens Scheme (OGS) will act as a catalyst for exports of agri-perishables from the Northeast and four Himalayan states and Union Territories with the programme bringing in 22 more perishable agri-produces under its ambit.
The Ministry of Food Processing and Industries provides 50% subsidy through NAFED to its empanelled agencies for the transportation of TOPs from farm gate to its identified storage, following price fall of the produce below three years' average market price at the time of harvest.
About:
Operation Greens is a project approved by the Ministry of Food Processing Industries with the target to stabilise the supply of tomato, onion and potato crops (TOP crops) in India, as well as to ensure their availability around the country, year-round without price volatility.
The operation was first introduced by the Finance Minister of India, Arun Jaitley while presenting the 2018-2019 Union budget. There has been allocated Rs 500 crores to promote farmer producers' organisations (FPOs), agri-logistics, processing facilities and professional management.
The operation aims to replicate the success of the increase in production of milk in India through the implementation of Operation Flood. The operation will also aid in India's goal of doubling farmer's income by the year 2022.
CLICK HERE FOR FULL CURRENT AFFAIRS (Only for Course Members)
::INTERNATIONAL::
India, Japan resolveto supporta free and open Indo-Pacific
India and Japan have resolved to enhance cooperation in the region and have reaffirmed their support for a free and open Indo-Pacific (FOIP).
The two leaders agreed that attempts to change status quo will not be tolerated and resolved to work for a free and open Indo-Pacific.
About:
FOIP combines Two Continents: Asia that is rapidly growing and Africa that possess huge potential of growth; and TwoOceans": Free and open Pacific Ocean and Indian Ocean.
FOIP strategy consists of three pillars
Promotion and establishment of rule of law, freedom of navigation and free trade, etc.
Cooperation among Japan, US, India, Australia, ASEAN, etc.
Strategic communication at international arena and through media, etc.
Nobel Peace Prize
Two Journalists, Maria Ressa of Philippines and Dmitry Muratov of Russia, were awarded theNobel Peace Prize 2021 by the Norwegian Nobel Committee for their efforts to safeguard freedom of expression, which is a precondition for democracy and lasting peace.
Maria Ressa, co-founder of a digital media company Rappler, uses freedom of expression to expose abuse of power, use of violence and growing authoritarianism in her native country, thePhilippines.
Dmitry Muratov, co-founder of newspaper Novaya Gazeta, has been defending freedom of speech in Russia for decades under increasingly challenging conditions.
::ECONOMY::
Decentralised Finance
Decentralised Finance (DeFi) is a system that allows financial products to appear on a public blockchain network which is not regulated by a central bank or intermediary.
About:
It is built on blockchain applications that can used for remitting money or buying insurance or even borrowing money against cryptocurrencies.
Currently, very few platforms are offering these services but many Indian apps are exploring launching DeFi services industry trackers.
The first wave of DeFi innovation came in the form of Initial Coin Offerings (ICOs). These allowed companies to swap corporate entities and bank accounts for smart contracts and blockchain-based tokens, and raise millions in funding without any need for the gatekeepers of traditional finance.
Since then, the innovation hasn't stopped. DeFi developers have been busy building an infrastructure for a whole new world of blockchain-based services:
Decentralised exchanges such as Uniswap allow anyone to trade from anywhere with an internet connection. Anyone can swap assets directly with a smart contract, without needing a centralized exchange with an order book.
Lending protocols like Aave and Compound are the blockchain-based equivalent of pawn shops. Users can stash their crypto in a smart contract and borrow against it without credit checks.
DeFirobo-advisors such as Yearn act as decentralised financial advisors, automatically allocating digital assets across different DeFi protocols to earn the highest yield.
::SCIENCE AND TECHNOLOGY::
Bridgmanite
On May 22, 2012, a large meteor shower occurred near the town of Katol in Nagpur.
As it happened at noon, the villagers missed the light show but the shower caused sonic booms or thunder-like noises, initially spreading rumours that an aircraft had crashed.
The next day, researchers from the Geological Survey of India collected about 30 meteorite fragments with the largest weighing around a kilogram.
Initial studies revealed that the host rock was mainly composed of olivine, an olive-green mineral.
Olivine is the most abundant phase in our Earth's upper mantle. Our Earth is composed of different layers including the outer crust, followed by the mantle and then the inner core. You can reach the upper mantle if you drill for about 410 kilometers.
Now, by studying the composition of these meteorite fragments, researchers have unravelled the composition expected to be present in the Earth's lower mantle which is at about 660 km deep.
The paper published this month in PNAS reports the first natural occurrence of a mineral called bridgmanite. The mineral was named in 2014 after Prof. Percy W. Bridgman, recipient of the 1946 Nobel Prize in Physics.
Various computational and experimental studies have shown that about 80% of the Earth's lower mantle is made up of bridgmanite. By studying this meteorite sample, scientists can decode how bridgmanite crystallized during the final stages of our Earth's formation.
 CLICK HERE FOR FULL CURRENT AFFAIRS (Only for Course Members)
::SPORTS::
Sunil Chhetri 
India football team captain Sunil Chhetri equalled the legendary Pele with his 77th international goal as his 83rd minute strike helped India beat Nepal 1-0 and saved his side from the verge of elimination in the SAFF Championships.
About:
The 37-year-old Chhetri, playing in his 123rd match for India, struck a late goal to place himself on even keel with the Brazilian great (77 goals from 92 matches).
He is now on joint third with UAE's Ali Mabkhout (77) in the list of highest scorers among active footballers, behind Cristiano Ronaldo (112) and Lionel Messi (79).